This morning I opened up Instagram and was delighted to find myself tagged in a post from Thorn Mooney. In her post Thorn was contemplating the end of Winter and how a lot of her friends had new books out. Only it wasn't really Thorn Mooney (whose Instagram handle is thornthewitch), it was thoornthewitch.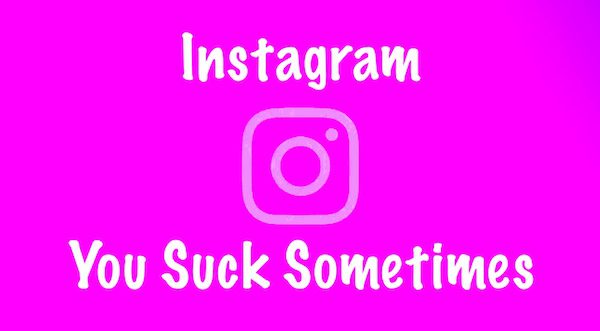 Of course thoornthewitch isn't Thorn Mooney, it's actually someone calling themselves "Andromeda Skies" and before they were impersonating Thorn Mooney their page was mostly just Tarot spreads, and advertisements for their Tarot readings. I guess that wasn't enough for "Andromeda" though and they thought the Tarot reading business would be more lucrative by impersonating Thorn. Adding insult to injury, Andromeda's account has several thousand more followers than Thorn's.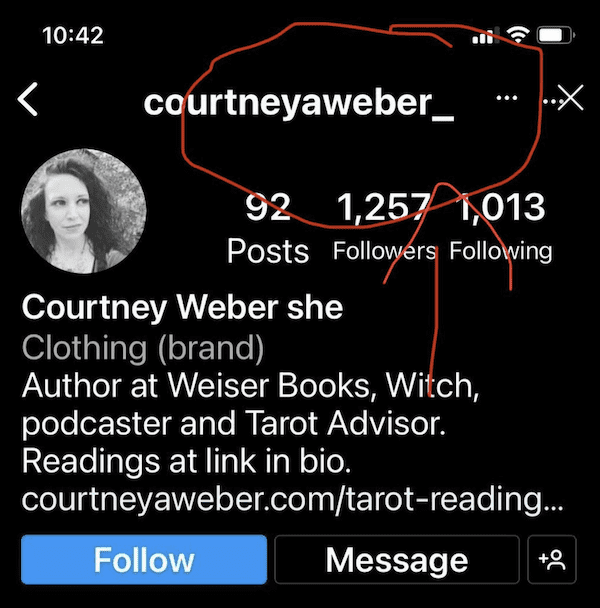 Scrolling through Instagram this morning I encountered fake accounts for both Courtney Webber and Madame Pamita, two people I absolutely adore (and seriously, pick up Pamita's Baba Yaga's Book of Witchcraft ASAP). And seriously, I feel like I'm alerted to a fake Pamita account about every three or four days.
Most often reporting fake accounts does absolutely nothing. I know that when I report a fake account I usually get a reply back that Instagram has found nothing wrong with the account impersonating one of my friends. Two seconds of actual work by the people at "Meta" would reveal that the account was fake, but apparently that's asking too much.
PROTECT YOURSELF & HELP THOSE YOU FOLLOW
When using Instagram take an extra few seconds to actively look at the username of the account you are choosing to follow. If there's a weird misspelling or an extra number or letter in there you are probably encountering a fake. Legitimate creators on Instagram don't randomly message their followers asking if someone out there wants a Tarot card reading either. That's a sure sign of a scammer, and giving your credit card information to a scammer could have pretty rotten consequences.
In fact most content creators/author types don't randomly message people at all! I think it would be pretty cool if Meg Rosenbriar were to just randomly message me on Instagram, but it feels unlikely. Most people who write books or run stores or whatever don't have a ton of extra time on their hands, in other words random messages would not be very productive.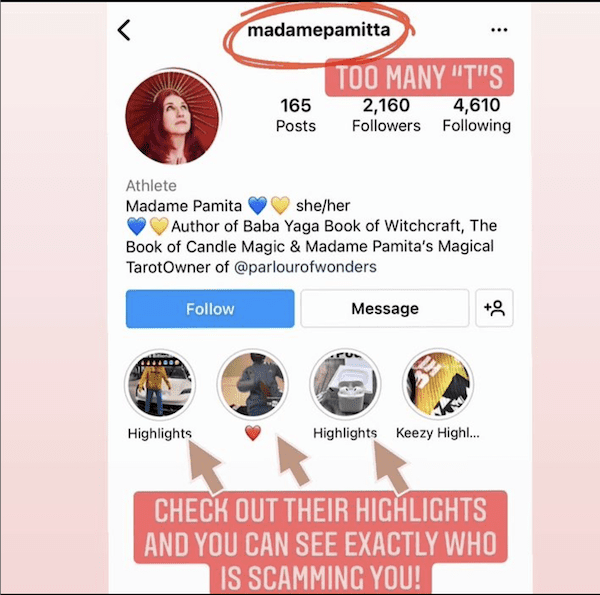 Even though Instagram is unlikely to really act on a complaint, report the fake account anyways. After days (weeks?) of constant reporting, these fake accounts eventually come down (thought obviously it shouldn't take that long). My favorite thing to do is to tweet at the Instagram account on Twitter since that feels like the only way Instagram might actually pay attention to me.
INSTAGRAM, YOU SUCK
It would be great if Instagram offered some sort of verification to make it easier to spot fakes. Oh, what's that you say?, Instagram does actually offer such a service? It's true that you can get a checkmark on Instagram, but such verifications seem reserved only for the elite of the elite, musicians, TV/movie stars, athletes. There seems to be no serious effort on Instagram's part to extend this type of service to people outside of a select few areas. (If Mat Auryn had a blue check, maybe there wouldn't be so many fake accounts with his name?)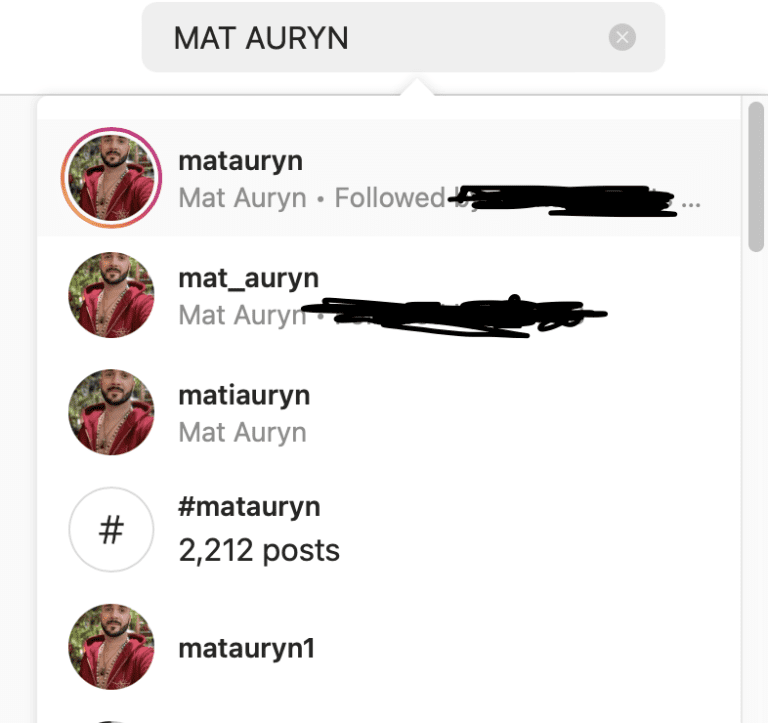 Perhaps 35,000 followers is "small potatoes" by the standards of Instagram, but that's still a lot of people! Mat wrote an absolute best-selling book (and has another one on the way!), shouldn't that be enough for some sort of verification. And I know that Instagram is watching, they moved my account to "influencer" status and I have barely 3000 followers. They know better and still don't care.
What can be done? Mark Zuckerberg has proven time and time again he doesn't give two shits about protecting his users or making any meaningful changes in his products. And I'd love to tell you that we should all boycott services like Instagram, but for many authors social media has become THE way to promote books and events. (I signed up to write books, not make Reels for Instagram and TikTok videos, but that's part of the deal now.) Hopefully complaining and complaining loudly might have some affect, but I'm not holding my breath.