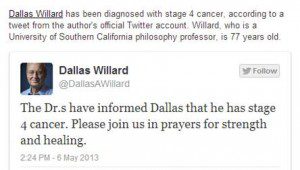 Christianity Today is reporting that Dallas Willard has been diagnosed with stage 4 cancer. This is bad news. I hope that you'll take a moment to pray for him today.
**Update here: Dallas Willard dies at age 77.
I owe Dallas Willard a tremendous debt. Willard was the first teacher who taught me about the gospel of sin management. He was the first one to show me the gaping hole in my gospel, and shared with me the gospel of the kingdom of God that runs rampant throughout the New Testament. He taught me about the kingdom of God and opened my eyes to a robust new world of understanding. He's had a massive impact on my generation of Christians, especially Christian leaders, myself included. His reflections on the Sermon on the Mount in The Divine Conspiracy are among the most meaningful things I've ever read.
More than anything, Willard taught me that a disciple is a student who sits at the feet of Jesus day in and day out. A disciple is someone who is with Jesus, learning to be like him, so that when we encounter the world around us, we do exactly what Jesus would do if he were in our shoes. That one fully formed concept would have been enough to be thankful to him forever. There's much more, though.
I love the way he explains grace: "Grace is not opposed to effort, it is opposed to earning. Earning is an attitude. Effort is an action. Grace, you know, does not just have to do with forgiveness of sins." I think of this often, especially when I'm faced with the hard road of obedience, or a shortcut that would hurt myself or others.
One more thing I love that he taught me. I use this over and over when talking about fidelity. In talking about marriage in the Divine Conspiracy, he talks about the allure of an affair – the fantasy. He says the problem is that most people don't follow the fantasy all the way through. If you want to have a fantasy about having sex with the beautiful woman at work with whom you are infatuated, have the whole fantasy. Imagine yourself having this torrid affair, fine, but then imagine getting caught. Imagine the pain on your wife's face. Imagine telling your kids. Imagine yourself moving your stuff out of the house while your kids sob. Then see if you are still in the mood. I love this because it works not just for fidelity in marriage but in anything. Follow all the way through. Consider our actions in the long-term not just the short-term. It can absolutely change the way we see the world we live in, and the part we all play.
There are tons of other things as well. What did Willard teach you? I'd love to see some folks share what you love about him, what you have learned.
So today I have a heavy heart for Dallas Willard & I will be praying for him.