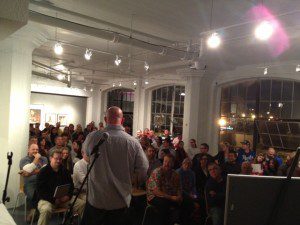 Yesterday our church staff spent the morning with my friend Jon Bowles, the author of the book Art and Faith: Reclaiming the Artistic Essence of the Church. We met up at Beggar's Table Church and Gallery to see the place and have Jon lead a discussion on what he's been thinking and writing about of late.
Jon's church, Beggar's Table, is a pretty unique place. They are situated in the Crossroads district of Kansas City. It's an area of old red brick warehouses that have been transformed into lofts, office space, storefronts, restaurants, and art galleries. It's a pretty hip neighborhood, although not a ton of full time residents. Many work there and hang out in the Crossroads area, but not a lot live there. The ones who do live there are not necessarily looking for church.
The first Friday of every month the Crossroads becomes the festive artistic center of the city for the night. Galleries have special showings, music is everywhere, and people come from all over to participate in a celebration of art, imagination, creativity, and culture. First Friday's are something special, especially for Beggar's Table. They have a new artist showing every couple of months. They move out all the chairs and their worship space serves as a full time gallery on those weekends. The rest of the month the gallery is open to view by appointment only.
For Bowles, the two communities (church and artistic) come together in and through the presence of their body, their church. Neither side has ever fully known what to make of the other. The art community views the church with suspicion, and not without good reason. The church community has struggled to find ways to integrate into the art community. Bowles said, "We fear the imagination because it is so potent and powerful. It cannot be controlled." So churches often attempt to quash, mute, suppress artists as an attempt to control the uncontrollable.
After years in the Crossroads district, Beggar's table seems to finally be moving the dial a little bit. People know them and trust them. Artists now recognize they are not there to "target" people, but to take part in the vibrant art community and join in the life of the neighborhood.
Art and Faith
is Jon's theological and ecclesiological reflection on what he's been trying to do at Beggar's table. What I love about the book is that it's a pretty straight forward look at what it means to be the church. Because Beggar's Table is the church in a neighborhood such as the Crossroads the church will naturally lean into art and imagination, which means they have a lot to teach the rest of us about these things. Jon's doing really good work, but it's not a new model or something pragmatic at all. It's church. It's incarnation, and I loved it.
Here are a few quick thoughts from our discussion and from Jon's book:
Pastors are programmed to as the question "What works," which is really the same as "what sells." This question comes not from the scriptures or tradition, but from the culture.
Jon talked about a conversation with the poet Kevin Coval who did a poetry reading in their gallery awhile back. Kevin said that comedians are the modern prophets because they say what everyone else knows to be true, but can't say out loud. Coval said that all art points to the need to have an uncomfortable conversation in a public space.
Jon talked about "useless" art. Art that actually serves no purpose other than to provoke in it's own way. Beggar's is trying to learn how to resist the temptation to co-opt artists and leverage their work as a means to an end. They want to support artists and allow them to just be, to do their thing, to exist in a community together without agenda.

Jon's overall project is resisting the idea that the mind is the organ of meaning, and advocating the notion that the imagination is the organ of meaning, the affections, the heart, what you love, what you imagine will impact how you live. What the church has too often said is, "We'll do the imagining for you," thus true imagination goes underdeveloped. Jon is resisting that move, provoking his people and his community to a new imagination.
If you are in Kansas 'City, I highly recommend attending a worship service at Beggar's Table, or making it a point to attend the next First Friday showing.