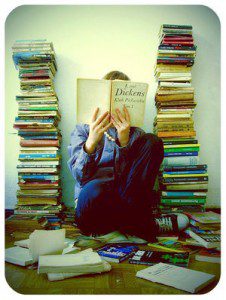 Book Nerds are easy to buy for. All you have to do is know just a little bit about their habits and preferences, and then buy something that they will actually use or at least enjoy:
E-Readers: If the book lover in your life reads on an electronic device, you have to know what device they use. Once you've got that down, you can start to brainstorm things like an antique book iPad cover like this one from Twelve South.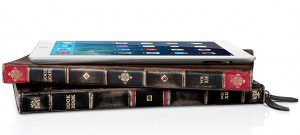 Audible.com: One thing you have to know about people who love books: we keep score. Volume is important. We ask one another, "What are you reading?" And if you say the same title as you did three weeks ago, you lose nerdy street cred. Audible.com is one of the best ways to keep book momentum going. You can choose from several plans: 1 book/month, 2 books/month, or a 12 or 24 book plan that saves you a ton of money on prices.
Portable Book Stand: Hands free reading is important for some contexts, so a book stand is a great gift. If your people like to read in bed, there are good options at Levenger. Stay away from wire or plastic stands, they are too light to be of use. If you are searching, you might also use keywords like cookbook stand, or dictionary stand, or missal stand. This is a dictionary stand that I love.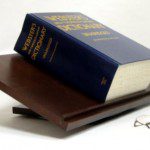 I also highly recommend buying your book loving people an old-school Manhassat Music stand. If your people are students, writers, work at a desk that is always cluttered, or need to keep more than one book open at a time, this stand is perfect. You stand it beside you in the front of the desk with the post touching the front side of the desktop. It sits at an angle & you can move it anytime you want.
Desktop Bookshelf: This gift idea for book lovers is often overlooked. Everyone who is writing for a living, or studying, etc. has two sets of books. The general library where they store the books which are not in current use, and the set of books they are either reading at the time, using for a writing project, planning to read, recently purchased, or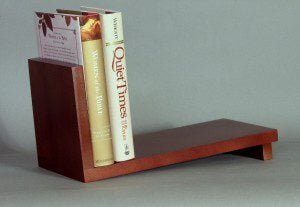 frequently reference. Desktop shelves are not only practical, but they sooth nerdy book lovers. We like to have our books close to us, where we can keep an eye on them. Here's an interesting model from Woodform, who makes a lot of good desktop stands. You can buy them through Amazon, or you can search the net and find tons of small shops who make interesting desktop shelves on their own. There's definitely a shelf to fit nearly any reader's personal style.
First Editions: What's your reader's favorite book of all times? There are scores of online book shops that deal in first edition books and signed copies. You'll have to do a little bit of research. But depending upon the book, you can usually find a first edition hardback for under $75. It may cost a little more to get a book with a signature. The best part of this gift is that it shows that you know your reader – you know what they love, and could get them a one of a kind gift that hits them where they live.
A Book Weight: Most people wouldn't think of this as a big deal, but the book weight is essential material for the reader who reads at a desk and takes notes or types with a book open. The book weight is a leather covered lead weight which will keep even a very stiffly bound book open on a flat surface. It works great in tandem with a books stand, or just as a way to prop a book open while you read or take notes. Every nerdy book lover needs a couple of these. Helpful hint: don't try to take this on an airplane – one of my friends had to go 10 rounds with TSA before they decided he wasn't going to hurt anyone w/this weapon.
Book Embosser: This crimping tool from Williams-Sonoma marks every book in a personal library. It's sort of pretentious, but if you get creative with the stamp design itself, it can be meaningful.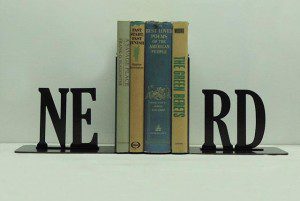 Bookends: Everything from the standard metal bookend to a more artistic, personal, or ornate option. Bookends always come in handy.
Stocking Stuffers: Book stand for the bed – this works great for people who keep a laptop open while they read in bed. Thumb Thing / book darts. In my opinion, you should stay away from the book light. I've tried every model and honestly can't find one which works. The best book you can give them is to let them read in bed w/the night table light on without complaining! Nothing says "I love you" to a book nerd like giving them permission to buy more books. You want to make me happy? Give me Amazon.com gift certificates.