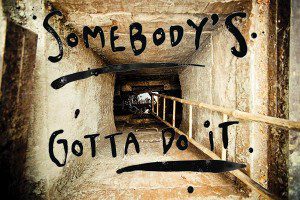 I confess that it felt like we had a great service at Redemption Church yesterday, and then things got a little weird. At some point the plumbing backed up and the toilets became unusable. We had to shut down all of the bathrooms and call a plumber. Luckily it happened toward the end of the morning, so the inconvenience came as people were leaving. (Our mother-ship Heartland Community Church once had to cancel their morning services because of a plumbing problem like this, so it feels like we got lucky). Unfortunately there was still enough water usage that the drain in one of our mechanical rooms started backing up with the grossest, foulest, nastiness sludge I could imagine. It was like Shawshank Redemption. I will spare you the details other than to say that nothing in my training as a pastor prepared me for this kind of work. As I was shoveling this, let's just call it "stuff," away from the drain and out from under the shelves with a snow shovel, I kept thinking this is the kind of thing megachurch pastors would probably never do, and there's a sense in which it is good that I have to do it. Then I would gag and have to make myself not throw up. We had to shut off the water until the plumber came, which means we had to shut off the air conditioners, too. This wasn't so bad since another near-catastrophe was about to happen that would necessitate opening every door and window in the church…
I confess that we then had a small fire (unrelated to the Shawshank incident) in the kitchen. These huge boxes we use to pick up doughnuts every Sunday were sitting on the stove and somehow the burner was turned on–we have one of those flat-top stoves in the church kitchen. Someone noticed the smell and by the time they figured out where it was coming from, the box was smoldering on the underside. When Cole (our youth pastor) picked the box up to get it out of the building, oxygen hit the underside and it burst into flames. He apparently ran it outside & put the fire out & doused it with water. Luckily the The fire alarms didn't go off, but the smell of this stuff was nasty. There must have been some kind of chemical treatment in the cardboard & plastic, because these were some seriously noxious fumes. We had to open the whole building up. I can't help but feel like we dodged another bullet.
I confess that at some point during the afternoon while waiting on the plumber someone opened the door to our community room (a generic classroom), and the space heater had been turned on. It was like 90 degrees in there… strange day at Redemption Church. Props to Cole who did the worst of the shoveling, Marty and Jennifer for helping to contain the damage, and Jodi and Beth for laughing with us about the whole thing. (also to the Roto-Rooter technician who rammed close to 150 feet of snake down our sewers to clear the clog–the RC facilities are now open for business).
I confess that a bunch of kids from the neighborhood were hanging out playing soccer in the church yard Sunday afternoon as all this was happening. We know most of them from youth group or soccer camp so they came inside and laughed at us & got completely grossed out. One kid name Jesús ran home and rode his bike back with a square bladed shovel. How cool is that? I confess that it made me feel so good that these kids from the neighborhood are starting to feel at home in our facility. At one point we couldn't find them, and Cole went looking. He walked into one of the classrooms and they were coloring w/crayons and everything. I have no idea what to make of that.