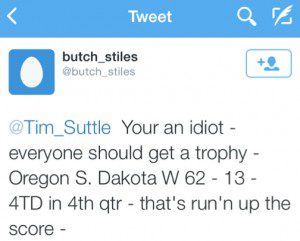 The intersection of sports and religion is tricky, and writing about it is bound to tick some people off. But I had no idea…
Up until now, the most vitriol I've ever experienced from an article I've published has been from the Tea Party, after an article I wrote in 2011. The emails from that article were disturbing beyond anything else I've received. That is, until two days ago, when "Urban Meyer, God, & Running Up the Score" ran in The Huffington Post. Oh, holy night.
Ohio State Buckeye fans take their football very seriously, my friends. I now know why former Ohio State QB and ESPN analyst Kirk Herbstreit literally had to move from Ohio to escape the haters. Do not poke these people with a stick unless you want them to unleash their fury on your inbox.
Mostly what I received was just your standard hate mail. I got a polite, "You sir, are a terrible Christian," from a gentleman named Joe Petty (I did not make up that last name), who works at a Clear Fork High School, in Bellville, OH. There was a laconic "F#@$ You" from an underaged commenter whose name will remain anonymous.
Creative.
The standard Christian insult was along the lines of, you are a terrible pastor, I feel sorry for your church, and my favorite: you probably don't have any church members under the age of 70.  
There were several, you don't know how to play sports, and you must have been picked last for every team. I was never picked last, by the way. I was an athletic badass there for awhile. Granted I peaked athletically somewhere around 5th or 6th grade… but I digress.
There was also this message written by my new friend Corey Hudson, from Sandusky:

Charming.
So, to my ardent detractors, please allow me just one response: If it matters this much to you, then you are way too over identified with your sports team to be a healthy, happy, human being. You are, however, highly entertaining. So, thanks for that! (Also, I'm not an Oregon fan. I actually picked Ohio State in that game. My school is K-State. And you can say anything you'd like about them w/out threat of hate mail from me).
To the nearly 8,000 folks who liked the article on Facebook, the 5-600 folks who shared it with your friends, and the folks who took the time to call or email and talk about the deeper issues I'm working with therein, I really do appreciate your thoughtfulness.
In all sincerity, the comments and tweets around this story have been stinking hilarious, and have provided me and the folks I work and do life with a lot of laughs over the past two days. So, I wanted to share a few of them here. As you can tell from the headline "@Tim_Suttle Your an idiot," grammar and syntax were not of high value in this exercise. Decorum was not a factor, either, so beware: the following content is rated PG.
So in the return of the Friday Funny, these are my favorite @Tim_Suttle Tweets from the past few days & the funniest thing I could think to say/point out about each of them. Please don't take any of it seriously in any way. Happy Friday everyone!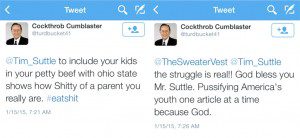 This gentleman gets the award for most creative self-titles. I'm guessing that "C-throb C-blaster" is not his Christian name, but came about because @turdbucket41 had no alliteration. On the upside, this is the first time I've been told to #eatshit online, so that's cool.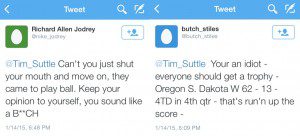 The grammatical irony of "Your an idiot" is just too much. But in case you are worried about their doing any lasting damage to my reputation, rest easy. Richard and Butch have a collective 3 Twitter followers.

Hey, Kenny. I'll have you know I played a mean flag football in elementary school, and I once separated my shoulder in a church staff touch football game. I'm not kidding. I jacked around the whole game, and then actually tried hard on one play & had to go to the emergency room (true story).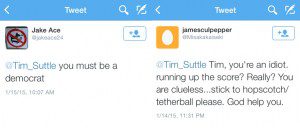 I'm a registered Republican, Jake, but thanks for asking. You? I'm glad to see James knows the difference between "your" and "you're," and I guess he has a point about the hopscotch. Too bad this only went out to James' whopping 1 Twitter follower. I'm not joking… 1. Until you. You are going to follow James Culpepper, or @Misakakaiseki. Is that "Misa aka kaiseki" or … no wait. (Read it quickly a few times & pretend you are Jar-Jar Binks in Jr. High)… ugh…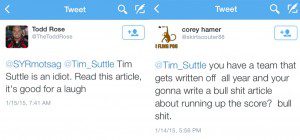 Corey gets the award for the most honest of the commenters in terms of his avatar, "I fling poo." Well played, Corey… or should I say "skirt scouter 88." I'm assuming that you were a skirt-scouting high school grad from the class of 88? Me too. Cool.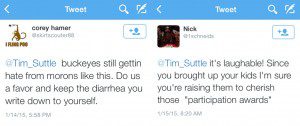 Actually Nick, what I say is that it's not whether you win or lose that counts; it's how you play the game… it is how you play the game. Nevertheless, according to @skirtscouter88, I have written enough diarrhea for one week, so I'll leave it at that.
Have a great Friday everyone. If you are looking for a few exiting Twitter accounts to follow, the above come highly recommended.