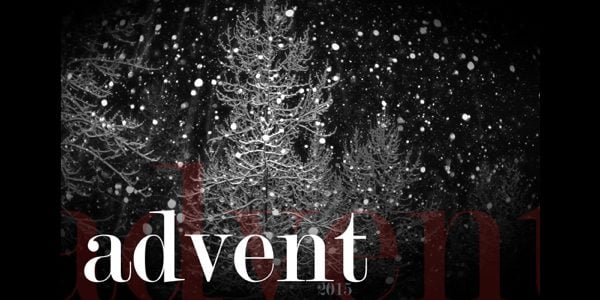 If you would rather, you can listen to the talk here.
It's kind of hard to imagine Christmas without the Christmas music, isn't it? Just a quick show of hands: Who gets really into the Christmas songs, It's one of your favorite parts of the season? Who gets really tired of the songs?
It's interesting to me that when Luke tells the story of Jesus's birth, every now & then his characters just spontaneously break into song. It's like a Roger's and Hammerstein musical or something. There's Mary's Song & Zechariah's song, the Angel's Song & Simeon's song. That's four songs in two chapters. It sort of makes you wonder, why so much music?
Could be that music is more evocative than prose? Could it be Luke's trying to convey more than just information; he really wants us experience the story? Could it be Luke's trying to communicate something that is far too mysterious (not as in unknowable, but endlessly knowable) for anything but a song?
If that's what he's doing, maybe music isn't a bad choice. In fact one of the most basic concepts in music theory says: at a foundational level, what good music does, nearly always, is take the listener on a journey.
In the simplest terms this journey is signified by the pattern: Home – Away – Home. If you'll pay attention you'll begin to notice that the first thing a song does (almost always) is to show you where home is.
Let's try this song & see if you can feel it. Sing along.
Hey Jude, don't make it bad;

take a sad song & make it better.

Just remember to let her into your heart,

then you will start to make it better.
In just a few notes the song establishes a sense of home in our minds, and we don't even think about it because it all happens subconsciously.
Next, what a good song will do is take you Away somewhere. It will introduce some type tension. You'll think, "What's this? This isn't my home? Where are you going with this?" The Beatles signal this with a single note… (Play the 7 chord). You hear it and think, what just happened? They actually switch from key of G to key of C to build the tension.
And anytime you feel the pain, hey Jude, refrain,

Don't carry the world upon your shoulders
There's that note again! It's saying, "we're still away people… not home yet!"
Once that Away section takes hold of you, it will produce in you a longing for Home. The longer the Away section lasts the more we long for Home.
For well you know that it's a fool who plays it cool,

by making his world a little colder
Then they just lean on it! How high is it going? And now what's the only thing you want to sing?
"Hey Jude! Don't let me down,

you have found her, now go and get her…
Because the Beatles are brilliant, when the end of this song rolls around the Home feels so good that they just revel in it for like give minutes. And nobody cares because it feels so nice. Sing with me.
"Nah nah, nah… Hey Jude!"
Music theorists believe that the reason this element of music is so powerful is that it rings true w/our lives. Home-Away-Home stories resonate so deeply because they match our own experience.
Home, in our lives can mean a lot of different things, and it changes over time. Sometimes it goes Away for periods of time. This is just part of the human experience. Tension, pain, suffering, loss, those things are unavoidable, and they create in us a longing for Home.
As Christians we believe that our soul has a Home in its relating to God, but much of our life feels Away from God in some sense. Our lives follow this pattern of Home – Away – Home.
You grow up in some kind of a Home, and that feels normal. At some point you move Away. You go to work, or school. There's tension in that move… some dissonance.
And at some point, that new place starts to feel more like Home. Then something happens to disrupt it—you get married, or take a job in a new city—and all the sudden you're Away again.
When that new situation becomes established, it will feel like you're Home again. Then you have kids, and you'll worry all the time. They spend all your money, and you never sleep. It's a total Away experience.
This Home – Away – Home pattern runs all throughout our lives. And it's the pattern music often takes, & throughout our text for today as well.
Which is one of the most beautiful songs in scripture, Mary's Magnificat. Mary's story began in a well established Home. She was a good Jewish girl from a good Jewish family. She lived in Galilee, in a little town called Nazareth with all of her Jewish family & friends, and she became engaged to a man named Joseph. The bible says he was a righteous man, which meant he kept the Torah. It was a good match. It felt like Home. Mary's plan was to raise a family, and live as her mother lived, and her grandmother before her.
But, as the story goes, the angel Gabriel was sent to Nazareth to carry a message to Mary, and this is what he says (Luke 1:30-33):
"Do not be afraid, Mary, for you have found favor with God.And now, you will conceive in your womb and bear a son, and you will name him Jesus. He will be great, and will be called the Son of the Most High, and the Lord God will give to him the throne of his ancestor David. He will reign over the house of Jacob forever, and of his kingdom there will be no end."
Mary's says, "Hold on a sec. I'm a bit confused. How can this be? I've never been with a man." The Angle replied:
"The Holy Spirit will come upon you, and the power of the Most High will overshadow you; therefore the child to be born will be holy; he will be called Son of God. And now, your relative Elizabeth in her old age has also conceived a son; and this is the sixth month for her who was said to be barren. For nothing will be impossible with God." Then Mary said, "Here am I, the servant of the Lord; may it be unto me according to your word."
And in one instant Mary is thrust into an Away moment so intense that most of us cannot imagine it. Try putting yourself in Mary's position.
Jewish engagement was a legal marriage in every way except for the sex. Then Mary has this experience with the angel in which she is told that she will become pregnant. This is a huge problem.
Imagine a young Jewish girl (scholars estimate that she was 13 or 14years old), still living with her parents in a small town with all her relatives & friends. If she consents to this, she's got to go tell her mom and dad, she's got to tell Joseph, she's got to tell her community that she's pregnant. And her story is that there was this angel, and her child is the Messiah. So… surprise! It's a miracle!
Biology wasn't any different back then than it is now. Nobody is going to buy it.
This is actually a common situation for cultures that still practice arranged marriages. A young boy & girl fall in love, but she's given to another man to marry. The two sneak out to spend one night together, and she turns up pregnant.
It was so common in Mary's day that they had a whole procedure for it in the law. If Mary did not claim to have been forcibly violated, and if Joseph did not claim the child as his own, then she would be put on trial for adultery and could be executed.
Joseph, we are told, was planning to divorce her quietly, which would leave her destitute. Even if Joseph claimed the child and stood by Mary (which he did only after a dream), she would never lead a normal life. Her family & friends would never look at her the same way. She would be shamed, humiliated, even ostracized. Joseph's integrity would be called into question. Her baby would be called, a mamzer… an illegitimate child. He could be excluded from the temple, from Jewish ceremonies.
So, when the Angel said, "You will conceive a child by the Holy Spirit," Mary's life as she knew it was over, and yet she didn't even hesitate.
So, why did she do it?
Would you have done it if you were in her place?
One could say that Mary saw an angel. That's cheating. That's a metaphysical trump card. Remember, though, how Zechariah saw an angel too, & he doubted. He went mute for nine months. So, why did Mary say yes, given all that meant for her?
Scot McKnight is a New Testament scholar & author. He wrote a book called The Real Mary, he said the reason is,
"Because she knew God. She knew from the pages of her people's history that the God of Israel was a merciful God who would look after her. She knew the stories about other women who were threatened in Jewish history who were protected by God."
It's been about ten years since Scot McKnight wrote The Real Mary. I sent him an email last week, asking if he's learned anything new, or noticed anything new over that time. He said two things. First, he lamented the fact that most Evangelicals still don't get what an amazing figure Mary is. Anti-Catholicism blocks interest in her, and we miss out. Second, he said he is struck by the fact that, in his words, "Mary & Joseph began to suffer for Jesus before he was even born—that in itself is worth knowing and contemplating."
The shaming Mary and Joseph would face from their community would've been rough. It makes me think of that great Walter Brueggemann line, "Most of us are willing to die for Jesus. We just don't want to be inconvenienced." Her life would be more than just an inconvenience from here on out.
Maybe that's why Mary set out to go see her cousin Elizabeth. Elizabeth was way past childbearing age, yet she was as pregnant as could be, carrying John the Baptist. When Mary walked in, Elizabeth broke into her own little song, "Blessed are you among women; blessed is the fruit of your womb."
Then comes one of the most famous songs in all of history. This song, believe it or not, is way bigger than Hey Jude!
"My soul magnifies the Lord, and my spirit rejoices in God my Savior, for he has looked with favor on the lowliness of his servant. Surely, from now on all generations will call me blessed; for the Mighty One has done great things for me, and holy is his name. His mercy is for those who fear him from generation to generation. He has shown strength with his arm; he has scattered the proud in the thoughts of their hearts. He has brought down the powerful from their thrones, and lifted up the lowly; he has filled the hungry with good things, and sent the rich away empty. He has helped his servant Israel, in remembrance of his mercy, according to the promise he made to our ancestors, to Abraham and to his descendants forever."
It's not exactly, "hush little baby don't say a word," is it? He has scattering the proud? He will bring down the powerful from their thrones? Who is Mary talking about? Herod the Great? Caesar? Within the year Herod would order her son's death. They had to flee to Egypt. Caesar's man, Pilate, would put Mary's son to death. How does a meek little girl from Nazareth write this song?
If you know your psalms you know this song has its basis in Psalm 35, "My soul proclaims the greatness of the Lord, and my spirit has found gladness in God my Savior." Mary obviously knows this verse. In fact she probably knew most of the Psalms by heart. Her education would have involved memorizing all or most of the Psalms. Scholars tell us that in her short song there are dozens of illusions to Old Testament Scriptures.
The Torah, the Psalms & the Prophets had shaped Mary's imagination. So when she sang her song, she sang about the God she had come to know & believe in through the scriptures. She was longing to see the Redemption of Israel, & she believed God would look out for her.
Mary made a theological leap here, and she was actually the first human to ever make it. She was convinced that what God had promised in the prophets was coming to fruition. Her son would be Messiah. And if Jesus was going to be king, then Herod was going to go down.
This was going to be a very different life than she imagined.
So when she said, "Let it be unto me according to your word," it was a stunning act of submission…
It's interesting to think about the reaction of all the players in the story. Everyone was amazed, they marveled at what was said. The angels sang. The shepherds quaked. The wise men followed. Herod fumed. But Mary, we are told, "treasured up all these things and pondered them in her heart."
We usually hear that in a sentimental way—like she was knitting him a blankey. The words used here are a technical description that is typically used in reference to the prophets. The Word of God comes to the prophet, and the prophet ponders it. The Word becomes joined to their soul, and then they bring that word to the people.
This is exactly what Mary is doing. Mary was given the Word, joined to the word, and brought the word to the people. Through Mary, the word became flesh & dwelt among us. Mary is the preeminent prophet of the New Testament.
Her life is so much more than just a cute story. Mary teaches us what it means to submit our lives to God. It's not just Home, Home, Home, Home… there's always an Away section.
When called upon by God, Mary's answer was, "May it be unto me… your word."
What will your answer be?
If we could have Mary here as a guest speaker, and she told her story—and think how incredible that would be—she would wrap up her message by presenting us a challenge. "The question I want to leave you with," she would say, "is: what wants to be born into the world thru you?"
It's a good question.
Over the past few years, there's a particular song about Mary that I have fallen in love with: It's called O Magnum Mysterium… (start song – translating as we listen).
O magnum mysterium: Oh great mystery;
et admirabile sacramentum: and wonderful sacrament
ut animalia – viderent: that animals – viderent is the same root from which we get the word video. It means to watch, to see, to witness.
dominum – natum: the Lord – newborn,
jacentem in praesepio: lying in a manger;
That's the Home section of the song; a lush and beautiful O Magnum Mysterium, "Oh Great Mystery & wonderful sacrament."
A sacrament is when physical things take on spiritual significance. As Protestants we have two official sacraments: baptism & communion. But, we believe in the sacramentality of all of life. Everything is potentially sacred. When we raise our hands to bless someone that is a sacramental move—physical thing that takes on spiritual significance.
This song is talking about our lives, and what it means to be human. This is Home for us: "Oh Great Mystery & wonderful sacrament; that animals should see the newborn Lord, "jacentem in praesepio," lying in a manger. (Stop music just before beata virgo)
That's Home. That's the world that God has designed for us. So, now the next phrase is going to take us Away for a bit. The words are,
beata virgo: Blessed Virgin
cujus viscera: was found – visceral, our guts, insides…her womb.
meruerunt portare: worthy – to port, carry, bring, to bear
dominum christum: The Lord Christ
Blessed is the virgin whose womb was worthy to bear Christ the Lord.
The composer is a man named Morten Lauridsen. He's a contemporary composer who teaches at USC. He did an interview once in which he said the most challenging part of the piece was the line about the Virgin Mary. It was a real question for him, how do you portray Mary? Chosen to bear the Christ child, asked to give up her hopes & dreams, living this strange life… how does one portray Mary's contribution? … her joy and her suffering? He said:
"After exploring several paths, I decided to depict this by a single note. On the word 'virgo,' the altos sing a dissonant G-sharp. It's the only tone in the entire work that is foreign to the main key of D. That note stands out against a consonant backdrop as if a sonic light has suddenly been focused upon it, edifying its meaning. It is the most important note in the piece."
Let's listen. The words are beata virgo 'blessed virgin' & the dissonant note comes on virgo, (play & point it out)
Did you hear it? There's only one note of absolute dissonance in the song. It's on the word "virgo." A virgin, will carry the child… how could this be? Listen as it comes around again.
That tone isn't supposed to be there. It's not in the scale. That's the Away moment… signifying the blessing, and all that it would cost her. Then they just turn it loose & sing O Great Mystery… listen to this. (refrain, volume up… stop after a few seconds).
Do you see why I love it so much?
It's really quite stunning. Mary's life has become a sacrament; her physical body taking on spiritual significance like no one in history. But, it would be difficult. Her life as she knew it was over. Her hopes & dreams would have to change now. It was a lot to ask, and yet her answer was simply, "May it be unto me according to your word."
Part of what Mary's meant to teach us is: we've all been created with this same potential. Your life can become a sacrament. Your physical life can take on such spiritual significance. You have a part to play in the story of God, too! So, when God comes to you, and asks you to do a hard thing; when life brings you to the Away section of your song, what will you say?
"Nah, not so much…" or "May it be unto me according to your word."
Mary, as McKnight points out, can be a bit of a Rorschach inkblot test. We see in her whatever we want to see in her. And, if the Catholics have made too much of Mary, and they probably have, then surely the Protestants have made too little.
Rich Mullins once wrote: "People worry with the Catholic thing of revering Mary, and I've often thought… maybe it's not that they revere Mary too much. Maybe it's that all of us revere each other too little."
Mary wasn't a meek & mild little wallflower. She was courageous, rugged, strong, and tough, and she left an incredible mark on the church long after the Christmas story was over. Part of what she's meant to teach us is that our lives hold the same potential to give God hands & feet in this world.
What you do in the workplace, neighborhood, family, friendships, it matters. What you do each day is an opportunity let Jesus move from word to flesh. Whether you are in a Home section of life, or an Away one, what you do matters to this world. It matters to God.
When your life asks hard things of you—death, addiction, loss, suffering, sickness, conflict, divorce, betrayal—when your faith asks a hard thing of you—forgiveness, reconciliation, sacrifice, faith, risk, dying to self and to others—what will you say?
Mary shows us what is possible if we have the courage to say: "May it be unto me according to your word."
The last question of Advent that I want us to ponder, and to carry with us from now on into Christmas Eve is the question Mary puts before us:
What wants to be born into the world thru you?
What is the great mystery and wonderful sacrament of your life?
Meditation: listen to O Magnum Mysterium with images of Mary.