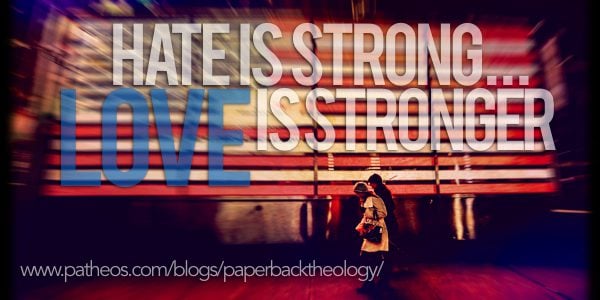 The big lie of every government is this: we can make you safe and happy. Governments should stop promising this, because they can't deliver.
America, powerful as it is, cannot keep its promises to make us safe and happy. Only God can do that. The primary means through which God has chosen to do that is through each other.
You want to know how to secure the future?
Try this:
Love with sincerity.
Hate what is evil and cling to what is good. Be devoted to one another in love. Honor other people above yourselves. Don't lack in your most basic commitment to be good news to the people around you. Let your passion for serving the Lord burn bright through your life.
Be joyful in hope. Be patient in affliction. Be faithful in prayer. Share your wealth and material possessions with the people who are struggling with poverty or lack. Show hospitality by welcoming those who are not like you into your home.
Bless those who persecute you; bless them and do not curse them. Rejoice with anyone who is willing to rejoice with you no matter how different they are; mourn with those who are in mourning, nobody should have to cry alone.
Live in harmony with your neighbors. Do not be proud. Your ego is toxic. Be ready at all times to associate with people of low position. In other words, do not be so conceited that you can't be a friend to the poor.
In your relationships with other people you are going to get rogered every now and then. But do not repay evil for evil. Be careful to do what is right in the eyes of everyone. As far as it depends upon you and is in your control, live at peace with everyone.
DO NOT TAKE REVENGE, dear friends. Let God to the revenging… God has already told you that's his territory, not yours.
If your enemy is hungry, feed him.
If your enemy is thirsty, give him something to drink.
If he won't love you back, then his anger will burn him alive and it's not your problem anymore.
Do not be overcome by evil, but overcome evil with good.
That's my own paraphrase of Romans 12:9-21 (the Bible will do it almost every time). I can't help thinking that if Christians in our society would give half as much attention to the above directive from our founding document as we do to the culture wars and politics, the world would be a very different place, and a whole lot safer.
America, powerful as it is, cannot make us safe, and it cannot make us happy. Every great teacher, including Jesus and Paul, said that the path to safety and happiness is, well, unconventional… humility, patience, and enemy love.
So here's my pastoral advice: Bless those who persecute you, America. Bless them and do not curse them. Feed your enemies. Do not take revenge. Be patient in affliction. Be joyful in hope. Do not be overcome by evil, but overcome evil with good…
Yeah, it sounds crazy, I know. But our current approach is not working. Maybe it's time for a change.
One last thing… over the coming months, while pundits & politicians try and tear or society apart, the most powerful thing you could do is to print the above passage out & stick it to your bathroom mirror, your car's dashboard, your computer screen, your kitchen window, or anyplace where you'll see it everyday. Read it over and over.
Remember that the way up is down…
Remember that hate is strong, but love is stronger.