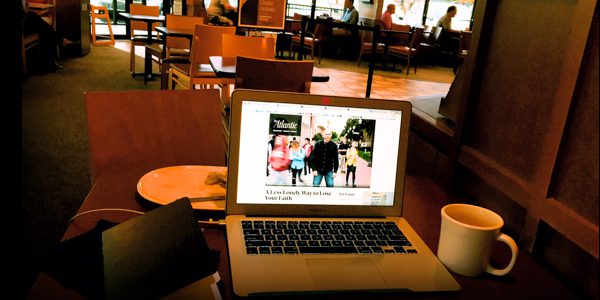 My friend Isaac Anderson has an article in The Atlantic called "A Less Lonely Way to Lose Your Faith," and it's well worth your time to read. Isaac profiles a community of un-faith in the Kansas City area called Oasis. They gather on Sunday mornings, sing songs, listen to talks, hold children's programs, and to find friendship and belonging. Sounds like a church, right? That's the idea.
This is a fascinating phenomenon to me: religious-like weekly gatherings for people who don't (or no longer) believe in God. I hope you'll read the article and share it around because I think there are lessons to learn here about what it means to be human, and the longings we all share.
Let's test your instincts. What part of the country would you expect to find a full-on atheist church service? I'm from Kansas. We spend our lives perpetually behind the times, so I just immediately assume anything new comes from the coasts. New York or L.A., right? Or at least some highly secularized region of the country? Not so. The rise of these types of gatherings happens where churches are most active. In fact they are linked to areas in which there is a sizable local presence of evangelical Christians or Mormons. The bible belt is ground zero for atheist churches.
"The data suggest that "every percentage increase in evangelical Protestants in a county increases the number of nonbeliever organizations by approximately 1 percent," the study authors wrote. Of the eight Oasis fellowships now meeting publicly, all but one are located in the American Bible Belt or Mormon Corridor, regions in which faith and public life are deeply entwined."
Another lesson to learn here is that these groups are not typically hostile toward Christianity or any sort of faith. This struck me as important for evangelicals to know. Play word association with most people, and their snap response to the word atheist would likely be Hitchens or Dawkins—strident atheist with a bone to pick with organized religion. The group Isaac describes is more like the religious sans religion. They are looking for community and ritual and support and growth but they don't want to fight about it.
"Helen Stringer, 34, the founder of Kansas City Oasis, occasionally invites speakers from religious communities to discuss a topic related to their faith traditions. "We want to build bridges," she said. 'Not throw bombs.'"
One last thing. Out of all the motivations that draw people to gatherings like this, members of Oasis seem to be looking for community. They want a place to belong. For example,
"The Sunday after Alton Sterling and Philando Castile were killed by police officers in Baton Rouge and St. Paul, and five police officers were shot by a sniper during a protest in Dallas, Timothy Leyrson, 33, showed up at Kansas City Oasis for the first time. He wore black Dickies trousers and a paisley bowtie, and sat on the corner of a bleacher near the door. After high school, he'd quit going to his Assemblies of God church, he told me. I asked what had brought him here. Everything in the news, he said—the hostility, the racial violence. After that, he said, he needed some kind of positive community experience. 'And this seemed like a good place to start.'"
Thought provoking stuff from a really good writer. I hope you'll take the time to read the entire piece.