My sister-in-law says I don't understand the "Quick" part of "Seven Quick Takes." She's probably…no, she's definitely right about that. I always have more to say than I thought I did. That said, I will attempt to be brief and stick to a few brief thoughts from this past week.
Whatever is Good
I love these word-clouds, and I use them as a sort of self-check–where has my mind been? What have I been writing about? Where is my treasure?
I'm realizing I don't write as much about my children on social media as I used to. As they grow older, it's harder to figure out what to share and what I don't have the right to share. When I do share, it's more often to be within private groups rather than on my Facebook wall, which is increasingly populated by people I've "met" through this past year's blogging.
But I think much of the difference is that I gave this year over to writing and blogging, as a sort of personal/professional challenge, and that has launched me into wonderful discussions of all kinds of things.
I'm grateful to see that the outlet of my writing has given me a space to think on "whatever is good, whatever is true, whatever is beautiful": friends, humanity, people, goodness, women, children, love.
Maybe Poetry Can Save the World
I read this Seamus Heaney poem, and thought at once of all the courageous women who have told their stories of abuse–abuse of trust, abuse of power, abuse of weakness, abuse of leadership, abuse of friendship–and the men and women who have, for a time, for THIS time, stopped and listened, and I have hope and a prayer that the citizenship rolls of the Republic of Conscience may be growing even as we watch.
 At immigration, the clerk was an old man
who produced a wallet from his homespun coat
and showed me a photograph of my grandfather.

The woman in customs asked me to declare
the words of our traditional cures and charms
to heal dumbness and avert the evil eye.

No porters. No interpreter. No taxi.
You carried your own burden and very soon
your symptoms of creeping privilege disappeared.

-excerpted from Seamus Heaney, "From the Republic of Conscience"
I Need Another Month Between November and December
November has been a stressful month. I've had knots to untangle with multiple government agencies and it has been frustrating and financially difficult.
So it's the 24th of November, and I haven't done any Christmas shopping! This might be normal for some, but I much prefer to shop from the comfort of my desk, ordering gifts online and then packaging them with home-made extras after they reach my house.
I also have the looming anxiety, born of a lifetime with ADHD, that if I don't give myself plenty of breathing room to make lists and plan gifts, there is sure to be someone or something that falls through the cracks. December goes fast, and I'm not ready for it!
November has enough to be anxious about. I need some breathing space before I start in on the holiday anxiety. Can we add another month–even just a week or two–in there, right between November 30th and December 1st? Puh-leeze?
I Don't Deserve Such Good Friends, But Don't Tell Them That
You know how people get imposter syndrome over work and school, where they feel like they are sort of skating along on pure luck and bullshit, and any minute someone is going to figure out that they are frauds who don't belong along with all the really truly successful people?
I feel like that about my friends.
I have been befriended by (I'm too socially awkward to do much initiating) some of the most intelligent, hilarious, clever, observant, witty, incisive, clear-headed, kind, generous, and caring women you could ever hope to meet.
To be honest, I haven't met many of them. The internet is an introvert's playground, without the trauma and scars of a real playground. I won't try to name all of the amazing women I am privileged to know and call a friend because of our interactions online over the course of years, but I hope that they will know who they are when they read this, and know that I am truly, truly grateful.  Alongside my sisters and sisters-in-law, and the friendships begun in college and those seeded along my path through life, these women make difficult months bearable and heavy burdens lighter. I hope they can say the same for me.
Y'all have taught me what solidarity looks like. Thank you.
You May Be Owed Money! This is Not a Hoax
…as all of the hoax emails begin. But this really isn't a hoax: a friend posted a link to MissingMoney.com, and when I put my name in I discovered that a tidy sum of unclaimed money is being held for me by the State of Louisiana, where I lived 7 years ago!
The website hosts a national database of lost assets held by states (and one province, Alberta). These lost assets are things like abandoned bank accounts, orphan investments, refunds, unclaimed inheritances, and so on.
The claim required me to provide evidence that I once lived at the listed address as well as several forms of identification, making me grateful for my filing habits; I was able to find everything needed in 30 minutes or less of looking through my "US papers" file box.
God Bless Small Town Lawyers
To file the unclaimed property claim, I had to have the form notarized. I've spent more time reading about different kinds of witnessing of oaths this month than I ever expected to, so I knew already that a notary was going to be harder to find in Ontario than it would be in the US. In most US states, anyone can become a notary just by passing a test and paying a fee. Here in Ontario, notaries are almost all lawyers, and non-lawyer notaries are limited to notarizing things related to their employment and can't offer their services to the public.
There is a position in Ontario called "Commissioner of Oaths" that can commission affadavits and declarations–the Statutory Declarations we've collected in support of Liam's immigration petition all have to be signed in the presence of a Commissioner of Oaths and stamped. But I wasn't going to gamble on the State of Louisiana recognizing the legal authority of an Ontario Commissioner, so off I went to find a lawyer and hope the fee wouldn't be too much.
(The receptionist/clerk at the first law firm I went to explained that she didn't have a lawyer in the office at present, but was I sure I didn't just need a commissioner of oaths? When I explained it was for Americans, she sighed in sympathy and gave me the addresses of two other small law firms in our small town.)
When I did find a lawyer to notarize my documents–a young looking fellow who took his time thinking out the right legal formula to use in signing his name and affixing his seal, since the form didn't have a specified line for the notary to sign on–he spent 15 minutes with me looking over the documents and getting them notarized, made a copy for his records, and told me I should be all set, good luck. I stopped at the receptionist's desk to ask what I owed, and she said genially, "If he told you to go, you're good!"
There are times when I love living in a friendly little town.
I Meant It About Poetry Up There
There's been a lot going on, and yesterday, between lawyers and license plate renewals and the bank and the gas station, I impulsively turned in at the parish parking lot and wandered into the empty church. I sat for a while in the quiet, prayed a little, read a little, thought a little. And before I left, I prayed poetry. You know how people pray the psalms? I've discovered you can pray the poetry of Gerard Manley Hopkins the same way.
Nondum
'Verily Thou art a God that hidest Thyself.' -Isaiah xlv. 15

God, though to Thee our psalm we raise
No answering voice comes from the skies;
To Thee the trembling sinner prays
But no forgiving voice replies;
Our prayer seems lost in desert ways,
Our hymn in the vast silence dies.

We see the glories of the earth
But not the hand that wrought them all:
Night to a myriad worlds gives birth,
Yet like a lighted empty hall
Where stands no host at door or hearth
Vacant creation's lamps appal.

We guess; we clothe Thee, unseen King,
With attributes we deem are meet;
Each in in his own imagining
Sets up a shadow in Thy seat;
Yet know not how our gifts to bring,
Where seek Thee with unsandalled feet.

And still th'unbroken silence broods
While ages and while aeons run,
As erst upon chaotic floods
The Spirit hovered ere the sun
Had called the seasons' changeful moods
And life's first germs from death had won.

And still th'abysses infinite
Surround the peak from which we gaze.
Deep calls to deep, and blackest night
Giddies the soul with blinding daze
That dares to cast its searching sight
On being's dread and vacant maze.

And Thou art silent, whilst Thy world
Contends about its many creeds
And hosts confront with flags unfurled
And zeal is flushed and pity bleeds
And truth is heard, with tears impearled,
A moaning voice among the reeds.

My hand upon my lips I lay;
The breast's desponding sob I quell;
I move along life's tomb-decked way
And listen to the passing bell
Summoning men from speechless day
To death's more silent, darker spell.

Oh! till Thou givest that sense beyond,
To shew Thee that Thou art, and near,
Let patience with her chastening wand
Dispell the doubt and dry the tear;
And lead me child-like by the hand
If still in darkness not in fear.

Speak! whisper to my watching heart
One word-as when a mother speaks
Soft, when she sees her infant start,
Till dimpled joy steals o'er its cheeks.
Then, to behold Thee as Thou art,
I'll wait till morn eternal breaks.

—Gerard Manley Hopkins
————–
Head over to This Ain't The Lyceum for more quick takes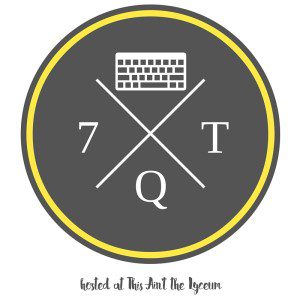 Image credit: