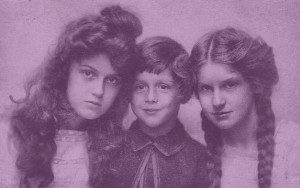 The Beach Boys sang about it, and now it's coming true here in the Salt Lake Valley. The guys are loving it, but the ladies? Well…
So this very interesting article by Jon Birger that TIME published on their website yesterday was floated my way. As a single Mormon female, I was intrigued by its initial mention of more LDS women getting boob jobs as an apparent way of snagging a man. I have natural 40Cs. No problem there, but if I'm being honest, no guy who values chest size that much would get the chance to test mine out. Farther down in the article, though, I found something useful: an interactive, county-by-county map of the US, which shows that in "Bountiful, Farmington, and North Salt Lake Cities" (one of which I now call home), single women outnumber single men two to one. ¡Ay, caramba!  From personal experience (read: current unbroken streak of years of datelessness), I knew the proportion was skewed in the guys' favor around here. I just didn't realize it was a literal, statistical 2:1. I'm not imagining it. Katniss can't help me…the odds are never going to be in my favor.
I also can send back a big "Amen" to the following paragraph: "Lopsided gender ratios don't just make it statistically harder for college-educated women to find a match. They change behavior too. According to sociologists, economists and psychologists who have studied sex ratios throughout history, the culture is less likely to emphasize courtship and monogamy when women are in oversupply. Heterosexual men are more likely to play the field, and heterosexual women must compete for men's attention." Oh, and then it cites Trinity College's American Religious Identification Survey in stating that there are 150 Mormon women for every 100 Mormon men in the state of Utah. There are your facts. Now let me tell you how it is on the ground to deal with the deck being stacked against you like this.
For the past two months, my roommate and I have attended a midsingles ward in Bountiful—ages 31 to 45. Our second week there, we went to a new member meeting in which we were told that about 450 people attend sacrament meeting in the ward each week, on average. This is an issue all on its own – the fact that the powers that be in the Church seem to think that putting single 31-45 year olds along the Wasatch Front into wards that are two and three times the size of a regular family or YSA ward is, to put it kindly, disappointing. Myopic may be a better word for it. If you really want singles to mingle and marry, put them in units that are an appropriate size for such contact. Don't warehouse us. Another post for another time…
I don't know how many of those 450 are women and how many are men, but it wouldn't be surprising to hear the 2:1 ratio cited again in this case. No matter what the number, the problem at hand every Sunday is that you as a female in a singles ward around here have to put on a show to get any attention from any of the menfolk (hence the boob jobs mentioned in the TIME online article). Anywhere you might go to try and meet a fellow Mormon of the opposite sex, there will always be more of you than there are of them. It is hard to enjoy yourself at an activity or feel particularly edified in sacrament meeting if your constant feeling while there is one of competition with the other girls around you. You can primp and preen and do whatever the hell else you can think of to try and bring a guy your way, but all the while there is the knowledge that all the cards are held by the guys and not the girls in these situations.
Do I know of girls who hit 30 or so and decided it wasn't worth trying for temple marriage anymore and instead married outside the Church? Yes, and I'd have to say that there are a lot of LDS women my age who do too. I can't blame them – the loneliness you feel while trying to continually be a 'good girl' and hoping that the Lord notices and rewards you with a good man, and then getting nothing of the sort for years at a time, can leave you willing to pursue options you might never have entertained back in your Laurel days. For me personally, the opposite tack has been my choice: I figure that the longer I have to wait to marry, the more I'm going to feel I deserve the blessings of a temple marriage. Whenever it comes, I will feel all the more that I have earned it. That obviously isn't the perspective of every LDS female out there, but I must speak up for the faction with which I side in this question.
Lest you think that I'm riding out this storm well, let me give you some background. When I joined the Church at age eighteen, I did not think I would still be single at 33. I didn't think I'd still be single past around 26 or 27, actually. So, the longer I've been alone, the more attractive the option of quitting the Church completely has become. I've gone away for months at a time, sometimes even years, but have always come back. Anymore, though, I can't promise that if such a scenario were to play out again, that I'd find my way back again. The longer you stick around, the more times you strike out, the bigger the fool you feel you are. So, though I can promise you I have no plan to marry outside the Church, I may not have a plan to marry inside it either. It would interest me greatly to see a study on how many LDS women have ceased activity due to the lack of marriage prospects. The article cites how many men have left the Church in recent years, but there might be just as much of a story in finding out how many women have done the same.
In general, many of the statements the TIME article makes are accurate of this writer's experience with the issue. No matter what the exacerbating factors may be, due to the fact that demographics are the core challenge, no quick fixes to this problem are forthcoming. Does it become, then, a matter of trying to make the 'victims' as 'comfortable as possible' and hope the 'casualty' numbers aren't too high?