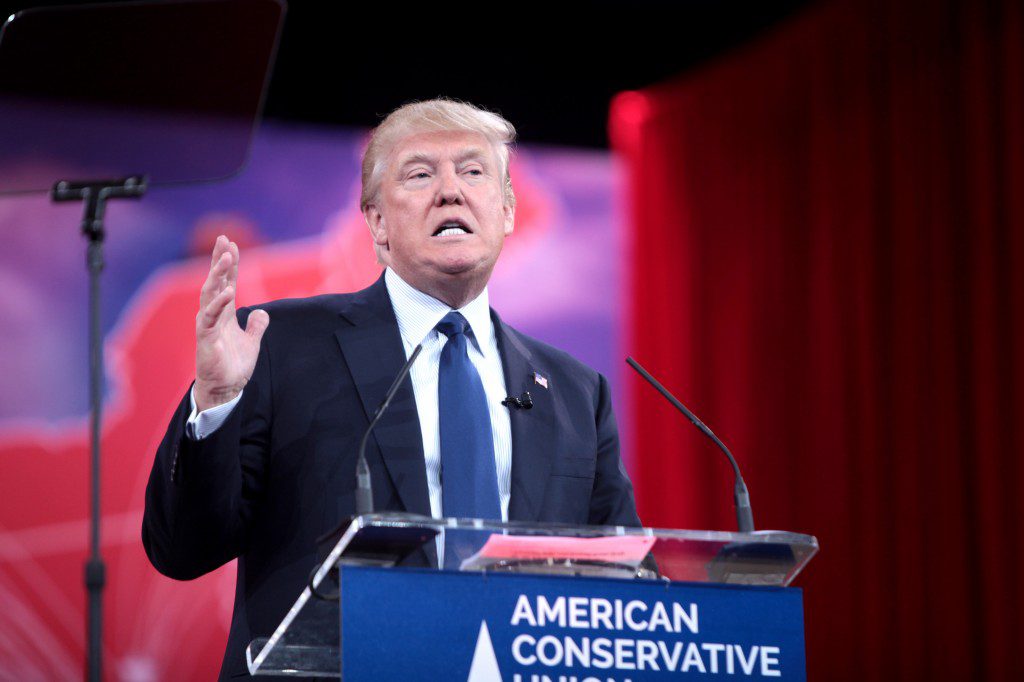 So is this it? Is this how The Republic ends? Not with a bang, but with 16 straight months of presidential debates?
That's right, 2016 is upon us, with the force of a thousand Facebook arguments and your uncle's hatred for "career politicians." We're entering a period of great uncertainty, which can only culminate in the glorious peace of the millennium. Will it be a Clinton? Will it be a Bush? And for heaven's sake, will it be The Donald?!?!
One thing, however, is certain. The plurality of Mormons will vote for whoever lands on the Republican ticket (unless, of course, 'ol Mitt runs as a third partier, which is about as likely as a heartfelt apology from Lilburn Boggs).
But there remains quite the array of options. Plus, we're still a ways away from the primary election, which means all those mighty R's still have to fight for a vote of confidence from their most consistent Western coalition.
So who will it be? Who will win over the Mormons?
To make things easier, and to aid in all things being done in wisdom and order1 I've compiled a brief summary of the Mormon pros and cons for each Republican candidate. Of course, I've only included candidates that register on national polls, because the last thing anyone wants to do is have to sift through a bunch of unqualified wackos.
Jeb Bush
Pro: Well, for starters, Mormons have been known to vote for dudes named Bush. Also, he speaks Spanish, just like a pretty substantial amount of our membership!

Con: Us Mormons tend to be pretty compassionate on issues related to immigration (at least that's the official stance of the church) and while Jeb has a pretty solid history on that front, he's been a little flip-floppy lately. No one likes a flip-flopper.
John Kasich
Pro: He's really concerned about poor people and says God will judge those who don't help those in need. Just like The Book of Mormon! (and Bible or whatever)

Con: His congressional portrait is way way way too chill. His blue shirt is a clear indicator that he is not in a position to help administer the sacrament.
Ben Carson
Pro: He was name dropped in conference and that doesn't happen every day. He's the first Seventh-Day Adventist candidate, and on my mission people confused us with the SDA all the time, so we're spiritual brothers if only for the hyphen. He loves tithing so much he wants the federal government to do it. Also, Cuba Gooding Jr. played him in a TNT original movie. Cuba's won an Oscar, so that should count for something.

Con: Um, it was kinda weird that he was name dropped in conference. Also, as we well know, it can hard for members of a minority religion when one of their own steps into presidential politics. Emotions run high and passions run deep. Keeping the pulpit and the voting booth separate can be a hard, frustrating fight. 2012 was fun for us Mormons and all, but we should probably never do that again. Also, he plagiarized the writings of Cleon Skousen, which is layered in badness.
Chris Christie
Pro: He's a brash, forceful speaker who isn't interested in messing around with your nonsense! It almost brings ol' brother Brigham to mind. Also, he likes Bruce Springsteen and that's great.

Con: Brother Brigham's brashness got us into some trouble. Also, Springsteen does not like him back.
Ted Cruz
Pro: He's buddy buddy with a Mormon (Utah's Mike Lee).

Con: His Mormon friend is always playing second fiddle to his shenanigans. Also, the two of them pose with weird tiger carpets. Also, from what I understand Lee hasn't officially endorsed Cruz, at least not yet.
Carly Fiorina
Pro: She's a businesswoman, and Mormons like business a lot. She also used to be a CEO of a computer company, and computers help with family history.

Con: Apparently, her managerial record at the aforementioned computer company wouldn't exactly make Clayton Christensen proud. Also, brother Beck is "unsatisfied" with her. Whatever that means.
Jim Gilmore
Pro: I'm not totally positive who this guy is.

Con: That seems like a pretty bad thing in politics.
Lindsey Graham
Pro: He loves God a lot. He's also a huge fan of the Iraq War, which as it just so happens was also pretty popular among us Mormon folk.

Con: Well, the dude's a lifelong bachelor. Kinda sets a bad example for all those free-wheelin' BYU bros that we keep hearing about in CES devotionals. Also, word on the street is that Bro. Brigham would not approve.
Mike Huckabee
Pro: He loves to mingle religion in politics, just like your local High Priest group leader. American Spectator also named their green JELLO recipe after Huck, which seems pretty Mormon. He also isn't one for curse words (particularly when it comes to the ladies). He also thinks Beyonce needs to take it down a notch, an idea he clearly stole from Donny Osmond.

Con: He's a little back and forth about the whole "Mormonism is a cult" thing. Which is rude. He also loves to hunt for sport, which doesn't jive with President Kimball's love for tiny birds.
Bobby Jindal
Pro: bobby Jindal's announcement of his intent to run for president was basically a recording of a very consequential Family Home Evening.

Con: There were no cinnamon rolls at his FHE which means it probably sucked for his poor kids. Also, recording a family meeting and then plastering it all over the Internet seems like a bummer. Now every time someone wants to have a family council they have to worry that it's being secretly recorded. Also, there was clearly not enough listening going on in that meeting. Elder Ballad said the key to Family Council is to make it "non-threatening." Put the kids first, Bobby.
George Pataki
Pro: I don't know he seems nice.

Con: I'm not 100% positive he's actually running for president. But polls and stuff keep saying he is.
Rand Paul
Pro: He apparently hangs out with some of the Skousen clan, and they're Mormon. One can only guess how many times he's read The 5000 Year Leap.

Con: One can only guess how many times he's read The 5000 Year Leap.
Rick Perry
Pro: Rick Perry is from Texas, which is dry and hot kinda like Utah. Mormons also fought in the Mexican-American War, which is basically where Texas came from. So we kinda had a hand in that. He is also very decisive about his opinion that Mormonism is not a cult.

Con: He clearly hangs around with people that think Mormonism is a cult.
Rick Santorum
Pro: He is arguably the most Mormon looking person who is not Mitt Romney, with his sweater vests and what not. Also, he is in charge of a company that makes bad, religiously themed movies, which is very Mormon.

Con: He also tends to run with the "Mormonism is a dangerous cult" crowd.
Donald Trump
Pro: He thinks Mormons are honest people (if you want to interpret his scuffle with Jon Huntsman that way), and he abstains from alcohol.

Con: Well, he's pretty freaking vulgar, for starters. He's also kinda known for saying really crude things about women, and believe it or not some women are also Mormon. He also thinks the vast majority of immigrants from Mexico are rapists and/or murderers, and believe it or not some of those immigrants, whether or not they came to this country legally, are also Mormon. He also thinks Mitt Romney is a big dumb loser, and Mormons tend to like that Romney fellow.
Scott Walker
Pro: He's made a name for himself as the most boring man in American politics, which is basically a move right out of the Mitt Romney playbook.

Con: He dropped out of college, which goes directly against the counsel of President Hinckley.
Marco Rubio
Pro: Rubio is the only candidate that is actually Mormon. You see, he was reportedly baptized as a kid when his family converted. They were fellowshipped by some friendly neighbors. He was interested and invested in Mormon theology (if there is such a thing!!!) and liked pinewood derbies. His parents decided to leave because they found Mormonism to be to restrictive.

Con: We should really be focused on making sure his records have been transferred to the correct ward before we get too worried about this whole presidency thing. Does he have home teachers? If not, why not? If so, why are they not visiting him? Is his name being discussed at Ward Council? It's time to remember that being president isn't what really matters in this life, or the next. There's work to be done.
So there you have it: This year's contenders for the Mighty Mormon Vote!! So who will it be? Will Mitt jump back in the race? Will Mormons grace Jeb or Rubio with their sustaining vote? Only time will tell. But until then, don't forget to participate fully in your civic duty!
#MoDecision2016
[1] This is an outrageous misuse of Mosiah 4:27.