I first met Dominique Moceanu when we traveled together to the Junior Pan American Games in 1992 in Sao Paolo, Brazil. I was fifteen and had recently won my first junior national all-around title. We had originally been bound for Rio de Janeiro, but the organizers made some planning errors and moved us to Sao Paolo, where we stayed in a not-so-wholesome area. Wherever we went, we were escorted by guards with Uzis, and we were warned not to leave the hotel and told that we'd likely be killed for our sneakers.
The competition was held in what looked like a hangar. Chickens clucked in the corners, pigeons flew amongst the rafters overhead and delivered their droppings onto the mats, and people randomly drifted across the vault runway. The food was bizarre, and when we ordered pizza, expecting something familiar and tasty, they delivered some kind of demon-vomit on a slab of cardboard. I barely ate the whole trip, and barely slept either.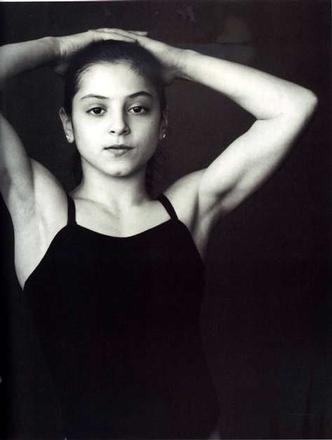 Amidst it all, there was little Dominique, ten years old and barely over four feet: a tiny dynamo from the Karolyi system. In the gym, she and Jennie Thompson won the team gold, and Domi won golds on three events and a silver in the all around, even though she was the youngest gymnast in the competition. On the bus, she was a charming little girl, cracking jokes, including some surprisingly risque ones for a ten year old. But she was a powerful gymnast, perfectly formed for the sport.
If you could have designed the ideal gymnast from scratch, she would have looked exactly like Dominique Moceanu. So it was no surprise when Dominique Moceanu went from Junior National Champion at the age of 12 to the youngest ever Senior National Champion at the age of 13, in 1995. At fourteen years of age, she was the youngest member of the Atlanta Olympic team in 1996, and yet she was considered a major contender for the all around gold medal. A stress fracture in her right tibia, however, hindered her at the Olympic Trials and in the training before the Atlanta games. Competing on a heavily bandaged leg, Dominique helped the Magnificent Seven to their historic win with strong performances on three events. She stumbled on the vault, however, and only advanced to the all around finals due to Kerri Strug's injury. In the all around finals, a few small mistakes cost her a medal, but she came away from Atlanta with the team gold.
After the Olympics in Atlanta, Dominique toured and struggled to find a new rhythm. With a new coach in 1998, she dominated the Goodwill Games. She also, however, was forced to file for legal emancipation from her parents when her abusive, controlling father was squandering the money she had earned. She eventually reconciled with her parents, but her relationship with the sport that brought her fame was complicated. Dominique spoke up against the unhealthy elements in the gymnastics world, and this won her both fans and detractors.
She had already spoken up about her abusive father, and about the bordering-on-abusive treatment she received from coaches. But little did the world know — until Moceanu published her recent book, Off Balance — that Dominique had a much bigger secret to tell.
*
Dominique, I've interviewed you once before about your faith and how it helped you endure the hardships in your life. I knew your book would be explosive, but I had no idea how explosive it would be. You married Michael Canales in 2006 and were pregnant in late 2007 — when you received an extraordinary letter. The letter was from a sister you had never met, Jennifer Bricker. What did it feel like, personally and psychologically, to discover that your parents had given up your sister and never told you? And that your sister was given up because she had been born without legs?
The whole situation was emotionally explosive. I had this Olympic medal at 14 and became emancipated at 17. I didn't think anything could shock me. But when I learned about Jennifer, I was nine months pregnant and in the midst of final exams. Getting ready for that first child, you have so many different emotions, so many worries. Then a life-changing letter arrived. At the same time, my father was very ill and dying of cancer. I was becoming a mother and losing my father, and all of a sudden I'm gaining both a daughter and a sister.
It certainly threw me on an emotional roller coaster. I was angry, in disbelief. I was trying to gather myself up and just find the truth. Jen had written to me and told me a bit of the truth. I needed confirmation from my family. So after that rage and anger and frustration and paranoia, I spoke with my parents. What else did I not know?
I had to trust that this was supposed to be — Jen, Christina and I, all sisters, we believe she came into our life in the right time. There was a purpose for it all. There was someone in the heavens watching out for Jen. She had a loving family and a great childhood, so she had no bitterness. That allowed us to begin our sisterhood with a clean slate, free from the emotional baggage that would have come from a bad childhood.
Jennifer says she hit the "jackpot" with a loving (Christian) adoptive family that never let her believe that she was incapable of anything. Those parents knew her birth parents were named Moceanu, and when they saw you on the television they knew you must be sisters. You were her hero — and yet in many ways your early life was more painful.
She was blessed better than anyone. She has this great confidence and spirituality, that came from her wonderful upbringing. We were all supposed to meet at this time. My father was exiting my life as Jen was entering it. We keep saying this, but it's some kind of divine power that brought us all together. Some how, some way, through it all, we found each other. She found us after four years of searching for us, and never knowing if she would be a part of our lives. I can only say it was orchestrated. It was meant to be. The divine power orchestrated this so that we would meet at the right time.
There is no other explanation. Jen was watching television and was drawn to me, never knowing that we were related. Her parents had figured it out. So that was fascinating to them, because she would be sitting in the living room, watching me on television. We were both tiny things with dark hair and dark eyes. She said, "Mom, dad, look at Dominique. Couldn't we be sisters?" They would turn to each other with a knowing look, because they already knew.
She tells me that I was the only childhood idol she ever had. I laugh and can't believe it. And I turned out to be her biological sister. It was overwhelming. I could not stop shaking my head. But I'm thankful there was a happy ending.
I forgave my parents. Bad things can happen, and there are hardships and struggles. In the end, you have to forgive in order to heal and move forward with your life. For people who hurt you very deeply, you don't have to forgive them for their sake but for your sake, so that you can move forward and have a healthier and happier life. If you hold onto those things, the bitterness will eat away at you. I had to be a mom and a sister to Jen. I found the truth and I had to put it behind me.
Of course there were times when I was sad and overcome with emotion. But I realized it was up to me to make it right for the sisters, to make sure that Jen was accepted into the family. She went out on a limb and didn't know what would happen.
But my dad was dying. I was angry with him and didn't speak with him for a couple weeks. But I also knew that he didn't have much life to live. I wanted him to enjoy being a first-time grandparent. Even though I found out right before Christmas, and it hit them like a ton of bricks. I didn't talk about it at all when I visited so that they could enjoy holding Carmen for the first time.
http://www.youtube.com/watch?v=Q1BVKr2jceA
You were her hero, her favorite gymnast, before she even knew that you were her sister. Now that you've met her and seen how she can perform as a gymnast and an acrobat and an aerialist, is she your hero as well?
Absolutely. She didn't look at herself any differently. That's what I admire. If she wanted to do gymnastics, she would do it. If she wanted to do basketball or any sport, she would just do it. I love her determination in life. I always joke with her and say it runs in the genes for all three sisters. I'm proud of both of them. I admire both of them. Jen is an extraordinary human being and I'm so thankful that I get to have her in my life as my sister.
Many thanks to Dominique Moceanu for her time. Go here for more pictures of the sisters. I will publish Part 2 of this interview next week. Check out her book. Here's the story on 20/20: