Yesterday I began a post on whether Michael Phelps is truly the greatest ever Olympian.  He's probably the greatest swimmer ever (only Spitz, who won 11 medals (9 gold) and retired before the age of 22, compares), and is certainly the most decorated swimmer and the most laureled Olympian.  But I cringed a bit when Bob Costas called him the greatest Olympian of all time.
After all, the finest decathlete in the world can only win a single gold medal, and the sport demands such exquisite conditioning and such peak performance in multiple tasks that no one has repeated as Olympic Champion since 1984.  The finest swimmer in the world can win eight medals (or more) in a single Olympics, and can conceivably keep racking up Olympic medals across three or four Olympiads.  The finest decathlete in his generation could win two gold medals, conceivably three — while the finest swimmer in his generation has won 22.
Consider these facts.  There are 34 gold medals (17 each for men and women) given at each Olympics in swimming, with gymnastics a distant second at 14 medal events.  Swimmers also have relatively long lifespans as athletes, and a very low rate of traumatic career-ending injuries.  Appearing in two Olympics is nothing special for a top swimmer, and appearing in three is not uncommon amongst the very best.  In fact, two swimmers have appeared in six Olympics and thirteen have appeared in five.  Phelps has appeared in four Olympics, and could potentially compete in a fifth if he wished.  You can begin to win races at 15 or 16 and still be only 27 or 28 when you're at your fourth Olympic Games.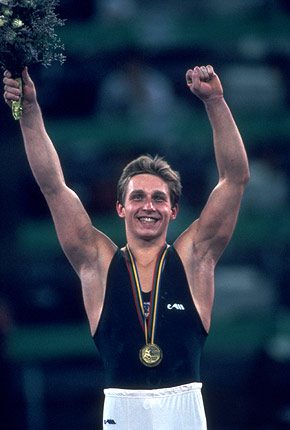 This is why, of the eight summer Olympians who have won more than 10 medals since 1980, six of the eight are swimmers (Phelps, Matt Biondi, Jenny Thompson, Dara Torres, Natalie Coughlin and Ryan Lochte).  Then there are a bushel of swimmers with 9 or 10 medals, including Ian Thorpe, Gary Hall, and Alexei Popov.  And there are reasons why so many of the top-medal-earning Olympians have been swimmers of recent vintage.  Sixty years ago, there were only six medal events for male swimmers (the 100m freestyle, 400m freestyle, and 1500m freestyle, the 100m backstroke, the 200m breaststroke, and the 4×200 freestyle relay).  Of those events, Phelps has only won one, the 100m freestyle; across three Olympics, then, he could have won three golds in that era.  Fifty years ago, there were eight medal events (the 200m butterfly was added in 1956 and the 4×100 medley relay in 1960).  Of the events available then, Phelps has won three.
Of the 17 medal events for male swimmers, over half have been added in the past fifty years: the 50m and 200m freestyles, the 200m backstroke, the 100m breaststroke and butterfly, the 200m and 400m individual medleys, a 4x100m freestyle relay, and the marathon 10km.  So, rather than comparing athletes across sports on the basis of the total number of medals, I suggested comparing how many times they had dominated their sport at the Olympics — and then considering how many times a world-beating athlete could reasonably be expected to appear in the Olympics, given the nature of their sport.
Today I want to add five more criteria for cross-sport comparisons:
I'll briefly mention three: (3) How far ahead of the then-current competition is the athlete?  This is self-explanatory, and Phelps fares well here, both on the basis of his total medal count (nearly twice his closest rival) and his world records (although it's worth noting that technological advances contributed to many world records in this period).  (4) How dangerous and damaging is your sport?  Sustained excellence in wrestling or gymnastics (or some of the X-Games sports) is more impressive to me than in, say, table tennis, where traumatic injury and bodily damage is minimal.  Then, (5) Does your national team give you a reasonable opportunity at winning the gold?  Nine of Phelps' medals have come in the relays.  Phelps would be sitting at (a still incredible) 13 medals, 10 gold, if he had been competing for Jamaica.
Now for two final criteria:
6.  How mature is the sport?
As sports mature, they grow more specialized, and becomes more difficult to dominate.  Sports sort for the athletes with the very best physiques (top gymnasts get smaller and younger, to a point; top basketball players get taller; top football players get bigger and stronger), and sports with variations (different strokes, different positions or different events) will also grow more specialized in each variation.  So, the best shortstop is very different now from the best catcher; the best point guard very different from the best center; the best running back very different from the best offensive lineman.  Similarly, in gymnastics, the different events select for different body types and skill sets.  In this Olympics, Gabby Douglas won the all-around but no individual events.  The event medals went to specialists.  For men, for instance, the best tumblers (floor and vault) tend to be short, stocky and explosive; the best swingers (high bars and some rings and parallel bars skills) tend to be longer and leaner; the best technicians (pommel horse and parallel bars) tend to have very flexible shoulders, precise control and meticulous minds; rings specialists tend to be hugely strong in the upper body.
Also, techniques can be refined in ways that require more training for each variation, so that a baseball player no longer has the time to train both as a batter and as a pitcher.  Or if you dedicate your time equally to all events in order to seek the all-around title, it's hard for you to compete on the rings against a rings specialist who has really devoted himself to that event.  These are the reasons why I'm impressed, but mindful of the differences in the maturity of the sport today, when I hear of some of the gymnastics greats, like Nikolai Andrianov (15 Olympic medals in three Olympics) or Larisa Latynina (18 medals, 9 gold).  Latynina stood on the podium for every team, all around and individual event medal across three consecutive Olympics.  That's amazing.  In the years since, however, the sport has grown so specialized that the best female gymnasts can only really peak for a single Olympic Games, and it's become more rare (though it still happens) for the best all-arounders also to win multiple events of different kinds.
One factor is: across the variations or events, how different is the physique required?  For Phelps, his two best strokes, the butterfly and the freestyle, are arguably the most similar of swimming strokes.  They use the same muscle groups.  Swimming is a mature sport, so I don't count this against Phelps, but the fact is that he has tallied 22 medals essentially by excelling in two motions and being quite good in two more.  He does those four motions over and over again, for years.  It's very different from the kind of all-around athleticism required of a basketball player, a gymnast, a wrestler, a decathlete, and so on.
7.  How much all-around athleticism does the sport require?
Personally, I'm more impressed by a decathlete like Ashton Eaton winning a single medal, since it requires such all-around athleticism, than I am by a swimmer winning three golds in the 100m freestyle, 200m freestyle and 4x100m freestyle relay — or, for that matter, I'm more impressed with 1 gold in the all-around competition than I am with two individual event golds in floor and vault.
The most dominant single Olympic performances I have ever seen, in my lifetime, have been Usain Bolt in 2008, Michael Phelps in 2008, and Vitaly Scherbo in the 1992 games, when he won 6 of the 8 gold medals available to men's gymnasts.  It's hard to explain the variety of strengths and abilities (and hundreds of individual skills) required to be the best in the world simultaneously on the pommel horse, rings, vault and parallel bars, as well as the champion in the all around and team events.  But even Scherbo could not quite return to peak form in 1996 (he won four bronzes), after a shoulder surgery (and nursing his wife through a horrific car crash).  So the greatest Olympic gymnast of modern times, in my view, is Alexei Nemov.  Nemov won six medals in each of 1996 and 2000, including 1 gold and 1 silver in the all-around, but given the higher injury rate and the terrific strain gymnastics produces upon the body, it's not really possible in the modern version of the sport to be the finest in the world for more than 4-6 years (which could span one or two Olympics).
Conclusion: What it comes down to, essentially, is that not all golds are equal.  This is a subjective argument — and subjectivity is what makes sports arguments fun.  But while I can call Phelps one of the greatest Olympians ever, I cannot call him the greatest.  I'm not sure I can call anyone the greatest.  It's not a simple question of who has won the most golds.