With one daughter about to turn 4, and another about to turn 1, I've seen every single episode of Dora the Explorer (well, I haven't seen the new gymnastics episode yet, although I gather from the commercials she actually does rhythmic gymnastics, which is slightly bizarre) many times over and I expect to see them many more times before my time in cartoon purgatory is over. At least my eldest has started watching Kung Fu Panda, which is hilarious, although she resents the fact that I'm always pressing her to watch Kung Fu Panda instead of Dora.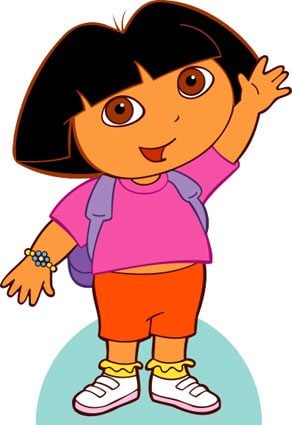 I don't know what it is about Dora. Let's stop and think. Maybe it's that massively oversized, watermelon-shaped head. Maybe it's the way she really takes control and tells everyone what to do (Stand up, stand up! Say map, say map!) or the way her thrice-uttered command always halts Swiper in his tracks. Maybe it's her simian friend known by his footwear. Or maybe we just feel pity for this seven-year-old girl with the absentee parents who has to spend all day wandering around the jungle.
Whatever the case, Dora is the Stuff. It's not quite as clever a premise as Dinosaur Train (you can imagine the writers sitting at the table, saying, "Wait a sec…Boys like dinosaurs. They also like trains. So — oh my gosh, listen to this, guy — what if we made a cartoon about a bunch of dinosaurs who ride a train!"). It doesn't explore the psychological subtleties of small children as well as Ni Hao, Kailan (Dora needs a YeYe, or at least a hippo who floats around by a balloon attached to his nose).
But I actually do appreciate Dora. She's brave and outgoing. She always has a good attitude. I'd much rather have my daughter idolizing Dora than Barbie. I actually got a little choked up when I heard the special intro song for Dora's recent birthday episode. The whole world was appreciating Dora. She's been through so much. She's helped so many people, and baby animals, and snowflakes. She's defeated so many witches. I wish she'd finally get a shirt that covers her midriff, but she deserves a darn happy birthday.
Anyway, any parent who has spent a few hundreds hours too many observing the exploits of Dora the Explorer will appreciate the trailer for the new movie, starring Modern Family's Ariel Winter.
Or for a little more Dora humor, check out this from McSweeney's, A Court-Ordered Letter from Dora the Explorer's Mother:
Let's get the monkey thing out of the way right off the bat. Yes, it is true that Dora spends most of her day in the woods with a talking monkey that wears red boots. Yes, that monkey is actually named Boots, after his own footwear. Yes, the days my daughter spends in the woods with this monkey occur instead of attendance in an actual school. And yes, I admit, I never follow her into the woods or check on her welfare in any way. I just hope for the best while she wanders the woods with her friend the monkey.
A little light weekend fare. Hope everyone enjoys the extended weekend.