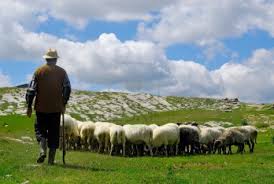 An old friend who has been the pastor of a rural Lutheran congregation for more than two decades sent me the message below in response to the question I posed earlier this week about what ministry to older adults might look like.
His response offers us a very important perspective on what multi-generational pastoral care looks like. There are many who may not have "Pastor" on our business cards, but have been graced by God with pastoral gifts. My friend's experience may inspire some of you to recognize the important work God is doing through you to provide spiritual nurture and care for those in your world. And if you know of a pastor who is providing this kind of care for those in his charge, let him know that you honor his obedience and service to God.
My friend's "typical day" may inspire us all to celebrate the way in which our Good Shepherd cares for his flock by caring for each individual sheep. (That sort of care will never be an efficient business model, but it is truly the economy of the kingdom!)
So what does ministry look like especially to the older set?
Today was, well, unique…stopped by to counsel a 32-year-old who recently took instruction. He's working for Apple as an IT specialist and taking care of a 92-year-old grandmother.
Next, a meeting at our denominational office helping parishes in a rural context that are struggling. The bulk of the rest of my day was spent in hospital visiting the following: a 75 year-old woman who was having a hip replacement; next, an 18-year-old mother whose newborn son was diagnosed with hemophilia. Grandmother is a 58-year old who has still not gotten over her brother's death. He too was a hemophiliac. Died of AIDS from a dirty blood transfusion. Then, a 93-year-old man who is in a rehab hospital. Had a disk in his neck shaved. Is working on rehabbing his hands and fine motor skills. After that, a 17-year-old who delivered her third child! Yes, she is married, to a 26-year-old who is supporting the family at a $10/hour factory job. I then visited with our 28-year-old veterinarian, not a member of our church, but lives across the road from us and is in a practice with one of our members, a 60 year-old who wants to turn the practice over to her in the next two years. The young vet's diagnosis: Lyme disease. I headed back to the room of the hip replacement patient, to make sure there were no post-op complications.
I then spent some time with my parents, who are both 82 years old. They just lost a dear friend whose visitation is tomorrow. I finished the day by having dinner with my wife, listening to phone messages, answering emails, and spending two hours re-working this Sunday's sermon. (Still don't like where it is going, so I'm not done yet!) This was a "typical" 18-hour work day!
I've spent the early part of this week visiting with members in area nursing homes. I have conducted a chapel service at two nursing facilities early this week – communing 26 at one local, and 16 at another.
Senior ministry is done one-on-one, within the context of what they have experienced and what is happening to them – in the moment. I have found that the topics I choose for the kindergarten chapel service at our school works just as well with our seniors in a nursing facility.
This is the life of an average day of ministry in a rural context. I'll be up at 5 am tomorrow to take on another day. Some might find this tedious. I find it fascinating. It is the life I live.