Evidence of a series of storms, in the form of layered grit, can't quite mute the expression of gratitude on this license plate. If the plate was clean and shiny, it wouldn't preached the message it did to me this morning in the Kohl's parking lot.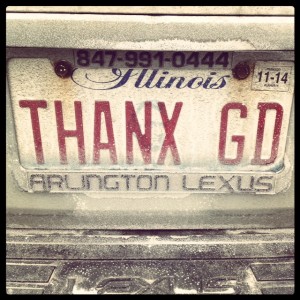 When things aren't all so shiny-lovely in my life – as now, when some of those I love most in all the world are struggling and suffering – fear, pain and anxiety form the bulk of my Holy Spirit-groaned prayers for them. Yet I am more likely to say "Thanks, God" during times of trial, when my life bears evidence of storms, than I am during the times when the good times are flowing. Not that those words of gratitude are the first thing out of my mouth, or the second, when I'm in the midst of the chaos of a storm. The giving of thanks costs something of me when I have nothing to give. When I'd rather wallow in sackcloth'd despair, a simple "Thanks, God" takes a piece of my aching heart and lobs it beyond the present circumstances. "Thanks, God" is hope.
* * * * * *
This quarter's school score so far – Winter: 2, Paul's Letters & Acts course: 1.
This is the fourth week of the quarter, and I've been in class only one week so far. My Monday-attending classmates and I were off for the Martin Luther King, Jr. holiday, and have had two other Mondays cancelled because the outdoor temps were roughly a gazillion below zero when you factored in the windchill. I am soldiering through sections of N.T. Wright's Paul and the Faithfulness of God for class in the meantime, and have a funny feeling that the rest of the quarter is going to be an intense ride as we work to make up for lost time.
Snow days were a lot simpler when I was in third grade.
* * * * * *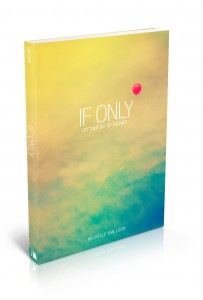 Though this isn't the final version of the cover for If Only: Letting Go Of Regret, I wanted to give you a sneak peek at where my publisher, Beacon Hill Press, is going with the look of the book.
What do you think?
* * * * * *
Next week, I am preparing to launch round two of the discussion about the relationship of those over 40 and the local church. I'm really excited about diving back into this topic. Last summer's survey and seriesgot some interesting conversation started. Next week, I'll be inviting a different group into the conversation. Stay tuned to see where it goes from here.
* * * * * * *
 Finally, I'm pleased to announce that I've just signed with a new literary agent. Dan Balow, with the Steve Laube Literary Agency, will be representing me as I work to create books that will bless, strengthen and stretch readers.
* * * * * *
Thanks, God.