Books written for those in the first half of life are frequently framed in the imperative. Do this to find love of your life! Try these ten ways to divorce-proof your marriage! Here's what you must do to be a successful parent! Do these six things to get the job of your dreams!
Those imperatives feed our first-half dreams for our lives. They nourish our ambitions. They are tools in a builder's hands – and while we're building our lives, we often accumulate fix it hardware as though we're stocking a Home Depot. While imperative-driven technique may be a helpful tool in a builder's hands, these same tools tend to be the exact baggage we jettison as we enter the second half of our lives. The second half is a climb upwards. Those builder's tools no longer serve any purpose in our lives.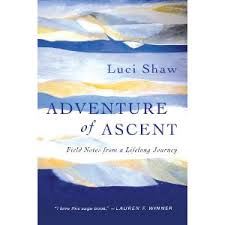 What struck me about Luci Shaw's Adventure of Ascent: Field Notes From A Lifelong Journey (IVP Crescendo 2014)* is how blissfully free of imperative language it is. Poet Luci Shaw, 86, discarded the tools of ambition decades ago. She is focused entirely on the work of making the final stretch of her journey on earth. Her book is a series of vignettes and reflections that give those of us at a lower elevation a look at the internal narrative that describes this ascent.
"The problem is none of us know how long we have left. Or what physical problems will afflict us. Will our money last? That's one question, but not the most important. There is so much I have to do, to learn, to experience (though once again, why is that important to anyone but me?) Can I trust that God will allow me enough energy and length of days to realize and carry out my calling and complete the climb?"
While most of us imagine this final stage of life is mostly quiet reflection about all that's come before as a way to make our peace and take our leave, Shaw's book reminds us that there is far more to this stage of life than steeping in memories. Climbing, by definition, has much to do with awareness of where you are and where you're heading. It's hard to climb looking back 100% of the time.
Shaw reflects on the past, but is very much a woman of the present. She writes of the waning energy she has for travel, of failing health, of loss. She also tells stories of choir, of visits with her spiritual director, of designing a new (final) home. She is writing as she contemplates her own death, and she is writing to make sense of what it means to truly, fully live as an octogenarian.
"I sometimes visualize the truths still hidden from me, what in the New Testament are designated 'mysteries', as gathered like translucent beams of light high above me, in the groins and arches of this cathedral we call the Christian faith. In one sense I myself am in that 'cloud of unknowing'. And in that knowledge gap I'm wondering if all the fervent prayers on my behalf have already been answered…"
This book may not make much sense to you if you are looking for a hammer or a jigsaw. But it will be a welcome companion if you find yourself looking upward at a path shrouded in fog, knowing that your destination is waiting just ahead.
* * * * * * *
If you are a pastor, church staffer or congregational leader, please take a few moments to offer your thoughts on how your congregation relates to members in the second half of life at my short survey: https://www.surveymonkey.com/s/YNJ7P62 
* I received a review copy of this book from the publisher. Its unexpected arrival in my mailbox did not affect the way in which I read or reviewed it.