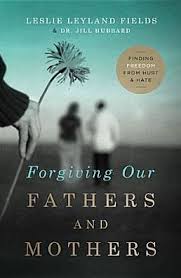 I can count on one hand the number of adults I've known who have not had to work through some level of hurt, neglect, abuse, or emotional disconnect they're carrying with them from childhood. Even the most well-intentioned, fully-present parents don't always get it right with their kids. (Hand raised.) However, the notion of children forgiving mothers and fathers whose issues suffocated their ability to parent those children responsibly may seem both excruciating and foolish. Unforgiveness can seem to function as a form of protection for children wounded by their parents.
Leslie Leyland Fields understands the temptation for an adult child to hide within this shield. In her book Forgiving Our Fathers And Mothers: Finding Freedom From Hurt And Hate (Worthy, 2014)*, she writes:
…I kept hearing the commandment, 'Honor your father and your mother' (Exodus 20:12). And I wondered as I thought about my apathetic father, How do I honor this man? The questions came as a deep puzzle to me, as it did to all my siblings. But I was not so cut off in my hurt I did not know how many others were in the same dilemma. So many other daughters and sons, regardless of age: middle-aged adults, young adults, teens. Does 'Honor your father' apply to us, I questioned, those of us who have been hurt and deceived and abandoned by our mothers or fathers, or even both? Surely if they are dishonorable, we need not honor them! We're off the hook. Neither did I care to forgive my father and all that had been done in the rooms and houses of my childhood where he sometimes sat and walked – and walked away from.
Fields tells the story of seeking to reconcile her relationship with a father who had abused, neglected, then abandoned his family years earlier – for her own sake, and, eventually, even for her dying father's sake. Though he was incapable of reaching out to her, Field was acting in response to another Father who'd pursued her with his forgiveness.
We are a found, forgiven, celebrated people. This is not about our mothers or fathers right now. This is about us. What's been done for us. Who we really are. The God of Everything has come after us – and whether we're still in that far country or we've turned back, there is only one true home, one real freedom: in our Father's house. Whether we've been in His forgiving embrace yet or not, it is there waiting for us. Where will we find the strength, the courage, to forgive? It is here. We can forgive others because we are forgiven. Of everything.
Nine heart-breaking, healing chapters allow readers to accompany Fields on the complex journey through the process. Make no mistake – this kind of forgiveness is a process. Chapter themes include avoidance; confession; humanizing our offender; connecting fully with our own experience of hurt; facing bitterness; connecting with God's forgiveness; choosing to honor people, not dishonorable behavior; creating a new family legacy; and extending forgiveness along with forming healthy boundaries in order to seek God's higher calling.
At the conclusion of each chapter, counselor Dr. Jill Hubbard offers thoughtful insights and reflection questions designed to help readers apply the concepts to their own situation. At one point she notes, "Though we describe a process here, and this book follows a certain chronology, it's important to know there is no prescribed exact order to our healing. Forgiveness often does not follow a nice, predictable path lifting us out of our pain. It can be messy at times, as we circle round and round our same issues. It can take time, depending on the depth of what must be forgiven. Remember that our feelings, all of them, are part of our process and that anger and protest are part of our healing too."
I know a number of people who've simply shelved the pain of their relationships with their parents, choosing to treat those relationships as unchangeable components of earlier chapters of their lives. Forgiving Our Fathers and Mothers is an invitation to move beyond that uncomfortable truce with the pain of our past toward greater emotional and spiritual liberty. One of my favorite quotes about forgiveness comes from Dr. Louis Smedes who said "To forgive is to set a prisoner free and discover the prisoner was you." Fields' wise, honest, accessible book is a wonderful companion on the journey toward the freedom that comes from the process of forgiving. Highly, highly recommended.
*I received a copy of the book from the author, but the price I didn't pay did not affect my assessment of the book. I would buy this book, and hope you will, too.