I remember seeing an announcement a few years ago for the first Epic Fail pastors gathering, and wondering if the idea was an Onion-inspired joke. No pastors I knew – and I knew a lot of them from my time working at Trinity International University and then serving a Chicago-area church networking ministry – wanted to apply the word "fail" to themselves or their efforts. The leaders gatherings and pastors conferences I've attended over the years were all about ministry success. In those contexts, success was defined by snazzy buildings, multiplying bodies and abundant bucks.
The posture among many attendees at these gatherings was humble brag: "My church is growing, all thanks be to God." The key to decoding the humble brag factor in the conversations was the way in which the adjective "my" was used in conversation. If the word pointed to the church as "my people", the accent was on humility. But if the "my" had to do with wielding authority (and lovin' it!), it sounded to me more like bragging, even if the "my" was surrounded with Christianese spoken with perfect expressions of humility.
After a brag-worthy ministry trajectory, J.R. Briggs found himself pushed off the rising star track by ugly politics at the large congregation he and his wife had relocated in order to serve. Briggs learned that the gravity of failure has a black hole pull on a rising star. He shared his story with other pastors, many of whom carried failures of their own close to the vest. There was no place in the church world to talk about those failures – until Briggs convened a gathering where leaders could tell their stories and begin to figure out how to move through their grief, anger and confusion. Some were carrying the shame of their own moral failures; others, like Briggs, faced amoral ministry failure. His own sins weren't his undoing, but they played in a painful, clumsy rhumba with the winner-take-all power politics at his former church.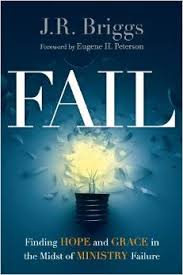 Out of the Epic Fail gatherings he convened, plus counseling, conversation, lots of reading of writers from the pastoral care stream of sages Eugene Peterson and Henri Nouwen, and living through the grief in time, J.R. Briggs brings a theology of failure to leaders in his book Fail: Finding Hope and Grace in the Midst of Ministry Failure (IVPress, 2014).
Briggs writes well, with an accessibility that comes from having his pride dismantled by failure. The book is broken into four sections: Unlearning Success, Learning Failure, Embracing Failure and The Way Forward. He explains that there is no room for failure in the way in which we often talk about church, though thousands of churches close their doors each year. And he puts his finger on why we avoid the topic:
The corrosive effect of the current standard of church success wreaks havoc on our souls and the souls we have been called to love. The alluring reality of success in ministry is ever present and difficult to ignore. While the drive to be successful pastors can be easily veiled in spiritual language, if we drill down a bit deeper we begin to see that it is nothing more than a glossy coating on the spirit of self-glorification. Scripture calls this selfish ambition.
I recommend this book for pastors who wrestle with notions of "success" and the fear of failure – or the lingering, life-changing effects of failure. It's content should be a part of the formation conversation at seminaries and Bible schools, where men and women are prepping for ministry success, often without much serious talk about the role their own ambitions play in their vision for service. It also belongs in the hands of lay leaders, many of whom nourish their own longings for power in the belly of committee meetings and small group leadership roles.
One interesting note: many of the themes in Briggs' book are echoed in my own recent book book on regret (If Only: Letting Go Of Regret) and in Marlena Graves' book, A Beautiful Disaster, which focuses on the spiritual formation that can shape us when we're in the wilderness. I mention this because when I see a theme repeating itself though the authors are writing in different places and contexts for different publishers, I get the sense that the Holy Spirit is speaking perhaps in a broader way than any single book itself can reflect. What is the Spirit saying to the big "C" Church here and now, as we face failure and its attendant suffering and regret? I don't have any ready answers, but I am paying attention. 
* I received a comp copy of J.R. Briggs' book because I'm participating in this month's Patheos Book Club. And I'm glad I can do so!