To The Good People Of Mitford, NC –
You may be classified as fictional characters living in an imaginary place, but after reading all nine books in Jan Karon's series featuring so many of you during the last two decades, I feel as though I've you've taken on the status of my second home. I've had five addresses since I first met you all when a good friend pressed a just-off-the-press copy of At Home In Mitford (the 1994 Lion Press edition) into my hands. I've imagined myself living among y'all: attending The Lord's Chapel, shopping at The Local, getting bad haircuts (and now, spray tans) at A Cut Above salon, browsing through the poetry books at Happy Endings bookstore, and sampling a half-slice of Esther Bollick's Orange Marmalade Cake after a funeral. Jan Karon has always seen the best in even the worst of your citizens through the faith and love of Father Tim, a diabetic middle-aged Episcopal priest.
I am not the only one who's found a home in Mitford, N.C. The books have sold bazillions of copies. Lauren Winner credits the first two books in the series with pointing her toward Jesus, and the Anglican expression of faith. I've only made a pilgrimage twice in my life to hear an author speak. One was to hear Lauren Winner. The other was to a Jan Karon booksigning.
In fact, pilgrimage describes what the Mitford books have been for me. I've never fully rooted in one place throughout my adulthood. Mitford has been an image of what I've hoped to find every time I've been the new girl. Your small town in the south had space for the quirks and peccadillos of each person in the town. Even outsiders were embraced and welcomed into the fold. Mitfordians seem to tolerate some diversity of Christian faith expression as well as embracing without judgement those who aren't affiliated with a church. Quirky small businesses thrive in your "downtown", including a bakery, a market that carries surprisingly high-quality ingredients with nary a mention of potato chips, jerky or bagged pork rinds, a high-end bistro, and a bookstore. Even though the books sometimes describe a place as sweet as Esther's cake, with Father Tim's and Cynthia's pet names for one another and your town's stock characters occasionally appearing to have been served up by Aunt Bee, Jan Karon also manages to show us that your town is peopled by those with mental illness, abuse, abandonment and addiction. She cuts the sweetness with almost enough bitter tartness to balance your cozy warmth with a shot of contemporary reality.
There is some racial and ethnic diversity in your midst, including Father Tim's discovery of his African-American half-brother, though the Mitford I've come to know through the pages of Karon's lyrical descriptions of you is mostly a white, Protestant place. There are rich and poor among you, yet all your key citizens share a deep commitment to every single one of your neighbors. The goodness of your community seems to leach bitterness from those who've been damaged in some way. Mitford has been a place of grace with a true sense of family enfolding all of those who live there.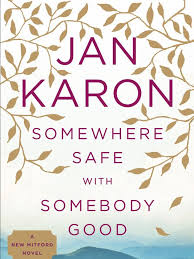 Author William Faulkner, another son of the South, once said something to the effect that the best fiction was far more true than what a journalist could report. I understand Mitford is an imaginary place, yet there is something real about it. Last week, I read Somewhere Safe With Somebody Good, the newest Mitford book, I once again realized how precisely the books have named my longings for community. I've spent my whole life looking for a place where I don't have be The Other. When you're the new person in a community or a church as often as I've been, you're automatically The Other. Every once in a while in my own life, I've had a glimpse of what it is like to be in a place of where I was a part of the We: at a couple of churches for a season, and in the community my kids lived the first half of their childhoods. None of those places was anything like you, Mitford, but I experienced enough We in those spaces and times to believe that a place like you exists here on earth.
I've long dealt with my status as an outsider and wanderer by settling myself with the truth that what I am really longing for is heaven, and can't be mine in this life. But Father Tim took me to school last week on this topic. He had the choice in his uneasy retirement to go back to his former church and life as a pastor, but recognized his existential restlessness wouldn't be cured by busyness. Instead, he was being the church by simply being an excellent neighbor to those around him. No one has ever been The Other to Father Tim in any community in which he's lived or visited. It's not his address that makes Mitford home, but the tangible sense that he's found a home with Jesus no matter where he is.
My husband will be 60 this year, and we've been having occasional conversations about where we may land after he retires from his workplace a few years from now. It's cold and expensive here in Chicago. I've nursed a secret desire to find a place like you, Mitford, even if you do get hit with the occasional snowstorm. But if I love both God and my neighbors well, I might discover that I'm living in Mitford after all – no matter what my zip code is.