Last year, when some incredibly generous friends offered my husband and I the gift of a trip to join them for family camp at InterVarsity's Cedar Campus, we had no idea what to expect. Would we be making lanyards and practicing our archery skills? I last attended summer camp in 1975.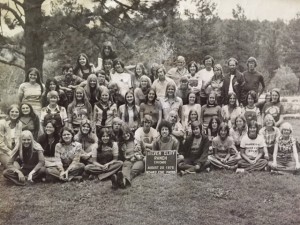 These friends had attended family camp at Cedar Campus for more than two decades, and spoke warmly of the gracious maturity of the people and the unspoiled beauty of the place. We packed bug spray, sleeping bags, clothes, and plenty of snacks last Saturday morning and headed to the Upper Peninsula of Michigan for a week.
I wondered in the days leading up to the trip if we should be inserting ourselves into a camp experience with which we had no official IV connection or history with the attendees. But in light of this year's epic string of health, housing, job, financial, and family trials, God knew Bill and I were two people in need of respite.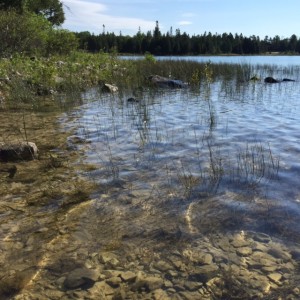 The people in this group more than lived up to our friends' descriptions. They welcomed us into their yearly community. There was a bit of structured activity in the form of a morning session of Bible teaching, and an hour-long evening small group discussion. (Kids had their own track during these times.) There was plenty of unscheduled time so people could participate in water sports like kayaking or sailing, jump into the ongoing beach volleyball game, hike, read, or nap.
I don't think I realized how depleted I was until I sat on the porch of our cabin the first afternoon. Tears of pure exhaustion welled up in me. I sensed the Holy Spirit say, "Rest with me so you can rest in me." Though I've been forced to rest more than I'd like over the last months because I've been ill, camp in the woods was another kind of rest. My brain has been in fifth gear for weeks (months?), racing with questions: "Arewegonnahavetomovebecauseofthemold?…what'sgonnahappenaftermynextroundofmedicaltests?…what'shappeningwithmybookproposal?…whereamIgoingtodolaundrynowthatthewasheriscashed?…howandwhatareourgrandsonsdoing?…howamIevergonnameetthatwritingdeadline?…willBillhaveajobtomorrow?…" Anxiety has been steadily escalating in me, as none of these big or small queries had ready answers.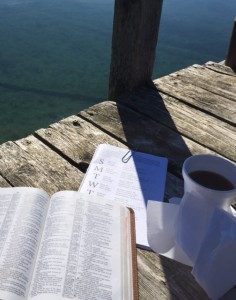 I've been on retreats before – both those women's ministry teaching-and-activityfests mislabed "retreat", and several individual or small group times of God-seeking at Catholic retreat centers. Our time at camp was not retreat, though there was both teaching (the book of Hebrews in the mornings), and time for prayer and reflection. It was indeed respite in the dictionary sense of the word: "a short period of rest or relief from something difficult or unpleasant". I once knew a man who insisted on calling retreats "advances", a nod to the spiritual intention of moving forward with the Lord. Though I resisted that annoying cleverness, I'll confess I've always had some sort of purpose in mind when I've gone on retreat. Last week at camp, I had no purpose. Bill and I needed a time to be rest with God away from our regularly-scheduled menu of crises, in the company of other believers, without any big agenda or goal. The week's pause in most of the action (not all, thanks or no thanks to our respective periodic log-ins to the internet) gave us fresh energy to plunge back into the fray. There are no words to express how grateful I am that these friends gave us the gift of respite, with the bonus gifts of fellowship, beauty, and…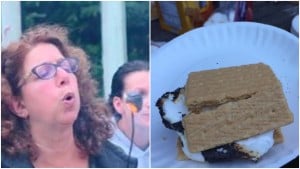 Thanks, God, for all of it.