Witch City Tarot Gathering Re-Cap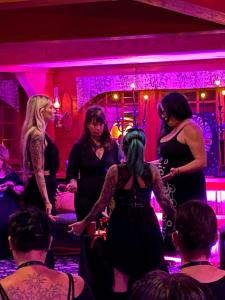 I spent the past weekend in the magical town of Salem, Massachusetts at the 300 year old Hawthorne Hotel for the Witch City Tarot Gathering 2022.   This event is hosted annually by Kris Gurky and an entire coven of helpers that made it possible.  I specifically want to give a shoutout to Jen Sankey creator of Stardust Wanderer Tarot, who did all of the live interviews, PR and social media promo for the entire event! Jen has such an electrifying personality, and brought all of her multi-colored magick to the event!  It is always great to come together with other magickal people, and doing that in Salem makes it even more special.
Friday night was the opening ceremony, in which we set our intentions and added to the gratitude altar before the opening ritual.  The ritual was led by Kris Gurky (Dark Moon Salem), June Jennings (Wicked Wax), Alexis Pharae (Maison Vampyre) and Jen Sankey (Stardust Wanderer Tarot) and was a beautiful incorporation of each of their unique magickal practices.  It was a beautiful way to set the container for the space and fill it with our intention, and I'm sure all of the lovely wedding reception people felt our magick too!
The entire event took place at the Hawthorne Hotel, in the heart of downtown Salem, walking distance from all of the notable shops and tourist activities.  I started the day on Saturday with an early morning yoga class, and popped into some other classes throughout the day.  My favorite part of the weekend was getting to hang out with some of the other presenters and attendees, especially Auralis Flores and Stacey Williams-Ng.
Aura @lipstickmystic is a make up artist, witch and beauty guru who runs The Moon & The Muse.  She taught an awesome class on beauty and glamour magic, and how that applies to divinatory practice.  This was one of my favorite classes since I technically am still a licensed cosmetologist myself.  The connection between magic and personal beautification has always been an area of interest for me!
Stacey is the artist behind the Southern Botanic Oracle and Southern Gothic Oracle, two beautifully illustrated oracle decks based on imagery from Southern folklore, flora and fauna and images from Stacey's childhood growing up in the south.  This is a really gorgeous deck, and it also happens to have a Poison Plant Expansion!  I had been looking forward to meeting Stacey since last year's WCTG!
Saturday night was the Witches' Night Market, and we had a line an hour-and-a-half long wrapped around the building.  So needless to say, it was a lot of fun, but also a lot of work!  This part of the event was open to the public and I got to meet some people that follow me on social media as well as some of the other Salem witches.  Seeing all of the young and new magical people coming out, and watching their excitement as this magickal world unfolds is one of the best feelings ever!
I also was able to hang out with fellow vendor, Matthew Venus of Spiritus Arcanum, who is the nicest guy and one of the most productive witches that I know!  Aura and I went to Peabody to see his new brick-and-mortar shop, and it is like stepping into the old world where folk magic is alive and well!  I had the pleasure of running into fellow Patheos Pagan blogger Laura Tempest Zakroff, which was also a nice surprise!
Sunday was the final day of the event, and I gave my presentation on Ritual Entheogens and Divination.  I served blue lotus, butterfly pea and cacao tea, to demonstrate the subtle influences that plant medicine has on our perception and intuition.  We discussed different types of divinatory methods that can be enhanced by plant spirit medicine and how to work with plant allies in ritual and divinatory practice.
The final ceremony was held on Sunday afternoon, but the magick of this event can still be felt even now that I am home in Florida.  I am so grateful to the opportunity to meet so many magickal friends, colleagues and people that I look up to!  I am also very grateful for all of the love and support that people showed me and my work.  Sharing what I do is the most rewarding part of this journey, and to play a small role in your own magickal evolution is my greatest honor!  Salem is beautiful in the summer, and I look forward to next year's gathering, but I have a feeling I will be back before then!  Thank you to all of the attendees and the amazing team of witches that made this event possible!
Cant wait for next year!  Learn more at WITCH CITY TAROT GATHERING