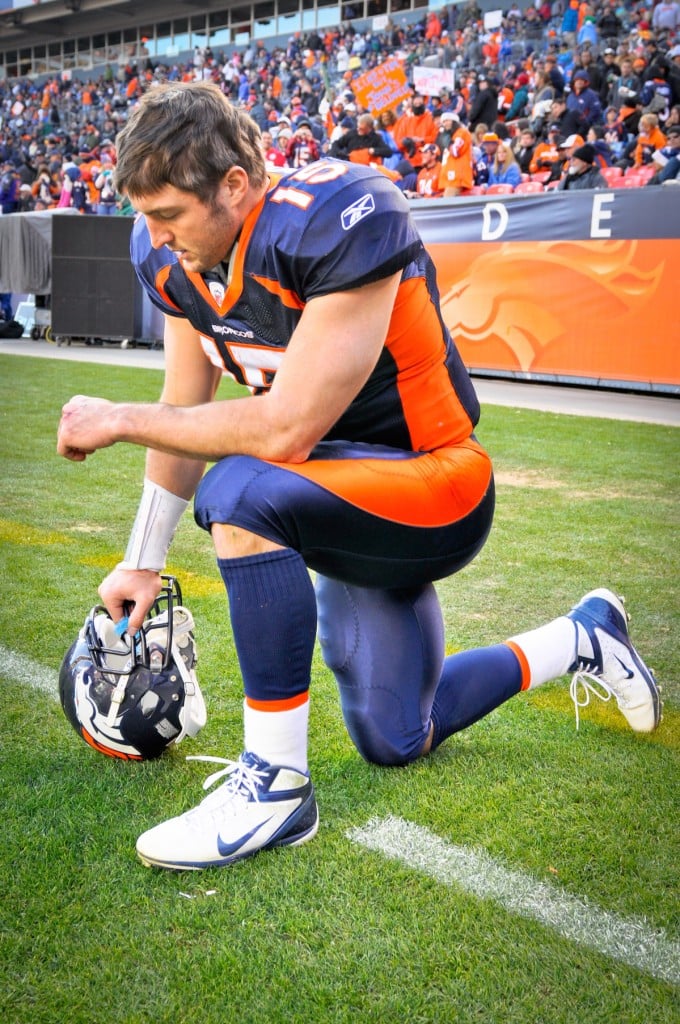 Football is a sport that has clear religious connections, from the Hail Mary pass to Touchdown Jesus to the Immaculate Reception. The likely permanent exit from the league of the NFL's most famous Christian, Tim Tebow, left me wondering how many other quarterbacks have expressed their Christian faith in overt terms. The answer was eye-opening: based on my research, 24 out of 32 starting NFL quarterbacks (75 percent) are evangelical Christians.
In some ways, the results are not surprising at all, as we've become accustomed to football stars hoisting trophies and announcing, "First of all I'd like to thank my Lord and Savior Jesus Christ." "Muscular Christianity" has a long history in this country, manifesting itself through organizations like the YMCA, the Fellowship of Christian Athletes, and the National Association of Christian Athletes. American Christianity has always had a masculinity problem, with fears that identification with "Gentle Jesus, Meek and Mild," will turn otherwise virile males into wispy Victorian Jesus-worshipping nancy boys. Hence the almost obsessive focus in some Christian circles on a strong body being paired with a strong faith.
But I can't help but think there's something else at work here. Although the football audience is broad, it leans heavily toward working class or mid-professional level men, many of whom are likely to think of America as a "Christian nation." As the team leader and the public face of the franchise, the quarterback must be a paragon of American masculinity—both in body and in spirit. In football there is a mix of Christian dogma, violence, and capitalism that seems to be an appropriate proxy for American culture. If American football is the sport of empire for the Rome of this age, then the quarterback is surely its most vaunted gladiator.
Here, in quotes, are the faith testimonies of the Christian quarterbacks of the NFL, as well as a few notable exceptions. Quarterbacks are listed according to Week 4 starts, although some injured franchise quarterbacks are also listed. Quarterbacks' religious affiliation is indicated by the following symbols:

First the AFC, then the NFC, in Division Order: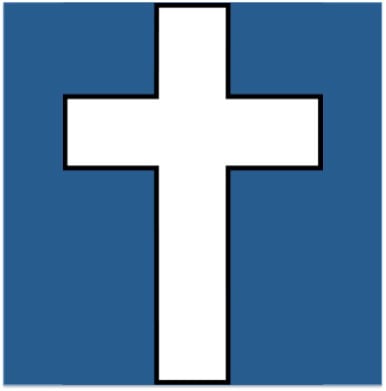 Team: Buffalo Bills
Starting Quarterback: Tyrod Taylor
Faith Tradition: Evangelical
Testimony: "Without God I can't do anything. I have put my faith in Him, and through Him I believe I can achieve anything." Source: FCA.org
Starting Quarterback: Ryan Tannehill

Faith Tradition: Evangelical
Testimony: "Your personal time with God is huge, your quiet time, your study, prayer, but being around other Christian followers, and the church just feeds you. You come away feeling rejuvenated." (Comparing church to a football huddle.) Source: Christian Post.
Starting Quarterback: Tom Brady

Faith Tradition: Unknown

Testimony: "We're not Jewish. But I think we're into everything. . . . I don't know what I believe. I think there's a belief system, I'm just not sure what it is." Source: New York Times.
Admittedly,Tom Brady, married to supermodel Giselle Bundchen, is not so much a paragon of American masculinity as an international celebrity. This vague spiritualism fits his metrosexual sensibility, as well as his "situational ethics" regarding the rules of football.
Starting Quarterback: Ryan Fitzpatrick

Faith Tradition: Unknown
Although I was unable to find any information on Fitzpatrick's religious tradition, the beard and Harvard education put off a smarty-pants ironic hipster vibe that doesn't usually say "evangelical."
Starting Quarterback: Joe Flacco

Faith Tradition: Roman Catholic
Testimony: "I don't want to see Tim do bad — but look what happens after he wins a football game. If you watched SportsCenter today, it was Tim Tebow then something else, Tim Tebow then something else, and Tim Tebow then something else. When we beat the Steelers, were we on TV? No." Source: ESPN.go.com. I knew there was something to like about Flacco.
Starting Quarterback: Andy Dalton

Faith Tradition: Evangelical

Testimony: "Rejoice always, pray continually, give thanks in all circumstances; for this is God's will for you in Christ Jesus. 1 Thessalonians 5:16-18"
From Dalton's Twitter account, this verse also serves as the theological rationale the continuing exercise in fatalistic Calvinism that is Cincinnati Bengals fandom.
Starting Quarterback: Josh McCown

Faith Tradition: Evangelical
Testimony:"Johnny (Manziel) is a person, and every person that I come across has value to me and they matter, and so I want to help him as much as I can with all parts of it, but to grow as a person and as a player and to help him go on and have a fruitful career." Source: ProFootballTalk.com.
The Browns brought in McCown to teach Christian values to No. 1 draft pick Johnny Manziel. If he can truly find a way to love Manziel, I'm nominating McCown for sainthood.
Starting Quarterback: Michael Vick

Faith Tradition: Evangelical
Testimony: "Jonah was cast deep into sea and swallowed by a fish. But he called out to the Lord, and he was saved. I was cast aside, too, sitting in a prison cell, swallowed up by the mistakes I had made and the culture I grew up in. But I reached out for Jesus and I was saved." Source: Christian Post.
Evangelical Christianity loves nothing more than a good conversion story. Vick's testimony is from someone who has had to live with the real consequences of his actions. The "other" Pittsburgh quarterback has apparently also undergone a religious rehabilitation. We Bengals fans refer to him only as "He Who Must Not Be Named."
Starting Quarterback: Ryan Mallett

Faith Tradition: Unknown
Not only are we unsure what Mallett's religion is, we're not sure he's the Texans' quarterback. Brian Hoyer has been named starter for Week 6.
Starting Quarterback: Andrew Luck

Faith Tradition: Unknown
Backup's Faith Tradition: Evangelical
Luck strikes me as a Mainline Protestant, maybe Episcopalian. However, the injured Luck's replacement is Matt Hasselbeck. And we all know from too much media exposure where the entire Hasselbeck family stands on Christ.
Here's Matt's Testimony:
"For me, when I was in high school and in college…this image of Jesus that I had in my head was sort of like 'Easter Jesus.' He's wearing a white dress with, like, long hair and flowers in His hair. It's hard to be that on a football field or in school. And I just didn't see how that fit.
"As I got older, particularly when I got drafted by the Green Bay Packers, I saw so many Christian guys on that team—Reggie White, being the guy who comes right to mind—who'd study the Bible and study Jesus. And I realized who Jesus really was. Jesus was a man's man. He was a stud. I mean, He was hard core! …And the Jesus who walked on the earth is a stud. And if He played football, I know how He'd play. He'd play all-out." Source: FCA.org.
Starting Quarterback: Blake Bortles

Faith Tradition: Heathen
Seems to be of the Joe Namath school of pro quarterbacks living it up. Seriously, have you seen his college girlfriend? (This is where I bump my extremely low straight male readership numbers.)
Starting Quarterback: Marcus Mariotta

Faith Tradition: Evangelical
Testimony: "Going 'all in' for God is glorifying Him with the abilities He's given us and shining our light for Him." Source: Charisma News.
Starting Quarterback: Peyton Manning

Faith Tradition: Evangelical
Testimony: "My faith has been #1 since I was 13 years old and heard from the pulpit on a Sunday morning in New Orleans a simple question: 'If you died today, are you 100% sure you'd go to heaven?'"
Manning's testimony is important because it shows he has committed his life to Jesus Christ, and is not, as many of his fans believe, Jesus Christ.
Starting Quarterback: Alex Smith

Faith Tradition: Unknown
Testimony: "When I was 18 heading off to college I had the support of family, coaches and a scholarship. I can't imagine how we can expect foster teens to be successful when we say to them; you are now 18 and we are cutting you off—so go out and make it on your own."
I was not able to place Alex Smith's religion, but he is truly doing God's work off the field. The Alex Smith Foundation is widely recognized as one of the best professional athlete charitable organizations in the country. Smith's foundation provides kids who have grown up in the foster care system a chance at college and support in transitioning to young adulthood. Check it out here.

Team: Oakland Raiders
Starting Quarterback: Derek Carr

Faith Tradition: Evangelical
Testimony: "I have a very strong faith in God. He is the reason I play football. He has given me this special talent and I want to use it to glorify Him." Source: Derekcarrqb.com
It's nice that Carr, the grandson of Pentecostal ministers, wishes to glorify God through football. Apparently he is unaware that many Raiders fans practice human sacrifice and cannibalism before and after games.
Starting Quarterback: Phillip Rivers

Faith Tradition: Roman Catholic
Testimony:"Faith, family, and football are how I prioritize my life." Source: CBN.com
Rivers is Catholic, but he's enough of an evangelical to have appeared on Pat Robertson's Christian Broadcasting Network.
Starting Quarterback: Tony Romo

Faith Tradition: Evangelical
Testimony: "I don't want to squander a gift that's been given to me to do this, I want to give back the way I think the Lord intended when he allowed me to have these abilities." Source: Dallas News.
Romo has apparently become an outspoken Christian since marrying former Miss Missouri Candace Crawford. This, after several completely chaste, nonsexual dating relationships with Jessica Simpson, Carrie Underwood, and Sophia Bush.
Starting Quarterback: Eli Manning

Faith Tradition: Evangelical
Testimony: Although not as outspoken about his faith, Eli Manning, like all Mannings, is a Christian. It must be noted, however, that even though God loves Eli, he does not think he is as good a quarterback as Tom Brady.
Starting Quarterback: Sam Bradford

Faith Tradition: Evangelical
Testimony:"The minute you start to think that you're first and your plans matter more than God's is the minute your life starts to go the wrong way." Source: iamsecond.com

Team: The Washington Offensive Racist Names

Starting Quarterback: Kirk Cousins

Faith Tradition: Evangelical
Testimony: "The fact that I basically ruled out that opportunity and yet here I am and that I was able to play at Michigan State, just shows how God is bigger than our setbacks and bigger than our trials." Source: CBN.com.
Cousins has already published a Christian book called Game Changer: Faith, Football & Finding Your Way, in which he proposes that with enough prayer and Bible study, you too can end up as the starting quarterback for Michigan State.
Starting Quarterback: Jay Cutler

Faith Tradition: Satanist
Testimony: "I worship Satan. Everything I do and say is for Beelzebub. I don't see why people think my personal beliefs are to be mocked. You wouldn't hear this about a player who was a Christian or a Muslim. But for some reason in this society, people think it's okay to look down on you for trying to live an evil life. It's wrong. I will feel no remorse when I kill them and eat their organs." Source: SportsPickle

Starting Quarterback: Matthew Stafford

Faith Tradition: Heathen
In 2012, Bleacher Report named Matthew Stafford as being among the top 25 party animals in sports. Stafford must have been honored to find himself on the same list as Jeremy Shockey, Vince Young, Matt Leinart, Reggie Bush, and Rob Gronkowski. Source: Bleacher Report.
Starting Quarterback: Aaron Rodgers

Faith Tradition: Evangelical Christian
Testimony: "My desire has always been to follow a quote from St. Francis of Assisi, who said, 'Preach the gospel at all times. If necessary, use words.' …I would rather people have questions about why I act the way I act…and then given an opportunity at some point, then you can talk about your faith a little bit." Source: Milwaukee Journal-Sentinal
Aaron Rodgers may be the coolest guy in football, and he seems to have given the coolest answer on public expression of his faith.
Starting Quarterback: Teddy Bridgewater

Faith Tradition: Evangelical Christian
Testimony: "As a 9-year-old, I was running into trouble, hanging out with the wrong crowd. I have a single-parent background, moving often from home to home. A lot was happening with my family. One Sunday I went to the front of the church and poured my heart out to God. He gets all the praise and all the glory for what's happened in my life."
I root for Teddy Bridgewater, and not just because both he and I are University of Louisville alums. He seems like a class act who has overcome a lot of obstacles in life to be where he is today.
Starting Quarterback: Matt Ryan

Faith Tradition: Catholic
Testimony:"We're doing this for a greater reason. We're lucky, we're blessed to have the talents that we have. Make them count." Source: Douglasville Patch.
Ryan is Catholic, however, this testimony was given at a Fellowship for Christian Athletes fundraiser at a Baptist Church in Douglasville, Georgia—for which tickets were sold at Chick-Fil-A.
It seems Ryan has gotten in with a bad crowd.
Starting Quarterback: Cam Newton

Faith Tradition: Evangelical
Testimony: "I just can't stop smiling because God has his hands on me. I'm on somebody's fantasy league team. And I think it's the man upstairs. It's great to walk away from something like that." Source: BreatheCast.com
Here Newton is talking about recovering from a serious truck accident, but it should not surprise anyone that he believes he's the starting quarterback on God's fantasy football team.

Starting Quarterback: Drew Brees

Faith Tradition: Evangelical
Testimony: "At the time, I felt like this is the worst thing that could ever happen to me … I began asking God, 'Why me?', 'Why now?' A year later, I thought, 'God, that was probably the best thing that happened to be,' because otherwise I never would have had the opportunity to come here and be a part of this community and this rebuilding effort." Source: Christian Post
Brees believes after a severe shoulder injury as the starting quarterback for the San Diego Chargers, he was "called" to New Orleans to help the Saints rebuild at the same time the city was rebuilding after Hurricane Katrina. I see no reason why this couldn't be true. The Saints' Super Bowl win in 2010 was a defining moment in the story of the city's resurrection.
Starting Quarterback: Jameis Winston

Faith Tradition: Evangelical
Testimony: "Through everything we went through, we came out victorious! God did this. I'm so blessed. There is nobody but God. There is nobody!" Source: God Reports
Winston on Florida State's national championship win after "going through" sexual assault charges and not being convicted thanks to a botched investigation led by a Florida State Booster. Winston was also later cited for shoplifting crab legs from a grocery store. He also considers himself a Christian and believes God has blessed him with his "success." Read it and weep. Or just weep.
Starting Quarterback: Carson Palmer

Faith Tradition: Evangelical
Testimony: "I've been a Christian as long as I can remember. I've always been in church with my family through high school and college." Source: Sports Spectrum.
A possible Bible verse for Palmer: Philippians 3: 13-14 "But one thing I do: Forgetting what is behind and straining toward what is ahead,I press on toward the goal to win the prize for which God has called me heavenward in Christ Jesus." This is the Christian quality of perseverance, which means you don't quit in the middle of a $118 million contract. Not that I'm bitter.
Starting Quarterback: Nick Foles

Faith Tradition: Evangelical
Testimony: "I'm a Christian and I believe in God…and when you do great, you stay humble and you give Him glory." Source: Sports Spectrum.
His testimony seems strangely interchangeable with Sam Bradford's.
Starting Quarterback: Colin Kaepernick

Faith Tradition: Evangelical
Testimony: "Psalm 27:3: Though an army besiege me, my heart will not fear; though war break out against me, even then I will be confident," "Psalm 18:39: You armed me with strength for battle; you humbled my adversaries before me."
Quotes are from the tattoos on his biceps.
Starting Quarterback: Russell Wilson

Faith Tradition: Evangelical
Testimony: "That's God setting it up, to make it so dramatic, so rewarding, so special, I've been through a lot in life, and had some ups and downs. It's what's led me to this day." Source: ProFootballTalk.com.
This was Wilson's famous statement after performing terribly against Green Bay in the first three quarters of the NFC Championship, then leading Seattle to victory at the last minute. This led to the obvious question of where God was two weeks later, when the Seahawks lost the Super Bowl to the New England Patriots on a goal line interception on the last play of the game.
Apparently, like Job, this was a test of Wilson's faith. Wilson said God explained it to him before he was even off the field: "And on the third step God says to me, 'I'm using you … I want to see how you respond. But most importantly, I want them to see how you respond.'" God is good. All the time. Even when you should have just handed the ball to Marshawn Lynch.