Invite Margaret to Speak
Margaret Rose Realy is a Benedictine Oblate, lay hermit, and an advanced master gardener with a master's degree in communications.  She lives in Michigan.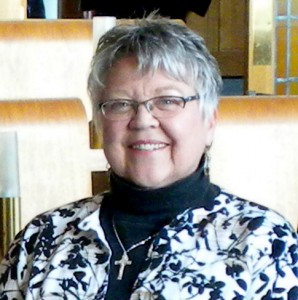 Margaret's experience as an educator and presenter began as a master gardener with programs geared toward helping participants become better gardeners. Over the next 30 years, her focus turned to the spirituality of gardening as a way to a deeper understanding of the Holy Trinity.
She has presented at diocesan conferences, local churches, gardening groups, university seminars, and retreats. The presentations and retreats she offers guide the Christian, through prayer and work (ora et labora), to draw closer to Our Lord by contemplating nature as guide.
As a Catholic writer, Margaret is committed to sharing her enthusiasm for gardening and prayer, in line with Roman Catholic teachings, in person, on radio and TV, in print, or online.
Suggested Presentation Topics:
Creating Gardens of Prayer and Memorial: A step-by-step approach to discern what will lead you into a sense of prayer in an outdoor environment. Participants are guided through a selection process that reflects their personal connection to the holy and how to include those elements into a garden theme.
Liturgical Gardens for Private or Public Spaces: Our Catholic heritage is full of traditions that can be incorporated in nature. This presentation reveals creative ways to bring those traditions outdoors.
Gardening and the Spiritual Life: A journey through faith as revealed in nature. An interactive retreat of one or three days that looks at the oldest words of love, the parables from nature in the Bible, to help participants see them refreshed and personal in their life.
Marian Gardens: How they originated and developed over time. Included in this program are the symbolism of plants as representative themes in the Virgin Mary's life and ways to design a dedicated garden.
A Time to Plant: The Benedictines and the Advancement of Horticulture: Monasteries were often built on marginal lands and monks had to find a way to grow food in poor environments. This presentation looks at the gifts the Benedictines brought to modern agriculture.
Growing Joy through Lent: Lent s a time to reset our balance point. It is a spiritual time for fresh seeds and new growth. The word Lent (derived from lencten) means lengthen and refers to the increase of daylight hours. It is a period of transition from late winter to early spring…the time of developing roots in darkness.
Upcoming Events Schedule:
August 2015, St. Francis Retreat Center Garden Society, Fundraiser for the Gardens.  DeWitt, MI. Date to be determined.
September 2015, Master Gardener Association of Jackson County. Jackson, MI. Date to be determined.
October 10, 2015, St. Benedict Monastery, Oxford, MI. A Time to Plant: The Benedictines and the Advancement of Horticulture
October 21, 2015, The Kalamazoo Diocesan Council of Catholic Women, St. Catherine's in Kalamazoo, MI. Topic to be determined.
Media Appearances:
The Live Hour with Patrick Alog, Archangel Radio, April 22, 2015.
Catholic Women Now! Julie Nelson & Pat Magruder, Iowa Catholic Radio, April 16, 2015
Meet the Author with Ken Huck, Radio Maria, April 16, 2015.
On Call with Wendy Wise, Relevant Radio, April 15, 2015.
Catholic Moments with Lisa Hendey, Radio Maria, April 6, 2015.
Among Women Podcast with Pat Gohn, , TBD, April 2015
Connecting the Dots with Mark Shea, Real Life Radio, March 24, 2015
Media:
Mlive/Jackson Citizen Patriot news story; "Jackson Native to Release Book on Gardening, Religion," March 23, 2015.
Bookmarks with Doug Keck, EWTN, September, 2014.
Live with Al Kresta, Ave Maria Radio, 2014.
Writings:
Morning Rose Prayer Gardens, Catholic Channel, Patheos. (You are on that web page, now.)
Catholic Mom.com monthly contributor.
Catholic Digest: Faith and Family Living, feature articles.
Guest contributor to Catholic Writers Guild blog.
Faith Catholic Publishing and Communications, Commentaries and Homilies.
Margaret has been featured and written for the following Michigan newspapers: The Catholic Times, Jackson Citizen Patriot, Lansing State Journal, The Daily Reporter and Your Home Your Lifestyle Magazine, and as a resource for feature and garden writers. She has been interviewed on local radio stations, including WILX-TV, Lansing, MI.
Books:
Margaret's books are available wholesale from the publisher, and retail at local book stores, through the publishers, and online in print or eBook.
A Catholic Gardener's Spiritual Almanac: Cultivating Your Faith throughout the Year, Ave Maria Press, 2015.
A Garden of Visible Prayer: Creating  Personal Sacred Space One Step at a Time, 2nd Edition, Patheos Press, 2014.
Cultivating God's Garden through Lent, Patheos Press, 2013.
A Garden of Visible Prayer: Creating Personal Sacred Space One Step at a Time, Faith Publishing, 2011. Out of print. Rereleased by Patheos Press.