Thought I'd update and repost this from last year, since it's all still true and more so. Adding at the end, as it were, a fifteenth reason to be really happy.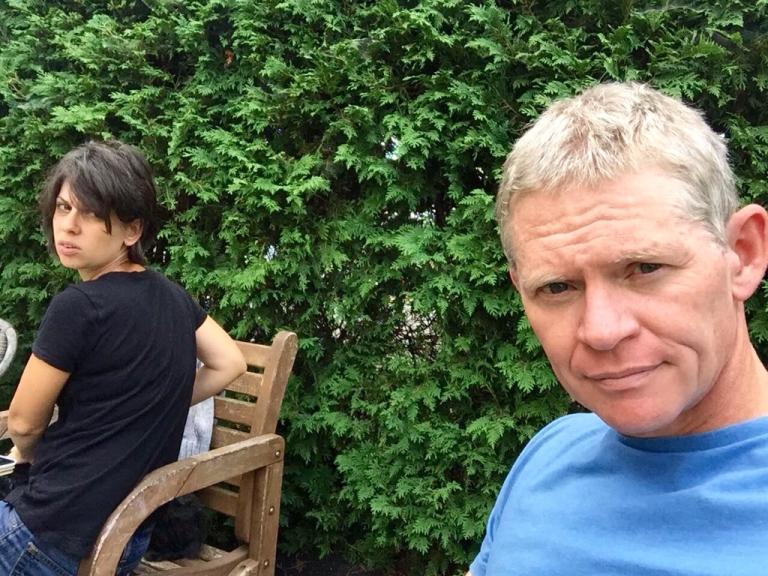 Today, if I'm not terribly mistaken, is my, I mean our, anniversary. Fourteen fifteen years ago we got up very early and got married. None of this waiting around even till noon, certainly not till the evening. Delaying till ten o'clock seemed a stretch to me, lolling about as I was in my capacious wedding dress. Such a fine dress. So regret that I can't wear it every day. And then fourteen 15 years run swiftly by. It seems that each year goes faster than the year before, which is a great tragedy.
Getting to be married to Matt is the best thing that has ever happened to me. Having never expected to be married at all, nor to have so many fine, healthy children, nor to do work that is interesting and demanding, I count myself over the moon with fortune and happiness. Here are fourteen (because of being married fourteen years, cough) ways that being married to Matt is the best thing ever.
1. I never wake up without there being a tray of tea to help me ease into reality. So surprised that he hasn't given this up, as the years have gone by, even though I'm such a difficult person, and text him when he forgets the milk, instead of getting up and getting it myself.
2. I've said this before but I love that when I walk into a room, he always pivots, sometimes comes right over, seemingly involuntarily. He is always coming toward me, wherever I am.
3. He is smarter than I am, and reads books and learns things and is therefore always interesting to talk to, always.
4. Also, in spite of being a man, and an introvert, he does talk to me, even for vast portions of the day. Early morning coffee break, lunch, late afternoon glass of something, we are always wandering out into the garden to talk to each other.
5. He is pretty short. This may not seem important to you, but I am remarkably short. If you look out over the landscape in an ordinary way, you will probably miss me. Matt also being short is a great comfort to me. I feel in myself that I am a reasonable size when I'm with him. Also, my neck doesn't hurt in regular conversation.
6. He, in spite of starting his Christian life at a much later point than me, is, and I'm not kidding at all, holier than I am. He is more patient, more gracious, kinder, and more selfless.
7. He handles all the medical catastrophes of our lives. All the scrapes and bandaids and stitches and colds and dispensing of medicines and looking at the wide open wounds of childhood, he handles then all. I have only to cope with throw up, and washing things. Whenever anyone gets hurt, every few minutes or so, I say, "go show daddy" and off they go. Being a person who faints at the merest mention of blood, or stitches, or emergency room, this is a great providence and God has been extraordinarily gracious to me and to the children in giving us Matt.
8. He cooks…and cleans…and polishes the furniture.
9. And gardens. He takes prodigious care of the garden while I lie around in it, reading the Internet.
10. He is the hand of justice, in the lives of the children, and the bringer of mercy. When I speak, he listens with his ears and sees with his eyes to know whether or not the children have listened. And when they don't, (I know, a shock to everyone, who could ever imagine a child not listening) he causes their ears to open and their mouths to say 'yes ma'am'.
11. He is unfailingly encouraging. I would have given up on everything many moons and suns ago if he were not always making me go on. The existence of this blog and its maintenance is all in his realm. The time that I have to go to church and do anything is because he insisted. Whatever it is that I am doing, it's because he made a way, or scraped me up off the floor to try again when I was failing.
12. He absorbs the myriad offenses and indignities of life and marriage and church in himself and doesn't retaliate or let them roll over onto me. When there is trouble, he goes out towards it.
13. Every morning he pours out a saucer of milk for the cats. He does this even though he doesn't like them and they don't like him. Then he pats them on the head.
14. He just brought me this, and me still here in bed, trying to think about putting my feet on the floor.
Actually, he brought me that last year. 
15. This year he chucked his whole morning workout to take a walk with me and then rearranged the walk so that I could look at more pretty houses, even though he is very strict about his walk. Try not to feel like I'm the center of the universe, but it's these kinds of sacrifices that veritably puff up my ego and make me probably intolerable to the rest of the world.
Here's to another fourteen 15 but really praying for more like fifty or a hundred years with the best man in the world.