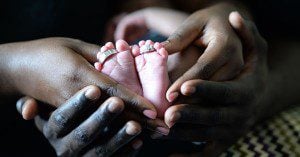 I promised myself I would go to the March for Life this year–especially after just bashing the Women's March–but as per usual, I don't have my life together. This year it's because I'm ill with some undefined, irritating ailment that keeps me from standing up for more than about five minutes and has me climbing back into bed with a fever every six hours. So, instead going to the March I thought I could at least write about it, but then I found that I already had, last year, and I still think and feel exactly the same way, so I might as well stick with what I already know. So here is last year's lament–9 reasons I wish I were going. Praying desperately I'm not back in this same spot in 2018, reposting the same lamentation. God has a whole year to organize me into some kind of better shape.
***********************************************************
I am terribly disappointed with myself for not getting it together to go to the March for Life in Washington DC this year. I've never been, for one, and I thought this would be a really good year to go. Here are nine reasons I wish I were going to be there.
1. It's enthralling to see the crowds on the news and to read people's experiences who have been. I imagine that being surrounded by people, even for a day, who have thought long and hard about this issues, who have, some of them, been praying for a long time, and who made the sacrifice to be there would be pretty energizing.
2. I wish I was physically adding myself in to be counted, to be seen, instead of muttering here and biting my fingernails.
3. This year especially, when the horrors of the abortion industry have been there for the seeing and hearing, not just speculated about, but described in detail, I expect that many like me have been more galvanized and enraged than ever before.
4. The false dichotomy, so useful even to some Christians, that if you expend energy on trying to stop abortion, you will have nothing left for those who have managed to beat their way into life, has finally exasperated me. I wish I could be visibly numbered on both counts.
5. The racism of abortion has horrified me more than ever this year. It's one thing to read the stats, to read about Margaret Sanger, to discover what Planned Parenthood is really doing, it's another to stop for a moment and consider how diverse this country would be, how much more diverse, if those babies had been allowed to live.
6. The war on women nature of abortion is filling me with woe. I have not been willing to buy into the supposed war on women, up to this moment. The US is a place of freedom and opportunity for women and men alike. But watching video after video roll out, seeing how the murderous lie of self gratification is sold, the ugliness of convincing women that doing away with the person inside them is the best thing, for them, just, well, words fail me. An entire generation of babies lost and women enslaved to darkness, if that's not war, I don't know what is.
7. The enslaving darkness of people inside the industry has weighed on me more than ever. We are all dead in our trespasses and sins and need the saving love of Jesus to break through our darkness. I am in need of reminders to pray for those who are caught up in this industry.
8. I think going would have counterbalanced the sense of raging futility that I carry around a lot of the time.
9. Anglicans for Life will be there. It would be pretty great to meet them in person.
There is a vision in the book of Revelation, of multitudes without number, gathered around the Great Throne. John writes, "After this I looked, and behold, a great multitude that no one could number, from every nation, from all tribes and peoples and languages, standing before the throne and before the Lamb, clothed in white robes, with palm branches in their hands, and crying out with a loud voice, "Salvation belongs to our God who sits on the throne, and to the Lamb!" – Revelation 7:9-10
Jesus endured the wrath and judgement of the Father for just this moment, for each one of these, for each one of us. There isn't any level of darkness to which we can descend that he can't drag us out of. On this snowy weekend, I pray for his love and mercy and grace to break through and destroy the lie that has gripped so many, for his light to shine in our hearts, for his strength to encourage each one who is overcome with discouragement. May this be the year that lie comes tumbling down.