In my hide bound way I was really wanting to post this on Saturday, which is when I talk about books, but it doesn't signify that everyone else has to talk about them on that day, so I'm going to be all relaxed and amazing and flexible and Totally Doing New Things and introduce you to my friend Laura. She blogs at Pinecone Perfections and is my Spirit Catechist. Not only is she lovely with children, she makes the most beautiful materials for our atria and I'm hoping some day she'll open an etsy shop. In the meantime, enjoy her post about reading good books with children!
~~~~~~~~~~~~~~~~~~~~~~~~~~~~~~~~~~~~~~~~~~~~~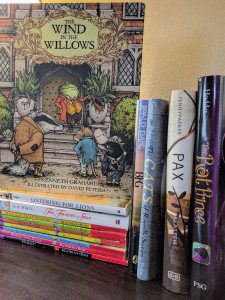 I'm overdue for the producing of a post for my blog. I was supposed to have one last month, humpf. Sadly, I'm not much of a frequent blogger but, I was thrilled to be invited to be a guest blogger to my friend Anne's blog.
Today I decided I would share with you all how much I am enjoying my read aloud time with my girls. In case you didn't know I'm a home-schoolin' momma. So after my girls complete their daily subjects we will sit down on the couch to read. I'd like to say that it is a nice time to cuddle with my girls as well but it usually turns into a fight on who will sit next to me.
Growing up I wasn't much of reader and I didn't have someone who loved good children's literature who could suggest and encourage books for me to pick up and read. The fine literature that I did read on my own was those books that you "choose your own ending" and then as a young teen I read a few Janet Oke books. I don't remember that my repertoire of fine literature was improved upon greatly by the school system either. Lord of the Flies was just aweful! I did find The Giver interesting but disturbing. Did you know that there are 3 other books in the series? As an adult I borrowed each of the audio books for this series and especially enjoyed the 2nd book, Gathering Blue. I don't know if I had any help in class with making sense of what I had read in either of those books. So, now that I have taken on the responsibility of educating my own children, I decided that we are going to read, read, read as many great books as we possibly can. My 2 older girls love audio books, so if I fail to get read aloud time in they get in plenty of books read aloud by someone else. They have enjoyed listening to the Narnia series, Lord of the Rings Series, Pippi Longstocking, Little Women, and Anne of Green Gables just to name a few. They have already surpassed what I read in my entire childhood.
The reason that I mention that I am enjoying this read aloud time is that it has become an opportunity for me to now read the stories that I missed out on as a child. I also enjoy watching and listening to my girls reactions and responses to characters in the stories and their begging for their momma to "keep reading," music to a my ears.
In my quest to provide my girls with great literature and as much of it as we can get in I've discovered other blogging mommas who share their lists of good books to read a loud, for which I am grateful for but, soon become overwhelmed. The question that then enters my mind is "Will we have time to read all of the books on these lists?!" I have begun to collect (buy) several of the books on these lists. My husband has recently built me some bookshelves that are needing to filled. I might be able to open a library with my scrambling to obtain the many books that I hope to read to my girlies.
Our most recent reads have been Wind in the Willows and The Rat Prince, and we are currently working through Return to the Willows. Did you know there was sequel to the Wind in the Willows? My girls have enjoyed listening to all the troubles that Mr. Toad gets himself into. It has been great to my girls react differently at times to the characters and find some characters more interesting than those her sister likes. My oldest loved The Rat Prince which is a princess fairy tale love story (The story of Cinderella altered). The Wind in the Willows was enjoyed by my middle who thoroughly enjoyed hearing of the troublesome Mr. Toad. If you want to read Wind in the Willows to your youngins' look into purchasing the book with David Petersen's illustrations. The illustrations are bright and beautifully done.
If you have any suggestions of favorite children's books that you think that I should make sure to add to my bookshelf, I'd love to hear from you!
~Laura