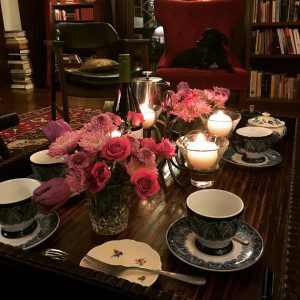 It's a gray and cold Friday, but also the precipice of Thanksgiving, so that must mean Takes.
One
On my midnight gander around the Internet it struck me that this year has been kind of tough for a lot of people, and that my social media feeds are not the usual cornucopia of thankfulness–the 30 days of Facebook posts about what I'm thankful for each day. I've never been able to muster any kind of anything for thirty days in a row (except the daily blog indulgence, and, strangely, I never ever forget to eat breakfast, lunch, and supper) but especially thirty things to be thankful about. And this year it looks like most of my dizzying array of friends has joined me. Either it's something you can only do one or two years in a row without perishing, or, as my heart tells me, this has been a rough year for lots of people on all kinds of levels.
And I don't know about you, but when I'm down, the last thing I want to face is a feast, any kind of feast, let alone one that drags me along to a lot of work and maybe even a lot of people. The general malaise of my own complicated self bashing up against the malaise of an entire culture and people and nation and world seems like kind of a daunting prospect. Maybe it's not worth the trouble any reasonable person might conclude. Maybe we should have some national days of mourning shoved onto the calendar instead.
Two
But a feast–a formal, perhaps even a liturgical feast which is what Thanksgiving is essentially, you follow the prescribed and already determined ways of eating and behaving, everybody plays their part, nobody is making anything up from scratch, except for hopefully the gravy–can be a remedy not only for malaise, but perhaps even for grief.
The thing that would have to happen is that you would have to dig deep down and embrace two difficult home truths. The first is that none of it has to be about you, and the second is that everyone else in the room is lugging around their own personal doom.
Three
So, when you all gather together to walk in the prescribed and never to be varied Way of Thanksgiving, you don't need to worry about either putting on a false Happy Face, nor wearing your Mourning Blacks either. You can just go and rest in the familiarity of the once yearly dinner, the usual conversations that unfold as they have always unfolded. It's not a time to solve the family crises, it's the moment to reaffirm the family creeds and cultural mores. Everyone will behave as they always do, and you will sit and watch them all and console yourself with large bites of potato.
Four
But while you do that, you can cultivate a silent attitude of prayerful Thanksgiving. I mean, think about it, life is terribly hard and the world is very weird and probably sick right now but
There Is Dinner. Either you're sitting in someone's house that you know, or you've made the dinner yourself, or you were able to struggle through town to the local free community thanksgiving dinner. Wherever you are in this country, there's turkey somewhere nearby you, and you could go and have it, or buy it and cook it and share it. For all the bizarre politics, social media stress, deep spiritual illnesses of racism and poverty and misogyny and cultural breakdown, it is at least possible for basically everyone to lay their hand to a couple slices of turkey. There's no reason to be alone and hungry on Thursday in America–mash your courage to the sticking post and go to the dinner closest to you.
And
Five
You haven't died yet.
If you're reading this, you're not in Sheol. I'm pretty sure you can't get a good wifi signal there. And if you're not in Sheol, then you're probably still struggling along in life, and that's something to be thankful for. You may not being enjoying yourself. You may not be filled to the brim with cash and health, but you're not dead yet. And while there's life, there's hope. You can, for instance, yet cling onto the Savior of the world who will give you life even after you kick it. And you can still gaze out over the dismal, brown fall "foliage." You can be with your family and keep striving to work and to praise. All that is really good, and worth pausing for a few minutes to consider as you try to choose between seven kinds of pie.
Six
But probably it's not as dire as all that. Probably, even if you're dreading it already, and perhaps feel stuck between all the rocks and all the hard places, and wishing that something would shift and change and the world would once again turn bright and golden, probably if you managed to really live out those two home truths, you would find that yourself wrested out of your ennui, your discouragement, your malaise, your sure and certain belief that there's no point. There is a point, probably more than one, probably sitting around the table with you, whichever table it is.
In fact, the act of giving thanks is the best remedy for unhappiness. It doesn't cure it, but it does nudge open the door to its cure. That's why God is always suggesting it, yea even commanding it, over and over and over again through the Bible. So pause and say thank you, even if it feels false and wrong. Your feelings will follow, especially if you add a drizzle of cream and go rummage in the fridge for some leftovers.
Seven
And on that lecturing note, I will arise and go make some lists, because that turkey isn't going to thaw and cook itself. Not without a Byzantine labyrinthian plan that can be easily lost at the bottom of my junky purse. Go read more Takes!