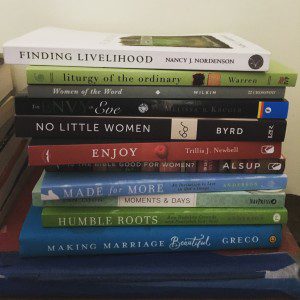 Kelly is taking a much deserved Advent break from Quick Takes and so I thought I would offer up Anne's Definitive Christmas Present Guide for 2017. I don't like to use the word 'gift' in case you are tempted to turn it into a verb, and anyway, the word 'present' seems like it has more punning opportunities.
But first, before we get started, I was on the Ride Home with John and Kathy last night–which I always find a complete treat. What I like best about John and Kathy is that they are funny but they are also normal. Christians can be so weird–not me, of course, and not John and Kathy.
So, now, surely you haven't finished shopping yet. And you are casting about for clever ideas. Let me be your morning cup of coffee and help you.
First up, two Etsy shops. The first is Iron Lace Designs. Kyra got her start in chain mail jewelry and then came into the way of using watch parts to produce a Very Cool steam punk effect. Her work is beautiful and doesn't come crumbling apart with wear. She also does beautiful rosaries. You should probably follow her shop on Facebook, or just regularly check in.
And then there's Andrea who does beautiful prints and peg people. If you're wanting to try out Catechesis and are overwhelmed, she has some lovely sets to give you a start. If you need to do up a nursery or a children's room, she's got lovely whimsical animal prints. And if you are starting out the journey of homeschooling, she has gorgeous alphabet cards.
And then maybe you'd like a resource for the arty people in your life, but probably you'd also like to buy all Samantha's zines because they're funny and brilliant.
Now, let me see. Everything else I've got to recommend is books.
First, Tim Fountain's Raising a Child with Autism. This isn't a how to, its a lovely short encouraging meditative book, good for anyone who is facing a long long task that's going to be discouraging and difficult. In other words, Everyone.
Next, Wendy Alsup's Is the Bible Good For Women. You probably want this for yourself, but also for anyone is out there in the world engaging with real live women and people who are extremely dubious about the Bible. Wendy has marshaled the facts for you and made it easy to have actual content at your finger tips about how good the Bible is for women, so that you don't just have to go on all the feels.
Then my favorite of the year, Karen Swallow Prior's Booked. I love this. The writing is elegant and raw, if those two things can be said to go together, and literary and Christian. You should get it for yourself, of course, and have several of give away.
And then Fierce Convictions. Truly, we don't need to reinvent the wheel. We've been faced before with deep cultural ugliness. Looking back to the life of Hannah Moore is a really nice way to begin to look forward. This is a lovely book.
By now you probably already have a copy of Tish Harrison Warren's Liturgy of the Ordinary. I love this as a corrective to the insane and exhausting message that you need to do Something Big For God. Not really, you need to wake up in the morning and be obedient in all the smallest most difficult ways. Tish makes it seem like that's possible, and also will make you want to. Excellent read.
Michelle Van Loon's Moments and Days is lovely if you are wanting, as I always am, to have a better grasp on the idea of a liturgical or sacred year. She goes first through the Jewish year and then through the Christian and shows how and when they overlap, where they depart, and provides excellent advice for how to begin to keep both. I'm sure you need this.
No Little Women by Aimee Byrd. Do you feel discouraged, as I do, about the encroaching hurricane force heresy besetting the church, often bashing its way in through Women's Ministry? Aimee illuminates the problem and then gives a really gracious way out. I think you would want this along with Is The Bible Good For Women in some gorgeous tinsely paper, for yourself and probably also for your pastor, and for your small group coordinator, and for your children's department head, and for the men's group. Just buy a stack and hand them out at the back of church on Christmas Eve.
Hannah Anderson's two smart books, Made for More and Humble Roots. These are an excellent and gentle warm cup of Its Not About You and it's better that way. Love Hannah's writing. The best thing is that these two books aren't hard to read (none of the books on this list are) and they're short which is a great help because humility and perspective are hard pills to swallow. But Hannah makes the whole idea seem glorious.
Once you've agreed that the Bible is a good idea, you'll want to know how to read it.
Jen Wilken has a nice short book
to help you make a start. Excellent. She has lots of other books that I haven't had a chance to read yet. You'll probably just want to get them all.
Three books clustering around the similar topic of desire and how that strong force plays out in every day life–Trillia Newbell's Enjoy (go buy her lovely children's book too, God's Very Good Idea) bashes against the terrible idea that life should be an incredible misery for it to be Christian. Really helpful book. And then Melissa Kruger's Envy of Eve gets into the biblical text in a really helpful and deep way. You'll probably want to go slowly and thoughtfully and really chew on and swallow what she's saying. And then Jen Pollock's Teach Us To Want is a lovely literary meditative book that made me want to sit down in her kitchen and just listen to her talk. Looking forward to her new book, just out, Keeping Place. You should buy that too.
Lots of stuff here about women and the Bible. Here's a good one about marriage. Dorothy Greco's Making Marriage Beautiful is super relevant for this exact moment. If you're filled with ennui in your own marriage, or have close friends and family who are struggling to make it work, or about to get married, or just generally muddled with a lot of culturally broken ideas, go get this book. Really helpful.
I'm not quite through it because I'm deliberately going so slowly, but am loving Finding Livelihood by Nancy Nordenson. Beautiful writing. Really nice to read snatches of in quiet moments. Really lovely reflections on work and vocation.
As for novels, because you'll want some, I really love anything by Angela Thirkell, anything by Barbara Pym, Crooked Hearts by Lissa Evans, and Cold Comfort Farm by Stella Gibbons. Also the Miss Reed books though they may be hard to get. Oh! And Laurie Colwin. You should go read everything by her.
I also really loved The Bad Ass Librarians of Timbuktu by Joshua Hammer, Deep Work by Cal Newport, and The Man Who Mistook His Wife for His Hat by Oliver Sacks. I did not like The Life Changing Magic of Tidying Up and would never persecute anyone by giving it to them.
I can't imagine that you'd want anything more than a huge stack of books, some lovely jewelry, and something charming for the children in your life. If you do want something else I don't have any idea how to help you. I guess you could maybe go out and buy a Teas-made which I guess would be cool, but will it work? Anyway, reading is better for you than anything else. Happy Christmas Shopping!