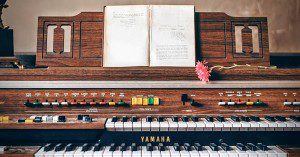 The Feast of the Presentation of the Infant Jesus in the Temple was on Friday, in case you missed it. We "celebrated" by going to the uber cheap homeschool skate where they play christian pop music and children, and sometimes adults (me), bash their way around the rink and try not to fall over. If you were going to ask, I would say, yes, ice skating is easier and less painful. A pleasant, if loud, two hours passed swiftly away and at five o'clock promptly the christian pop was turned off mid stream and a sort of a loud modern rap concoction took its place. The modestly clad youngsters gave way to tight jeaned, halter topped ordinary people, and all we Christians receded once more into our proper sphere–walking around in a world where everybody feels uncomfortable and out of sorts.
The trouble is, me being a bad Christian, I much rather preferred the rap what's-it. If I have to listen to modern music, something I am able usually to avoid at all costs, I will indulge a raw and mostly real sounding voice–for example, I'm a sucker for Amy Winehouse.
And being a bad mother I tried to get my children to articulate what is so irritating about the stuff blasting the airwaves at the homeschool skate. "Why does it make you shudder," I asked them later, because they were shuddering as I was forced them to listen to that whatchamacallit where it starts out as Amazing Grace but then some sort of other chorus is interposed. The oldest child remarked that all music is emotional, Christian or Pagan, but in the case of the Christian music, the emotion is launched toward you, the listener, as if there is some real anxiety that you won't feel the way you're supposed to feel, i.e. In love with Jesus. Whereas with Amy Winehouse, who she intensely dislikes, the emotion is centered in the pathos of the singer. She didn't say it quite like that. But that was essentially her point.
It's a precariously fine line between true art and a schmaltzy knockoff, between moving the soul through beauty and lazily manipulating it. But I suppose that in a world where all the feels are required for true faith, it's a dangerous proposition to leave it all up to the listener, to the poor worshiper in the padded chair. What if she doesn't feel the way she's supposed to feel? What if she doesn't ascend the heights? What if she doesn't come into the holy place? Will she be forever shut out?
I say she because I'm hearing it everywhere, as the replacement for that old irredeemably passé 'he.' But also because when Mary and Joseph and Jesus joined up with all the crowds to bring their poor sacrifice of two small birds, to present Jesus in his own place of worship, Anna had been standing there for as many years as it's fair to expect even one person to live. Luke says that she did not depart from the temple, but worshipped there with fasting and prayer night and day.
There must have been all kinds of craziness to distract her in her solitude. Rich people coming in and blowing their horns when they gave an offering. Pharisees strutting around and praying so that everyone would be sure to see and hear them. Money changers driving their hard bargains to defraud the poor. Sheep calling out on their way to the sacrifice. Or maybe they didn't cry. Maybe they went silently. But Jesus catches her eye. She joins up with Simeon, who is having his extraordinary song. Emotional, intense, the cry of a man who, like Adam, at last gets to see the one thing he's been looking for all his life.
Coming up at that very hour, says Luke, she began to give thanks to God and to speak of him to all who were waiting for the consolation of Israel. The temple chaos was still there–the bleating, the trumpeting, the noise. It's not like it all disappeared so that she was able to recognize the organizing principle of the cosmos. No, rather, in all the din and distraction, after a lifetime of worshiping with prayer and fasting, when the true person was in front of her, right there, she was able to see him and know him. Not a copy. Not a shadow. Not an anxious manipulating hopeful chorus, but Jesus, as he really is.
So if you didn't celebrate on Friday, it's not too late. You can rejoice over him, even with singing, today.