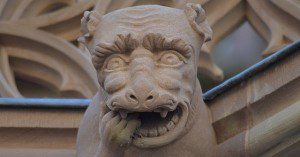 Here I am, struggling into the day, groping in the dark for that first lifesaving gulp of Bewely's, stretching out my mind for hope and consciousness, wondering what terrors rosy fingered dawn has in store for me. How will I shove myself into my Sabbath garb when it's all piled up in the laundry? Where did I leave that thing that I needed to give to that person? Who was I supposed to talk to about that other thing but I totally forgot? Concern and care mount up as I pry open my very eyes with what feels like toothpicks. If only there could be something to make life easier and better.
Imagine, then, my joy as I click open my spam and discover this incredible offer. I urge you to read it carefully, savoring each word and every spelling. I haven't altered a thing, except to shorten the name and remove the email as a kind of gracious gesture to cover over a possibly indelicate situation.
Urgent!
I am Dr. A. B., the director in charge of auditing and accounting section of Eco-bank, Ouagadougou Burkina Faso West Africa. With due respect and regard, I have decided to contact you on a business transaction that will be very beneficial to both of us at the end of the transaction. During our investigation and auditing in this bank, my department came across a very huge sum of money belonging to a deceased person who died on 31rst Junly 2000 in a plane crash and the fund has been dormant in his account with this Bank without any claim of the fund in our custody either from his family or relation before our discovery to this development. The said amount was (EIGHTEEN MILLION UNITED STATE DOLLARS. ($18,000,000.00)Meanwhile all the whole arrangement to put the claim over this fund as the bonafide next of kin to the deceased, get the required approval and transfer this money to a foreign account has been put in place and directives and needed information will be relayed to you as soon as you indicate your interest and willingness to assist me and also benefit yourself to this great business opportunity. Infact I could have done this deal alone but because of my position in this country as a civil servant (A Banker) we are not allowed to operate a foreign account and would eventually raise an eye brow on my side during the time of transfer because I work in this bank. This is the reason why it will require a second party or fellow who will forward claims as the next of kin to the bank and also present a foreign account where he will need the money to be retransferred into on his request as it may be after due verification and clarification by the correspondent branch of the bank where the money will be remitted from to your own designation bank account. I will not fail to inform you that this transaction is 100% risk free. On smooth conclusion of this transaction, you will be entitled to 40% of the total sum as gratification, while 60% will be for me. Please, you have been advised to keep top secret as I am still in service and intend to retire from service after I conclude this deal with you. I will be monitoring the whole situation here in this bank until you confirm the money in your account and ask me to come down to your country for subsequent sharing of the fund according to percentages previously indicated and further investment, either in your country or any country you advice us to invest. All other necessary vital information will be sent to you when I hear from you. I look forward to receive your email and please also send your direct mobile telephone number in your reply for easy communication. Please reply to this address: …@gmail.com


Yours faithfully,
Dr. A. B.
Given the choice between coping with the vagaries of ordinary life in June, July, or even Junly, and being allowed to share, according to the percentages, RISK FREE, eighteen million united state dollars for my own bonafide gratification, and believe me, my gratification is uppermost amongst my own considerations, I think the choice is clear. I mean, I am not A Banker, but what could possibly go wrong.
I jest, a little, but I won't lie. Sometimes I go to church wishing God was no more than Dr. A.B., only real. That he, God, would just send me an email telling me what to do, however complicated and bureaucratic and possibly a little bit magical but only because I am not A Banker, and then all the money would flow down like water and all the problems would be borne away in the other direction.
I shuffle, as I've said before, disconsolate into my pew and slump over, not really up for more than an emotionally non-taxing transactional moment—I give God my time and obedience which amounts to jumping through a series of hoops to get what I want, and he gives me the goods and then leaves me alone. Plus money. Whereas, in reality, God requires a breaking open of my spirit, a real and genuine (rather than tacit and feeble) acknowledgement not of my material and circumstantial poverty, although that is a good thing to mention, but my spiritual, moral, intellectual, and emotional bankruptcy as a person. I am invited to lay it all out and admit that there's nothing I can do to make myself, not more comfortable in my own life, but a comfortable balm for other people, and able to look God in the face without flinching.
Then I shuffle home again, not rich or well, but in the peace and comfort of having duly and rightly spoken to an actual person who orders all my steps anyway, and who knows both what I need and who I am. Not an email, a meal. Not a bank transaction, a communion between Christ and his Church. Not a scam, a breaking open of heaven itself to reveal the purposes, will, and love of God for his creation.
There, I drank the whole cup. Maybe there's something to wear at the very back of the closet. Be like me and go to church.