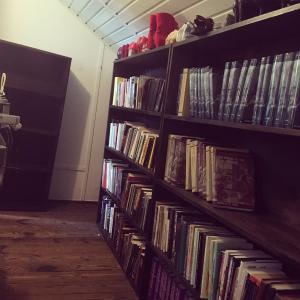 Yesterday was National Author Day, which I didn't have time to properly celebrate, and so today, even though it probably doesn't count, I thought I'd remind you of seven real live authors who have written useful and charming books, some of which I'm reading at this moment, or have recently read, or intend to read forthwith, or which I've mentioned before, but perhaps you forgot them and let them fall off your lists or onto the floor. [I know I should provide links but I'm supposed to be doing like seven, ha, things right this minute so I'm going to trust that you can google on your own…I hope…I mean…you're reading this blog…so you probably know how to google…]
One-Timothy Fountain's Raising a Child with Autism
I've directed your attention to this one many times, but I'm pretty sure I read somewhere that you have to hear something seven times before you hear it once. This is a charming, encouraging, thoughtful work useful for every kind of Christian who is beleaguered, in the weeds, doing work that no one sees, and exhausted. Truly, give it a read and you'll be strengthened for the relentlessness of your task.
Two-Joseph Odell's Faith is Not Blind
I just started this one and it is tiny (which, let us be honest with ourselves, is exactly the kind of book we all need) and so I will probably be done with it this afternoon. Already within the first line I was convicted and intrigued. The writing is excellent. Look it up!
Three-Aimee Byrd's Why Can't We Be Friends
Just started this one too and I'm breezing along happily. If you're uncomfortable with the entrenched "theological" paradigms of the day surrounding men and women and how they relate to each other, this book will make you feel like living again. So far it's excellent.
Four-Michelle Van Loon's Born to Wander
This came out earlier in the year in the timely and provident way that God so often organizes. The Christian isn't supposed to be perfectly at home in this world, which cuts against the grain of every human instinct. If you're feeling out of sorts, and need the biblical framework to live honestly and truly as a stranger in a strange land, Read This Book.
Five-KSP's On Reading Well
You probably already own this, and if you don't you're wrong, and if you don't read it you're wrong but you probably don't even know that, so read it for heaven's sake. Honestly, what's wrong with you! Read the book and find out. In a good way, though. There's a reason you're seeing it everywhere, even in real life stores. It is probably the most needed book of the last ten years.
Six-Hannah Anderson's All That's Good
This is on my list. I'm so irritated that I don't even own it yet. I've been seeing quotes all over twitter, and reviews, and I'm pretty sure that if I don't buy it and start reading it today I just wont be able to go on with my life.
Seven-Erin Straza's Comfort Detox
This has been on my list for a while. I had this stupid idea that I would read it "in my free time" but then I discovered that I have no free time, but I was just given exactly the kind of chair that makes me realize that I had better read the book right now. Also, I have read so many good things about it, I'm moving it up the list.
This should be about twenty long. I haven't reminded you about all those good books from last year—The Morals of the Story, Making Marriage Beautiful, Liturgy of the Ordinary, Humble Roots, Envy of Eve, Is the Bible Good for Women, Booked, I could go on and on. But, since I will not realistically be writing a novel this month, or even a whole book (cue all my sobbing, I swear, I'm trying to write some things, I am) I will at least keep drawing your attention to those people who are writing, and who did write, and who are going on writing. There's no takes over at the Lyceum today, so pick up a book and READ.