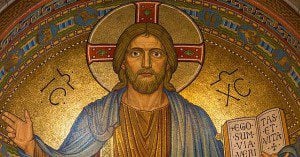 [Jesus reading twitter and thinking about checking his privilege.]
Good morning on this gray, cold, rainy, bleak day. It feels like midwinter even if it's only still fall. To cheer ourselves we did up a podcast about Jesus learning how to be woke from the Syrophonecian woman, how God is actually able to sufficiently communicate with human language, and how the way that Matt best images God in the world is by being mean to people on the internet. We had a good time so I'm pretty sure you will too.
Here is the Justin Welby article. And now, hmmm, do I have any links?
This is cool.
This is interesting and depressing.
This is encouraging.
This is funny.
Here is a beautiful looking cake for national cake day.
Here is a fantastic sermon.
And here are some annoying pandas. And that's it for today. I've gotta go stare out the window at the rain and question the existence of all things. Have a nice day!