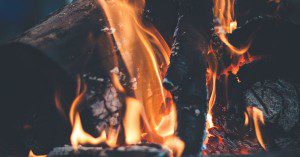 I think I need to limp out and buy some vitamin D. It is snowing, of course, and in an attempt to struggle into the reality of the day, I just spent a long time reading depressing twitter threads and articles about how bad everything is in the world. Like, I didn't know that the fire in California was caused by a baby gender-reveal video/party moment. The father who organized it is paying a hefty fine and is on probation for a long time. I think he deserves our actual prayers for all the stuff he and his family have to work through in the aftermath of this disaster. Honestly, thank heaven that Advent is just around the corner. It is exactly what's called for at such a time as this.
As I say all the time, Advent is my favorite. It is the perfect church season because if you are already feeling at odds with the world, yourself, your family, reality, and of course God, you are given, freely, the chance to, cough, "press into" that sensation. I know everybody loves Christmas and all the holly jolly, but the cultural commandment to Keep Up Your Christmas Cheer for a whole month, and indeed your whole life, is, by moments, at the very least going to be wearisome. Difficult. Possibly impossible.
Around here, while all the stores are screaming red and green, most everyone that I know, in the way of Tiny Tim, is counting over his pennies and dollars and trying to figure out how to afford the tree and the presents and the turkey. There are a lot of free places to get some of those things, but it is depressing to think about having to ask, and so the sense of general cultural hopelessness silently collides with the carols and the piles of toys mounded up in the entrance way of every single store. As my child said yesterday as we drove to the ugliest part of town, "Sure does look like Christmas. The gray. The misery. The despair." Another one piped up with his new favorite invented expression, "Somewhere over the rainbow, in Mordor, where the shadows lie…" He doesn't sing it. He says it dramatically, so that you know how bad everything is.
So anyway, Advent is totes the best. Because you can be happy if you want to, but don't feel obligated or anything. You don't have to think about how you're feeling at all. You can think about Jesus. You can turn over the gem of the incarnation in your mind and soul, peering at it from every direction, putting it alongside the bleakness of human existence and wondering at what God is on about. You can think about what a disappointment he was to Nazareth, and how tragic it was that all those babies died in Bethlehem. You can relish the horror of Mary giving birth and then immediately being visited by a pack of shepherds. You can wallow in the mire of anxiety that Joseph surely felt as he wandered up and down Bethlehem looking for a place to stay.
For every tragedy you encounter on twitter or in real life, you can immediately look through the manger to the tomb—the smooth cut stone, the quiet, the desperation, the hopelessness—and put that tragedy surely and completely into the hands of the one who came so that we could see his hands, so that we could see their roughness, the wounds they bore, the ordinariness of them. He came all this way because no matter how hard we try—indeed, when we are trying to be good, trying to do nice things, trying to celebrate some hoped for dream—we blow it. In some cases, we set the whole world on fire. We cannot even do the thing we know to be good in a good way. We cannot fix our estate. We cannot succeed in mending our own and the world's problems. And though certainly it is a beautiful thing when we turn to help each other, even that is not enough. We need the help of a God who so perfectly cares for us that he comes to us in our most tragic and desperate moments.