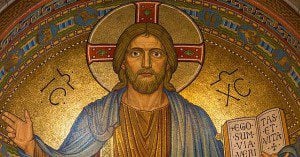 [Jesus excited that Americans apparently want to become Christian.]
My soul magnifies the Lord,
and my spirit rejoices in God my Savior,
for he has looked with favor on the lowliness of his servant.
Surely, from now on all generations will call me blessed;
for the Mighty One has done great things for me,
and holy is his name.
His mercy is for those who fear him
from generation to generation.
He has shown strength with his arm;
he has scattered the proud in the thoughts of their hearts.
He has brought down the powerful from their thrones,
and lifted up the lowly;
he has filled the hungry with good things,
and sent the rich away empty.
He has helped his servant Israel,
in remembrance of his mercy,
according to the promise he made to our ancestors,
to Abraham and to his descendants forever.
The Washington Post—and Evangelicals—just discovered the Magnificat. Apparently this portion of scripture is unknown to a goodly portion of American Christians. On one hand this surprises me because it is in the Bible, but on the other hand doesn't because of all those recent polls illuminating the amazing fact that hefty numbers of "evangelicals" are not versed in the most basic elements of Christian doctrine. If ordinary "evangelicals" think that Jesus is a spirit emanation and that you can work your way to heaven, then the Magnificat is probably not something they are any more used to than the Lord's Prayer.
Anyway, I'm Anglican and the Magnificat has always been my favorite, just like the whole Bible. And not only should everyone read it, but it should be so often sung that everyone knows it by heart. But, like the Bible, it is a dangerous song. And if you think that it belongs to you, or that you can sing it on behalf of others, or that Mary—as the Wapo article intimates—is a revolutionary, well, then you are just reading the prayer and haven't heard the gospel.
Indeed, if you want a scary time, pray the Magnificat and then trot over to the Sermon on the Mount and start breezily in on on the Beatitudes. If you begin to pay attention you might find yourself choking and sputtering—because you can draw a direct line from the first to the second. Indeed, the Magnificat, and Mary singing it, is a harrowing icon of the Beatitudes, a picture of how God overturns the world with Himself.*
In an ironic twist, the Wapo writer misses the fundamental point, not just of the Magnificat, but of Jesus, when she says this, "It might not feel like good news to me, exactly, as someone who is neither hungry nor poor." Indeed, this is why so many self-identifying evangelicals are polling so badly.
I spent nearly all of yesterday going from one end of Binghamton to the other trying to "even up" the packages that will go under my enormous Christmas tree in two days. No one riffling through bins of hats and mittens was hungry or poor in that moment. All of us had actual—or borrowed—cash to spend, and a sure and certain dinner at the end of the day. And truly, I myself was hard pressed to think of Jesus, or to look for him amongst the cups and trinkets of Home Goods.
We—the shoppers of Binghamton, and of America, and of the world—are not so different from the crowd pressing around Jesus when he announces that, contrary to the deep primordial knowledge of every human person, it is actually the poor in spirit, those who mourn, those who can't seem to find any solace in this life, who are truly and blessedly happy. The crowd shifts uneasily and glances at their phones, mouthing to each other, "What?" Is there a meme that will help me understand this? They, the crowds stretched out over that gentle slope gazing out at the shimmering Galilean lake, listened without understanding. Most of them didn't have a clue what he was even talking about. At the end of the day the whole gathering packed up—and this happened over and over and over as Jesus preached through Galilee—and "went empty away." They were neither hungry nor poor and so did not see that the Bread of Life was standing right before them.
Which is the worst and most dangerous kind of poverty—to look the Savior of the World in the face and decide that, being neither hungry nor poor, you don't need him. The word for you isn't "blessed." You rather have to endure the catastrophic "woe," the coming apart at the seams before a holy God who ultimately is the only one who could have given you what you needed.
But most of us believe in the deepest and darkest parts of ourselves that the personal blessing of God is obvious and known because of our comfortable and warm homes. We fill our carts with food brought in from every corner of the globe, trucked in by night so that in the mad rush of the morning every bin and display is abundant, secure, plentiful. God must be pleased. I must be good. The poor of the world who shuffle along in the gray bleakness of the dawn, paying a shilling for water or walking along the sewer to the public and foul loo need our condescension and care—and money—but who even knows what God thinks about them. Their poverty, whether inflicted by the unjust systems of this world, or by themselves, or by God, is bad, and is not a sign of God's blessing.
We look everywhere for signs. We try to read them in the sky, on the internet, in our hearts. The one place we can never see them are in the lines of the Very Word, the traced out hope of a God who is more than able to make himself understood.
The person who is hungry now, who is poor now, who looks at the contents not just of his wallet but of his soul and sees devastation, ruin, pride, helplessness, hopelessness and then turns to the only help that there is—Jesus—that person is blessed. That person will magnify the Lord.
That person will sing with the inexplicable joy of relief, of security, of hope. If you never do this—no matter your politics, your work, your opinions, your plans, your psychic pain, your anger, your feelings—you are the one cast down from the throne of yourself, you are the empty on the last day, crying out to a Savior you never wanted or needed.
That's why this is such a dangerous prayer. Do you dare pray it? Because you are not Mary, nor Jesus. You are the one who Jesus called upon, knowing that you couldn't do it, to "Be Perfect." Your heart is the mountain that he will cast into the sea. If you want to sing this song in safety you have to embrace the child over whom Mary is rejoicing. You have to admit that you are poor—so poor that you are dying of hunger, thirst, illness, sin, sorrow, trouble. That you need someone to do for you what you couldn't do for yourself.
Don't lift up a fist. Bow your head, first. And then sing. Because the Lord has done such a wondrous thing, to save even you, from yourself. Only then can you turn your attention to a poor and dying world.
*I'm not the first to notice this. Someone much more clever than I did but I can't remember who just this moment. Probably every single book on the subject.