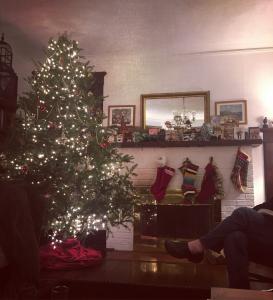 Well, the last Friday of the year. Can you believe it? It is high time I rolled my corpulent self over and tried to think of an actual thing—what are those called? Words? Blog posts? Does anyone care any more? As an exercise in severe mental discipline I thought I would try to reconstruct the week for myself, just to see if I am an actual living being.
One
Christmas Eve, as you might remember, was Monday. And that meant forcing the children to listen to Lesson and Carols at 10am while silently cleaning the kitchen. The choir rang out those first clear, perfect notes and so Christmas was wondrously brought into being. We all agreed that the solo for Once in Royal David's City this year was unparalleled. Perfectly sung. As the last glorious notes died away, I admonished the children to scrub themselves clean and put on their Christmas clothes for a 'nice picture.' Boy is that always an exercise in total unmitigated wretched futility.
Two
Then it was only a matter of forgetting the three things I most needed—reading glasses, a phone charger, and presents for the wisemen—and rushing to church in order to wander around in a complete fog waiting for the pageant to start and wondering if any of the children would remember their lines.
By the grace of God, the whole thing went off without a hitch. Several people told me afterwards that it was the Best Christmas Pageant Ever and not because of the Herdmans but because the children of Good Shepherd rose valiantly to the occasion and also looked so pretty. Compliments for the gracious beauty of Mary and Joseph abounded. It was particularly charming that Joseph played with the Baby Jesus' feet while the choir sang, and many people were impressed by his spikey orange/pinkish hair. He was wearing pink tennis shoes and Mary was barefoot and two small sheep tried to pick up the baby Jesus from the crèche and make off with it. But best of all was the strange verity that the shepherds never seemed to notice that we even had any sheep. They, to practical biblical proportions, never lifted a finger to try to gather those toddling, adorable, babbling creatures. It was if they, the sheep, were not even there at all. It was so wonderful I started crying.
Three
Then we staggered home and argued with the children for a while about whether they should open those small presents over which they agonize for a few seconds every year—I make them draw names so that they only have to think about One person instead of eight or ten. This is so that they will really be able to save or, worse yet, maybe even make something. In reality, it means taking everyone to stupid Walmart the day before Christmas Eve so they can wander around and then announce that they don't have any money anyway.
But This YEAR there are grandparents here and so we were able to split the children into groups, and some of them even had cash, and so they all ended up getting nice presents for each other, instead of junk. AND THEN…
Four
As I was shouting at them to go to bed, Gladys disappeared and came back with the cunning laundry sorter contraption I've been salivating over for the last three years from Home Goods.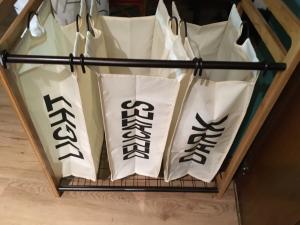 I had a beautiful big version of this in our last house—one of the only things that made Sheol bearable—but left it behind because my laundry room now is so tiny. Light and hope filled, but still tiny.
They presented it to me and announced that they had financed it entirely on their own, by pooling all their money and then laboriously emptying every single change jar in the whole house. I was quite overcome.
Funny, my children giving me this present was the Best Thing Ever, but if my husband had given it to me I would have been furious. Context is literally everything.
Five
Christmas Day was the usual jumble of wrapping paper and chaos. I managed to make Monkey Bread the day before so that everyone didn't start crying at 9am from chocolate and eggnog overload. I think bread with sugar helps the pure sugar settle in somehow. Overall everyone was pretty happy. There's always one horrible child who goes around counting everything and measuring the sharpness of her dagger against everyone else's, and is put out because she didn't get a sword—But Then She Didn't Ask For One Did She.
Strangely, all the children decided to go to church, some of them for love of Jesus, but one of them to show off her big blond wig and fake glasses.
Then home again for an enormous beef roast and a capon and a trifle, which looked very ugly but was delicious after all. Like anyone was even hungry. Funny how you can keep eating in the total absence of hunger.
Six
And, of course, we've gone on eating all week, because there are twelve days of this insanity. I need some broccoli and a glass of water more than anything in the whole wide world. I also need to stand up and keep beating the chaos into submission.
Seven
So there you are. I don't remember what happened the other two days of this week. I think I was probably sleeping but who even knows. Maybe by the new year I will be the new and better person so hoped for by others and probably even God or something. Until then, Merry Christmas. And a blessed Feast of the Holy Innocents. I'm going to go tell the children they have it really good—or maybe it's me. Either way, go check out more and better takes!