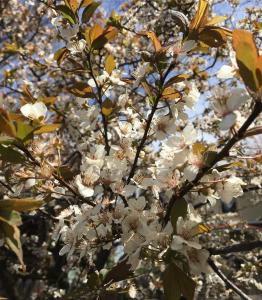 My beautiful tree finally bloomed last week. Then a heavy gail of wind blew all the petals away. Still though, in spite of my grief, managed to join Matt in the enactment of the grand and monumental change of actually podcasting/facebookliving ourselves one afternoon last week instead of waiting till this morning. Here is the video, and here is the audio.  We wandered through that ridiculous USA Today article about how Christians should get with the times and embrace total progressivism. Also, I articulate my sweeping theory of what is wrong with all evangelicals in America. It is so much fun, and if you're on Facebook you've probably already seen it.
Here is that ridiculous article.
I've watched
this
several times because I think it's so interesting. I am probably the only one.
I'm in the middle of reading this. It's so wonderful.
And actually made this last week. And this too, because I had pie dough left over.
I quite liked this long interesting read.
This is funny because it's true.
This House has been photographed with a lying amount of sunlight.
Here is an excellent sermon.
And that's it for today. Matt is in a twitter war and I must go and do some very important things, including watching the news for a royal baby, and whatever else.