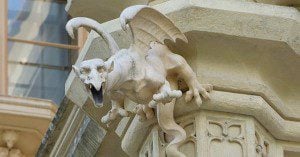 Me getting ready for 2020.
The First Thing
John Crist has cancelled the rest of his tour for this year. I can't say—and I know this makes me a cynical person—that I'm that surprised. He did give off—to me anyway—a hefty 'playa' vibe. If anyone had come to me and asked, 'should I date him, he's a christian' I would have said, 'meh, I dunno, he clearly has some growing up to do.'
Clearly, though, this is the work of Satan who wants the lives of Christians to be humorless, bland, and puritanical. We don't laugh enough at ourselves, and Crist, ever so gently, has helped us do that.
Anyway, I want to stand by what I said every so long ago about Matt Lauer. In the age of #metoo, the gospel is both for the man and the woman. The gospel is for the woman who needs healing, love, the unshakable knowledge that she is not a plaything, something to be cast away, something to be exploited. The sins of man are not her fault, they did not happen to her because there is something about her that makes her deserve them. Her verse is, "The Lord is near to those who are brokenhearted and will save those who are crushed in spirit."*
But the gospel is also for the man. He is not beyond God's mercy. He should not be cast into the darkness forever. The door of restoration should be open to him. His verse[es] are,
Blessed is the one whose unrighteousness is forgiven, and whose sin is covered. Blessed is the one to whom the Lord imputes no sin, and in whose spirit there is no guile. For while I held my tongue, my bones wasted away; I ceased not from groaning all the day long. For your hand was heavy upon me day and night, and I was dried up and withered, as in the drought of summer. Then I acknowledged my sin unto you, and I did not hide my iniquity. I said, "I will confess my sins unto the Lord"; and so you forgave the wickedness of my sin.
The downfall of Crist, as with all sexual sins discovered inside the church, is the perfect moment for Christians to display how Hope works and what the gospel is even all about.
The Second Thing
Someone is trying to bring back puffed sleeves, which personally, I think would go really well with dungarees and a big sweater over the top, along with Snooki's pouf thing that apparently also is reappearing.
Speaking of Satan, 2020 is not shaping up to look like a good year.
The Third Thing
Mali was in the news again this week, if you feel like praying about that region of Africa. When you're hearing a clip about it on the actual news at the top of the hour you know it's not great.
Alright, I'm going to go finish sorting clothes. I swear, this is the last day. May God have mercy on my soul…oh! And thank you for praying! Eglantine's arm looks the way they want it to. She gets a lighter splint on Monday and may even be have the pins out at the month mark instead of six weeks.
*Not saying that women don't sin. Obviously they do all the time.