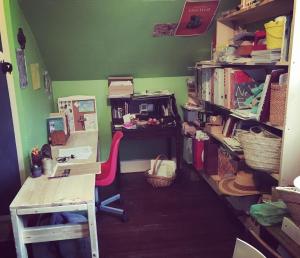 My desk doesn't look this this anymore. It's piled with books and paper and empty cups and guilt.
Today is St. Nicholas day and I trust you are appropriately celebrating. My children are all wandering around with shiny new pocket knives and buckets full of chocolate because I–I mean St. Nicholas–am insane. I need to go rustle up some protein so I must make this brief. Fortunately, I've done a lot of writing elsewhere, and so have a lot of other people.
One
Like my piece over at CRI, about how watching Hallmark Christmas movies is fortunately not illegal, unlike other kinds of drugs, and that if it's the crutch that gets you through to Christmas, than maybe it's ok–just kidding, I didn't exactly say that. I really said
Despite what anyone might say, perfect taste in art and literature is not a requirement for entrance into the kingdom of heaven. It is not a sin — and this is the operative word — occasionally to love what is easy. Most everyone has some quiet penchant for something trite and mediocre. My husband, for example, every year tries to buy, before I can stop him, another Thomas Kincaid Christmas village church that lights up when you flick the switch. And, in the spirit of confession, I can be found in the dead of night with my flashlight and a Grace Livingston Hill novel whenever I have a major morning deadline looming.

Christians are people too, which means that the Twenty-One Pilots sell a lot more albums than Beethoven, and the church organ gathers a thick coating of dust while the band leader tunes up his guitar. Jesus never said, blessed are those who read only good literature and the Bible, for they shall be better than everyone else. He said, "Blessed are the poor in spirit, for theirs is the kingdom of heaven." A poverty of spirit is the result of frailty and sin and often manifests itself in a love of the paltry, easy entertainments of this world. There's no reason to sneer just because the plot is the same every time.
Melanie and I also talked about it all. 
Two
And then a while ago I wrote about the Evolving Faith Conference:
The most troubling theological reconstruction of the Evolving Faith Conference, for me, was a single tweeted quote attributed to Barbara Brown Taylor. She is reported to have said, "Those who try to make their faith secure will lose it. But those who lose their faith will keep it." This perversion of Jesus' declaration in all four gospel accounts — "whoever would save his life will lose it, but whoever loses his life for my sake will save it" (Luke 9:24)— belies a dire misunderstanding of the nature of Jesus' work on the cross, Christianity itself, and the definition of faith in Christ.

"And you," writes Paul, "who once were alienated and hostile in mind, doing evil deeds, he has now reconciled in his body of flesh by his death, in order to present you holy and blameless and above reproach before him, if indeed you continue in the faith, stable and steadfast, not shifting from the hope of the gospel that you heard, which has been proclaimed in all creation under heaven, and of which I, Paul, became a minister" (Col. 1:21–23). The very last thing the Christian should do is throw away "faith" for the very simple reason that "faith," however small it may be, is the God-given instrument or means — mechanism or currency — through which God keeps the redeemed believer eternally safe in Himself.

A more emotionally accessible word might be trust. The believer trusts God in Jesus Christ. Trust is not increased by throwing it away, by remaking its object, by undermining the ways it is properly strengthened. On the contrary, trust is increased by direct contact with the One who is trustworthy.
Three
And I reviewed A Queer Guide to Christian Marriage:
This "knowing" by means of "not knowing" is then coupled with the well-worn claim that they read the Bible without having to take it "literally."11 Part of their not taking the Bible literally — which, of course, is a specious claim, the Bible should be read with the nuance and intelligence that any text requires, genre and authorial intent determining the meaning — includes misreading Jesus' parable in Matthew that "a good tree cannot bear bad fruit, nor can a bad tree bear good fruit." Rather than looking at the Bible as a way of judging the fruit, the non-literal reader of Scripture looks at his or her temporal happiness. Unsurprisingly, when personal happiness is the "good fruit," it will be found on the "bad tree" where the desires of the heart are allowed to rule. The fruit test is then made the lens through which all other Scripture is read. The Scripture is not to be trusted on issues of sexuality, but it can be trusted to properly report the resurrection of Jesus, which is "proof that the body matters, and the body must be saved." Queer bodies in particular that have been "bloodied — many of us literally, having been led to cutting and self-harm — by sermons telling us that our yearnings are mere physical impulses that must be resisted for the sake of our spirit."13

The Khalafs go back and forth between depending on Scripture for advice about marriage and denying its trustworthiness and veracity. God is speaking in some cases, but only those passages that align with their sexual desires and longing to be in relationship with those they are most drawn to. They manage to have their wedding cake and eat it too.
The podcast about these two articles is
here
.
Four
I've been meaning to point out a couple of great blogs.
I believe in the ideal of a Great Conversation – the great minds throughout time all working on problems and thinking thoughts and passing down information and ideals to future generations.  And introducing the children to this Great Conversation is one of my joys in teaching, really.  To this end (although it doesn't always work out this way) I try to really integrate our conversations into our daily life – make them flow seamlessly into our family, so to speak.  Going back to the bird discussion – this would be the time I'd go to the store with the child to buy seed, this would be the time I would pull out relevant books, or even make a new design on the strewing windowsill.  And I always try to make the conversation a multi-day thing; I don't want to talk about birds and then stop talking about birds.  I want to talk about them and then talk about them again and again and then mention something we talked about a week from now and then call a child over in the library to see a related book, etc.  Even if only one 'official' curated conversation happens, the outcome of that conversation is, essentially, that now we can include 'birds' in our list of things we might discuss periodically.
Five
And Jenn
So why do I do it? All I know is that pretty much everything works better when I'm running. Running, for me, is more about being obedient to the demands of my mind and body than about following some kind of primal urge. My body seems to function better on every level, my mind and spirit seem brighter and my outlook on life cheerier when I'm running. On dark and gloomy days, my children are even sometimes so bold as to say, "Mom? Have you run lately? You seem like you should go for a run." They're virtually always right. Some few-and-far-between days, running brings me a sense of utter joy and everything's right with the world while I'm doing it — the sun is shining, the birds are singing, I'm listening to Ben Rector and pounding out miles like nobody's business. Most days, however, it's just an obedient slog, one shoe on and then another, one foot step and then another, walk out the door and just start going.
Six
And, of course, Matt is writing again, which he swore he didn't have time to do, and didn't really care about that sort of thing, but was really a lie, and has quite his old facility with words (which of course doesn't make me jealous, I'm not even the jealous type, oh never mind:
I know that there are, lurking in the dark corners of the biblical patriarchy movement, horribly abusive pastors who instruct abused women to stay in their homes and endure abuse. Such men are disqualified from the ministry and should be fired by their congregations. Husbands, likewise, who physically abuse their wives should find themselves on the receiving end of severe civil and ecclesial justice.

But one must not conflate Dr. Grudem with pastors of that ilk or suggest that all who hold his former view would in any way countenance physical abuse. The vast majority of those who hold Dr. Grudem's former view would rightly do all in their power to help a woman subject to abuse get out of the house and separate from her husband. They would enact church discipline against the perpetrator and call the police.

Dr. Grudem, before he changed his mind, also upheld the biblical principle that the weak and/or those being victimized must be protected from abuse and that the abuser ought to be punished by law.
Seven
And my goodness, even Greg is back at it:
Last June, on neither one of our birthdays, I sent him a message out of the blue to let him know his name had come up in a conversation which reminded me to check in on him. His health had been in decline for quite some time. He related a recent fall he had endured, and our chat quickly turned to a topic he and I shared a strong interest in: Food. In our annual chats, we would almost always end up talking about what kind of culinary kick we were on at the time. He told me in detail about his remarkable weight loss a few years ago – in excess of 130 pounds. During that last chat back in June, he extended an invitation to join him and his husband at their home outside NYC for a dinner in which he would prepare for me "the fatted calf and all biblical trimmings."

We were ideological opponents to the very end, and our visions for the church could not have been more different. Louie succeeded wildly in his quest, while I failed. And although I recoil at his vision for the church – the realization of which he is largely responsible for – I have to tip my hat to him, however grudgingly, for his laser-like focus and decades of persistence. The movement he helped set in motion ended up having a huge impact on my spiritual life, and eventually connected me to the dozens of bishops, priests, theologians, and writers I now call friends.