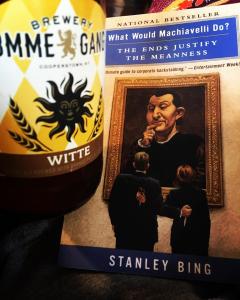 On whatever day of Christmas it was yesterday, I indulged myself by lying back on my tinsel bedecked couch crumbling gingerbread cake all over my new shiny copy of What Would Machiavelli Do? The Ends Justify the Meanness. It is a very funny book and I plan to read it out loud to all my dear family.
Strangely, however, the more I read, the more I was reminded of Girl Wash Your Face and Girl Stop Apologizing, both of which, you might remember, were billed as *Christian TM* books whenever it was that they hit the market. Indeed, they are right back there in B&N in the "Christian" section along with Joyce Meyers and Joel Osteen et al. That is very strange, you might think. Why would a "Christian" book have so much in common with a funny one about terrible corporate executive culture in one of the richest countries in the world? Indeed, I myself thought it was rather strange.
But cast your mind back to the long lost past. This little book is quite ancient. It was published all the way back in 2000, when, even though corporate culture was appalling and even small people like me had read that the likeliest place to spot a psychopath was in a boardroom, we were still whole years away from the total societal breakdown we are now experiencing. Back then, narcissism will still a bad thing. Twitter had not even been invented. Self-deprecation was still a virtue. Kindness was not the chief scolding preach-moment of the woke. All that, as we are daily experiencing, is lost in the golden glow of the past. And so…
A cutthroat CEO-type "influencer" like Rachel Hollis can take the life lessons of Machiavelli and repackage them as "Christianity." Consider just some of her advice versus that of Machiavelli…. Read the rest over at SF!