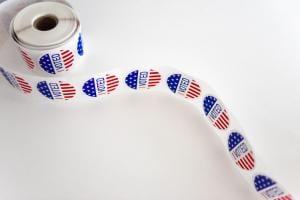 Was distracted from reading the lections for today by this week old item—Jim Bakker on his TV or internet or whatever show, interrupting his guest who is busy prophesying about how Satan is driving the impeachment process, and that there is "window" that could close if the church doesn't reelect Mr. Trump. Mr. Bakker congratulates his guest and exclaims (grabbing the quote from Adam Ford):
He keeps signing things to protect the church, and he's helped Israel and recognized Israel. He's fulfilling Bible whether you like it or not, and you know what? Trump is a test, whether you're even saved. Only saved people can love Trump. No, you've got to be really saved! You've got to forgive! You forgive when you're saved. If you don't forgive, the Bible says you won't be forgiven. This window—almost every prophet I know has said Trump is basically giving us a window of time, and this could close the window. 2020 could close the window. And the Lord spoke to me: 'It's in the church's hands.
It's an interesting little thought, God speaking to Jim Bakker. If God speaks to Jim Bakker, and no one else is around to hear it, did it even happen? Whereas, when God spoke in the gospel reading for this morning, there were lots of people to hear, though most of them didn't understand what he was talking about. Let me see, what did he say…
And when Jesus was baptized, immediately he went up from the water, and behold, the heavens were opened to him, and he saw the Spirit of God descending like a dove and coming to rest on him; and behold, a voice from heaven said, "This is my beloved Son, with whom I am well pleased." Mt 3:13-17
I'm not sure if Jesus can in any way really compete with Mr. Trump, window or no window, heavens opening up or not. What has Jesus even done for the church? Or Israel? Or you? Mr. Bakker froths slightly at the mouth when trying to explain how it is that he owns "nothing" but that God is deeply concerned with his "prosperity," which is why there's some kind of big barn building being opened this week for some new ministry. If you buy the books of the day the proceeds go towards this new venture. But it's not about the money, it's about God, but also, please do send the money.
When there are a lot of people claiming to speak for God, it can be hard to sort through all the muck.
Which is why he came—Jesus, not Trump—and why he is still a complicated person. It's interesting to hear someone like Mr. Bakker stringing lists of bible verses together, saying one true thing and then contradicting it a moment later, groping for words and hope. I watched probably ten whole minutes of the whole hour, an amusing mixture of political punditry and pseudo prophesying about what will happen if you don't get out and vote. Was reminded, rather, of Michelle Williams using her golden statue as an opportunity to beg people—women—to do the same thing.
So much is at stake for everyone this year. But really, it always is. Every election cycle puts everything, once again, on the line. And everyone wants to say what it means to be a Christian, or to be a moral person, or to be the one who saves the world. Which, again, as I just said, is one of the reasons that Jesus came, rising up out of the mucky, muddy swirling water of the Jordan River, hearing the astonishing good favor of his Father, and then setting his face steadfastly towards his passion and cross.
It's actually a really good question. Are you even saved? And how do you know if you are? Is it that you're good? That you voted in your own self-interest? That you voted in the interest of others? Is it that you are praying and sending in your check against the demons of impeachment? That you are believing God for the "window?" Or that you are appropriately progressive and use the correct pronouns and loathe Mr. Trump as much as Mr. Bakker adores him?
Or is it that you obey the scriptures and "Behold," that is, look and really see, "my servant, whom I uphold, my chosen, in whom my soul delights…"
The "My" there is the Father, looking at the Son, calling everyone else to look at him too. There are a couple of things about him, the Son, that are unusual and set him apart from all other kinds of mucky saviors who lie about everything. He doesn't "cry aloud or lift up his voice or make it heard in the street;" he "will faithfully bring forth justice;" he "will not grow faint or be discouraged till he has established justice on the earth." Lest you wonder if this will be so, the Lord reminds the true listener of who He is and, speaking directly to the Son, describes what He, the Son, will do:
I am the LORD; I have called you in righteousness; I will take you by the hand and keep you; I will give you as a covenant for the people, a light for the nations, to open the eyes that are blind, to bring out the prisoners from the dungeon, from the prison those who sit in darkness. I am the LORD; that is my name; my glory I give to no other, nor my praise to carved idols. Isa 42:1-9
The "prophets" of the world scramble to make sense of such a strange text. Are we the light for the nations? Or is it Mr. Trump? Send in your gift of $29.99 and help us find out.
In the meantime, no matter who you voted for, you still have to struggle into the darkness of the morning, the sun failing to cast its light over a gray, aging earth. You still have to beat your way out of your own front door and through the one of your church, one way or another. You still have to go home at the end and face the pile of bills, the failures of your body, the demands of other people, the persistent discouragements of daily toil. You have to figure out what to eat for supper and face the work week all over again. Whoever you vote for, you still have to show up to your own life.
Voting, believing in Trump, believing in yourself, sending in your check—none of these will save you. Only looking at Jesus and seeing that you actually need to be saved will save you. Even then, what is the salvation? It isn't your vision of glory, it isn't your expectation of prosperity, it isn't your version of justice. It is that God himself opens your eyes the true glory of the Son on whom you look, grows in you a deep love, a deep hunger to know and obey that Son, and breaks down your idolatrous inclinations and desires one by one by one. Then, when you die—with nothing, as indeed you were born—he takes you to be with himself forever. This is the strange and terrible work wrought by the Son in his passion. That you might know him and be known by him.
Are you even saved? Go to church to find out—to hear the actual voice of God read out from his own book, to see the body of the Son, broken and distributed to all the other poor, discouraged people around you. You will still have to decide how to vote, but at least you can think about it over a cup of coffee instead of having to send your money to a charlatan. Hope to see you there!