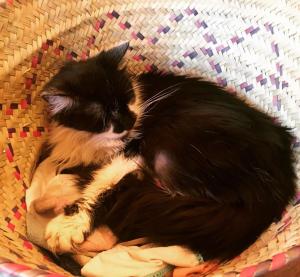 Hope you're all praying for our lovely cat who is so old. She seems slightly better this morning, so someone must be praying. Even while we worry about her, we have taken the time to do a rather long podcast about how the gospel isn't really like guacamole, and how the question of "packaging" the gospel is the wrong way to think about it, and what to do if a throuple comes to your church, and why the sermon even matters. If you have the day off, or even if you don't, it may be just the thing to help you along, who knows.
Here is the clip about which we say so many things. And the throuple.
Here is that excellent blog post I mention. And the one that Matt brought up.
And
something
else at Ponder Anew, he's on a roll.
And here is something pretty great and funny.
And I loved this.
And this was pretty interesting.
This deeply upset me.
This is so great.
This is pretty funny.
This is cool.
These look so delicious.
No sermon this morning, but here is a helpful class.
And now I will go pet the cat and try to figure out what I have to do today.