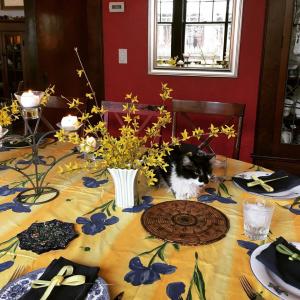 Here we are in Holy Week, one that will probably be seared in my memory for all kinds of interesting reasons. To mark the occasion we've done up a decently sized podcast about the goods and bads of coronavirus thus far. What will be some long term consequences? What is good right now? What is bad right now? How to prepare for many more months of "badness." It's all here for you! Hope it makes you feel ok about reality, or something.
Let's see, I do only have a very few links.
This was really good.
I haven't read this yet but I'm about to.
These are really funny.
This
is a great page to follow.
This is really long and sort of interesting. I haven't finished it and am not sure if I will.
If I can find a cake mold, I'm going to force my mother to make this.
And here is an excellent sermon and really helpful class.
And now I will go do all the things I'm supposed to–whatever they are. Have a good Monday if you feel like it!