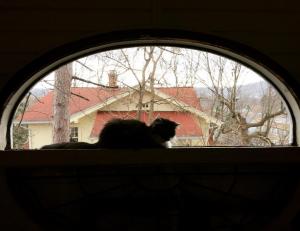 Frances 2005-2020
We are so grieved that our beautiful Frances cat went to be with her Maker last week. At the end of this post I'm going to put all my favorite pictures of her–so scroll down. Because it's Monday we've done a fractious podcast–hot takes because we couldn't agree on what to talk about. Matt's are entirely Anglican Inside Baseball and mine include your Credibility Book Case, how Glennon Doyle Melton is not actually a Cheetah, and the new phenomenon of Celebrity Meat. I'm pretty sure that Matt will offend you in this one, so listen with caution. I, however, am kind to all people everywhere.
Here is the Celebrity Meat Article, and the one about "Clean Meat."
Here is the little Monkey on the Moped.
Here is the Credibility BookCase.
Here are some Celebrity Credibility Bookcases.
Here is a great song. Speaks to me at a deep level.
This is utterly brilliant.
I made this in honor of Frances yesterday, only with Tilapia instead of Cod, and curry powder instead of cheese, and also I let out a lot of other things I didn't have but it was still delicious.
And here is a helpful
class
and an excellent
sermon
.
And here are some of our favorite pictures of Frances. Have as good a week as you like, if you can.