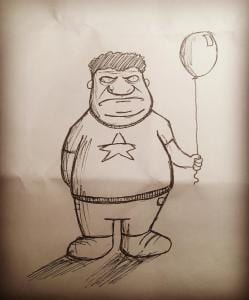 The First Thing
I spent a few minutes following links about Matthew Paul Turner and his very recent news. He is a writer of very popular children's books. Here is a description of a recent one:
A mother with wide, emerald eyes cradles her blanketed infant: "from the moment I saw you,/ I started to pray./ Big prayers and small ones/ I have sent God's way." As the child grows from a baby to a girl, the mother is encouraging yet watchful: "I pray you grow strong, have passion and fight./ And stand up for what's good with all of your might." Barnes's ebullient artwork shows the child at a pool party, reading to her peers in a book nook, and playing in a band. A final spread shows that the child has not yet grown up; instead, the mother holds her baby on a hilltop under a gentle sky, projecting a life to come. New moms will welcome the wistful tone and scenes of a child's joyful discoveries. Ages 3–7. (Feb.)
And here is the trailer where it seems like the whole book is read, maybe by Amy Grant? I'm not sure.
Now, let me just say, there is absolutely nothing objectional about this book. Mothers praying for their children is obviously necessary, and if they don't do that, do we even have anything? If I had watched this video three weeks ago I wouldn't have thought anything about it, except that it is a very American ideal.
Americans are very in love with their children and the idea of their children discovering "what it is that God wants them to do," the "when I pray for you, I pray that All that you do brings love and brings light and helps the world shine like new," phenomenon, to quote the book. And honestly, I would have to be a real mean, bad person to have any problem with this.
Except that it feels like the Thomas Kincaid of raising children—nothing really "objectionable" except the very desire or thought that a child has some kind of special something to offer the world and should be tenderly watered until that child finds that thing and offers it up as a special lovely thing. The trouble, of course, is when the child grows up into a man discovers that the lovely thing he wants to offer the world is the dissolution of his marriage covenant and the passionate embrace of what God reviles. So there's that.
And honestly, children thinking about themselves and how much everybody loves them is so boring—for them and for me. If you are a reasonably good parent who can look in the eyes of a needy child and discern what is really being asked for, can see that the child is both asking for a glass of water and a hug, and can provide both, really, you're fine. Children are resilient and curious and troubled and charming and sinners and perceptive. They need stuff to think about besides themselves, as we all do.
Anyway, I never could read these kinds of books out loud. When presented with one—or anything by Disney—I would change the words so that the child thought the book was either insane or dumb and would never ask for it again. In this way, I preserved my own sanity and their little souls.
The Second Thing
If you have to buy children's books, only buy ones by Sandra Boynton. And this is brilliant. I watched it several times just to be sure. I didn't know there were a lot of Boynton musical videos on youtube. I should have known, of course, but I wasn't clever enough to think of it. Have a lovely day!