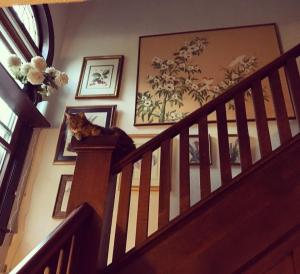 Hello Friday, my old friend.
One
In the spirit of 2020 being the worst, my lovely grandmother, Margaret (Marg to her friends, grandma to me) went to be with her Lord this week. She was 98 and had been married to my grandfather (who turned 99 this summer and is still living at home) for 76 years. They were married during the War, when he had a short leave, in one of those gorgeous weddings whipped up by clever friends and ingenious family. By a miracle, my grandfather survived many landings on one of those aircraft carriers in the Pacific Ocean while my grandmother kept the fire burning (not literally, it was California and no one needs that kind of thing out there) at home. At the end of the war, they made their way to Nigeria as missionaries, which is where my dad spent most of his childhood and teenage years, and then eventually to South Africa. When I finally appeared on the scene they were living in Belgium, still with the Assembly of God mission, strengthening and educating the church in Europe. When they retired and came back to the States, I often stopped on my way back and forth to college and other places. And four years ago, I finally made a mad trek around the US to make sure they laid eyes on all my children.
I could say all kinds of things but I'm too heartbroken. I've gotta somehow scrape myself together for the rest of the week. There's no way to distill everything down into some kind of neat paragraph. Or maybe there is, but today I can't do it.
Two
The Stand Firm podcasters gave way this week to me and Liza and Ralinda. We talk about the church of Iceland's Transgender Jesus Sunday School Invitation, Cuties, and how boring it all is. Give it a listen!
Three
I read this in a desultory way this morning. It's all about how Unschooling is ok now because it has non-capitalistic origins or something. It's kind of long and I thought it was going to be lots more interesting than it was. Midway I thought to myself, 'does literally everything have to be about oppression?' and also, 'how much do you know about schooling and the plight of the poor if you write for the NYTimes?' which really is the height of privilege in this day and age.
I say that having gotten to text a bit with a young girl who used to be able to come to our Soup Kitchen every Thursday—she and her siblings—and who is stuck at home with all of them doing "virtual" school, and hating it. She is lonely and her mom has to work lots of jobs to keep life going along, and there are six children in a small apartment, and…I mean, spare me. The people who have time to write that sort of article aren't having to live what they are writing about. It is not just an intellectual exercise in intersectional oppression studies.
Four
Sorry. I shouldn't be so short-tempered. It's the lecturing tone in the face of an avalanche of grief that so many ordinary people are facing, of every ethnicity, age, economic level, the list is almost endless.
Five
I've started signing all my email '2020 Delenda Est.' That and praying for the true advent of SMOD.
Six
On the other hand, I happened to read this in the Bible this morning—that ancient and wondrous book that says so many things about every possible kind of person in every possible kind of situation:
In that day the branch of the Lord shall be beautiful and glorious, and the fruit of the land shall be the pride and honor of the survivors of Israel. And he who is left in Zion and remains in Jerusalem will be called holy, everyone who has been recorded for life in Jerusalem, when the Lord shall have washed away the filth of the daughters of Zion and cleansed the bloodstains of Jerusalem from its midst by a spirit of judgment and by a spirit of burning. Then the Lord will create over the whole site of Mount Zion and over her assemblies a cloud by day, and smoke and the shining of a flaming fire by night; for over all the glory there will be a canopy. There will be a booth for shade by day from the heat, and for a refuge and a shelter from the storm and rain.
For my part, I am so grateful to have a grandmother who longed to see this glory for her whole earthly life, who is seeing that glory now, face to face, who is sheltered from the heat and from the storm, whose name was recorded for life by the Lord of Life. The hope of seeing her and Him is sufficient for today.
Seven
Go check out more takes, and have some kind of weekend—hopefully not a 2020 one.