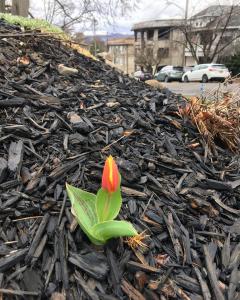 This little tulip came up exactly in the same way, all by itself, just this week.
It is a bright sunny day here in Bing, which is a very nice change from the gray cold of Holy Week. We did a short rambling podcast about how the week went, and some foolish tweets, and how I need to get someone to make another table for church but we are having technical problems so it will be a while before it appears. Sorry! In the meantime…
Here is something adorable.
One of the lamb cakes was something like this.
And here is the Stand Firm podcast from last week.
And here is my review of Jesus and John Wayne.
And here is a fantastic sermon and a helpful class.
And now I must go dig around in my garden and laugh at all the opposition research on twitter. Have a lovely day!