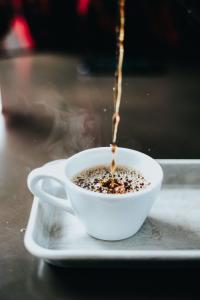 Well, it seems like there is a lot going on this morning. Mr. Cuomo is "lifting the mask mandate" for New Yorkers as of tomorrow–advisedly. The long list of conditions made me–just to live into the modern world–tired. Of course, if you wander around Twitter, you will see that the big news is how much the governor made on his self-fluffing book, and how scandalous that amount is given how many people died, especially in nursing homes.
But really, the thing that interested me most this morning, based on my age, situation, and gender identity, is this ridiculous thing from the New York Times. What to know why governors aren't trusting the "citizenry"–not quite the apt word it was two hundred years ago–to make up their own minds about things like masks? Because of sentiments like this:
Ms. McKaig is aggressively transparent about her "peri brain" at work, because she "realized how few people actually talk about this, and how little information we are given. So I have tried to normalize it," she said.
And this:
Though images of midlife women have definitely improved — a popular meme compares Jennifer Lopez, who at 50 was pole dancing at the Super Bowl, to Rue McClanahan, who at 51 in 1985 was on "Golden Girls" drinking coffee on the lanai — there is still much progress to be made. It was only this year that an online Arabic dictionary changed the description of menopause from "age of despair" to "age of renewal." With so much negative cultural baggage, so much still unknown around symptoms and timing, and so few doctors confident in the treatment of midlife women, "no wonder people are confused," Dr. Nachtigall said. And it helps explain why so many companies and writers are jumping into the morass.
And this:
"Femtech" companies such as the telemedicine providers Elektra Health and Gennev are moving into the perimenopause market; Stacy London, the stylist and reality TV star, just started a skin care company called The State of Menopause; and celebrities like Michelle Obama and Gwyneth Paltrow have spoken honestly about their perimenopause symptoms (though Ms. Paltrow did it in the service of promoting a supplement called "Madame Ovary" that she sells on her website, Goop).
And this:
"I actually think it's extraordinarily important to change the conversation. Because so much of what you hear about perimenopause is spoken about in an anti-feminist and ageist way," said Dr. Lucy Hutner, a reproductive psychiatrist in New York. Dr. Hutner said that many of her patients who are navigating these midlife shifts find them deeply empowering. They feel more resilient, and are following their "inner compass."
So anyway, here are my various problems with the way people talk about everything right now. Numbered, so that I won't forget them.
The word "normalize"–I hate this word. It makes me feel othered. It's a ridiculous word. Whatever happened to the great pageantry of diverse experiences and people? Fifteen minutes ago, "normal" was not a thing anymore. And yet, now, everything has to be "normalized," which just means that I take some important feeling that briefly flitted across my consciousness and foist it onto everyone else in the world under the guise of spreading awareness, like a pandemic. "Normalizing" is the new private totalitarianism where my feelings are so important that everyone else has to try to have them as well.

I'm sorry, but Jennifer Lopez being fifty and pole dancing being held up as somehow better than the 50-year-old calmly sitting in a chair and drinking her coffee like a real person is so demoralizing that I am almost speechless–ALMOST. Not really. The pole dancing option is so undignified and foolish that I understand, finally, why Mr. Cuomo would insist on telling everyone what to do instead of letting them decide for themselves. If that's the thing you're going to choose–AT 50–well, that's really something. I mean, I did watch that moment, accidentally, back when we still watched the Super Bowl, which we stopped doing because it was so boring and terrible. And all I can say is that I shuddered, and averted my eyes. Jennifer Lopez, with all her fame and great abs, should set the example of sitting down at a table, rather than dancing on it, and drinking a cup of coffee like an actual person.
It's actually not "extraordinarily important to change the conversation" because the "conversation" has so many wretchedly insane assumptions that human people can't talk to each other anymore. You know what's "agest?" I'll just tell you in case you can't puzzle it out. "Agism" is this whole culture not letting people–especially women–get old and "live into" the wisdom and sanity of age and experience. "Agism" is having the cultural idols of Jennifer Lopez, Gwenyth Paltrow, and La Jenner who isn't even a woman.
And finally, I'm sorry, but the "inner compass" foolishness is why we can't have nice things. When everyone is following their "inner compass" all you get are more state mandates because most people's "inner compass"–untroubled by virtue, truth, goodness, selflessness, charity, humility, and God–sends them right over the cliff and into ruin. You know what we should "normalize?" People not following their "inner compasses."
And now, if you will excuse me, I have to go clean up the huge flood of water off the floor because I forgot to put some part of the coffee maker into the thing–whatever it's called, I can't remember–the bit that makes the coffee go into that thing, what is that called? A pot. That might be it. And after that, I will go find my keys. I think. I'm pretty sure they're in this house somewhere.
Photo by Devin Avery on Unsplash