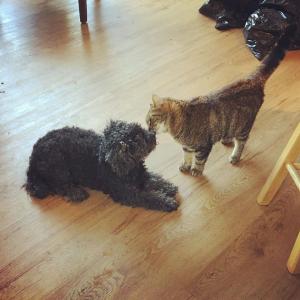 Ash, as I like best to remember him.
My Death of a Pet piece is out from the paywall over at equip.org. Enjoy!
"Swoosh." That was the sound of a mighty rushing wind and suddenly my golden, syrup-laden pancake disappeared in the twinkling of an eye. Gone — devoured by one of the most clever, captivating pets a child could ever love, the Common Genet, a lithe, elegant creature with big eyes, spots and stripes, enormous ears, retractable claws, and a long ringed tail. In all, he was a most majestic and affectionate creature with a scintillating personality. This fair beast, whose name was, fitly enough, Genet, enjoyed star place in a menagerie of animals my children often dream of. Two dogs (dachshunds, a female called Luther because some people aren't good at anatomy; and Thomas Jefferson, after the first president of the United States because others aren't good at history); many cats; a baboon for a while; two duikers; a parrot; erstwhile guinea pigs; a monkey (for a while); a pair of suicidal jackals (only a few days); and a colony of unwelcome Egyptian Cobras — these were all my fellow friends.
I say "a while" because, well, time marches on, and I am in my mid-forties. I have outlived each and every one of these necessary and beloved creatures including, most lately, my own loyal dog of ten years, a poodle with an underbite. Ash (short for Ashurbanipal — the smaller the dog, the bigger the name I always say) was my mainstay. Always at my heels, I never moved a step or sat in a chair without him beside me. And yet God, in His providence, thought fit to take him to join the fellowship of animals who have made life so rich, comforting, and satisfying for me.
"For me" are the disquieting words. All these creatures fill a well of memory and loss shared in its fullness by no other person — and the same for anyone who has loved an animal, or many animals. Almost all the exotic pets of my childhood in Africa were rescues, caught out of the bags of hunters and the clutches of small children who just wanted a more interesting dinner than maize porridge. I was the only one who mourned them. And, in the case of Ash, though all my family loved him, I am the one who still can't look at his grave in our back garden. And I am not alone. Join any peculiar dog breed group on Facebook and you will find countless prayer requests — long shot, hopeless pleas for God, to whom the poster has probably never prayed before, to spare a dog. Members of these groups pray, to whomever they imagine, because they understand the peculiar agony of the loss of a helpless and innocent creature who they were sure couldn't die — and yet did.
Hope for the Hopeless. In the height of the COVID-19 pandemic, one of the strangest occurrences was that thousands of people ran out and adopted cats and dogs from shelters across the country.1 Stuck alone at home, people who had been too busy for the care and feeding of a cat or dog suddenly needed companionship and the constraints of another to generate order and meaning to life so suddenly out of control.2 But it went deeper than that. In the face of uncertainty and despair, the simple business of taking care of a cat — as it turned out to be in the case of my family — mitigated existential dread. It reminded us that life wasn't over. Feeding the cat and walking the dog, in the midst of hopelessness, was an act of trust that the sun would come up again.
Margaret Renkl, at the New York Times, puts it beautifully:
In my own life, the apotheosis of canine hope was Emma, the miniature dachshund we inherited after my mother's death. Emma believed she could climb the bookcase where dog treats are kept, never mind that her legs were all of two inches high. She believed she could open the closet door where the dog food is kept, despite her lack of opposable thumbs. And damn if she didn't manage both feats. For a dog, hope is self-reinforcing.3
Keep going, in other words, because everything might come out alright. Which must be why, as the world began to return to normal, a lot of newly adopted animals were "rehomed."4 Their comfort had been enjoyed, they had been "loved" well enough, and now life was going back to the way it was before. Nature must have healed.
Except, of course, as Renkl elucidates in her own catalog of lost dogs, that even in the era of COVID-19, for the animal lover, the death of the family dog was too much. It must be an axiom that a person can suffer the loss of a person — a mother, a father, a lover, a friend — and stand tearless by the grave, heartbroken but unable to express the grief, but then, at the loss of a pet, come absolutely unglued. Why is that? Why is it that I knew ten people who died during the era of COVID-19, including my two remaining grandparents, but it was only when my dog died that I found myself on my bathroom floor, sobbing inconsolably. And I was not alone in this. Renkl, expressed nearly the same thing: "Is it any wonder that Millie's unexpected death was what finally broke my conviction that better times would soon be on the way?"5
A Rainbow Bridge? "I'm so sorry about your cat," whispered a vet who went under the name The Cat Doctor, handing me an envelope that contained the bill for a very expensive cat ultra-sound, the bill for cat euthanasia, and a copy of "Rainbow Bridge."6 Your animal, when it dies, posits the poem, goes to a big green field where it plays with all the other dead animals, waiting for you to die, and the two of you can cross the Rainbow Bridge to live forever together somewhere that I suppose must be like Valhalla. The poem didn't go any further than that imaginary joyful reunion, and I shoved the envelope in a desk drawer and tried not to think about it. The idea of a field full of all the world's dead pets waiting for their owners to die too felt, if not luridly idolatrous, at least twee and too nakedly self-referential.
And that is the trouble….read the rest here!